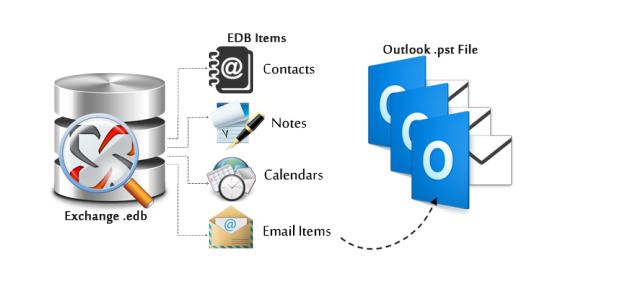 Microsoft has provided Exchange Utility i.e., ExMerge, which helps to export Exchange Mailbox to Outlook PST files. In the following section, we will discuss some of the best solutions (including ExMerge) which can backup Exchange Mailbox to PST file in Outlook
An Organization requires an advanced security measures for securing emails, which are associated with Exchange Database Server. There are few situations in which Exchange server becomes offline or dismounted either due to lack of Exchange database connectivity or corruption in EDB file.

In addition, uses require solution that enables them to access .edb file even in absence of the server connectivity. Due to such reasons, there is a need for some solutions by which one can convert EDB file to PST.
Overview of Exchange Mailbox (EDB ) &  PST File
Microsoft Exchange Server stores all of its data in .edb file. This Exchange database file includes all the complete mailbox components such as email folders, messages, attachments, tasks, calendar, notes, and calendar.
Personal Storage Table is used to store one or more copies of messages, calendar events, and other data items.
Reasons Behind to Backup Exchange Mailbox to PST file in Outlook
Exchange EDB files can have limited space to store the files. Problems grow when it has exceeded the file size limit.
1. EDB files are corrupted and damaged as well. Even a minute power gets fail or suddenly computer become restart can corrupt EDB files.
2. If anyone wants to access archived files of Exchange database then it is necessary to convert EDB to PST format.
3. Export EDB to PST format to backup Exchange mailbox database.
4. Mailboxes acquire inaccessible if Exchange server gets down due to maintenance tasks. Therefore, it is essential to transform EDB to PST format so that one can easily access mailbox data.
Manual Approach to Backup Exchange Mailbox to PST file in Outlook
There is not any direct method for the conversion from Exchange mailbox EDB to PST file thus, Microsoft has given an add-on utility i.e. ExMerge which helps to migrate Exchange Mailbox EDB to Outlook PST files. The following steps are mentioned below:
1: Select the process you want to perform.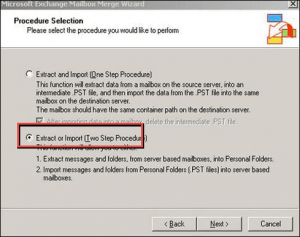 2: Choose Extract or Import option and then, click Next to continue the process.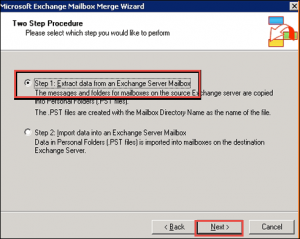 3: Enter the necessary details to the Exchange server and click Next button.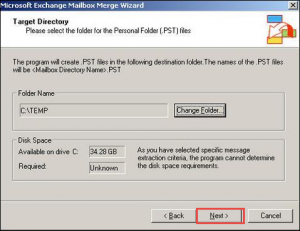 4: Now, choose the Exchange Server Database from which users need to extract the PST files.
5: Then, select the Exchange Server Mailbox whose data must be exported in .pst file format.
6: From the current Window, select the folder location from where anyone wants to save the converted Outlook PST files and then, click on Next.
7: Finally, click on Finish to complete the procedure to Backup Exchange Mailbox to PST file in Outlook.
Limitations of the Manual Procedure
It needs to store mounted of information
Cannot work with more than 2 GB EDB mailbox
The Exmerge utility cannot support the Exchange public folder
Manual method is lengthy, time-taking and data loss during conversion
Doesn't support Exchange Server Database 2007 and its higher versions
Expert Solution to Convert Exchange Mailbox to Outlook PST from Offline EDB File
EDB File Converter is the professional software used by various IT Experts, Naive, and Exchange users to export/backup Exchange mailbox to PST file from offline/dismounted Exchange database file of any size in a simplified way. It by-default create UNICODE PST file.
This utility supports pub.edb file & priv.edb file. It export various mailboxes such as: disconnected, legacy, shared, user, archive and data items like – mails, contacts, tasks, contacts, calendars, journals to Outlook PST and multiple file formats.
User can extract Exchange EDB to PST, EML, MBOX, PDF, HTML, MSG format easily. It provide dual scan mode option that recovers EDB file from corruption. If the Exchange database is less corrupted select quick scan and to recover highly corrupted .edb file go for advance scan. This scan mode option also recovers purged Exchange mailboxes and items from load EDB file.
The software export selective or multiple Exchange data to Outlook data file. You can export contacts to PST file and other data items selectively using categories filter option. It provides an interactive graphical user interface which allow users to do their job in an efficient way and saves their time too.
Split PST option of this application allows users to split the large EDB mailboxes into multiple Outlook data file in smaller and manageable size i.e. MB or GB. User can select this option smaller PST file as per their requirement.
After exporting Exchange mailbox to Outlook PST file the software auto-create the export report which save the success and fail count of exported Exchange data.
Key Features Of Automated Software
Export dismounted/offline Exchange EDB mailboxes to PST
Preview Microsoft Exchange database mailbox data items before conversion
Preserve actual folder hierarchy and keep metadata intact
Generate single Outlook data file for each mailbox in the Exchange database file
Date filter option export Exchange data in a specified period of time
Remove encryption (SMIME/OpenPGP) from EDB mailboxes in batch
Suitable with Microsoft Outlook, Exchange Server, and Windows OS version
Stepswise Method to Backup Exchange Mailbox to PST from Offline EDB File
Step 1: Download the software, Install, and Launch it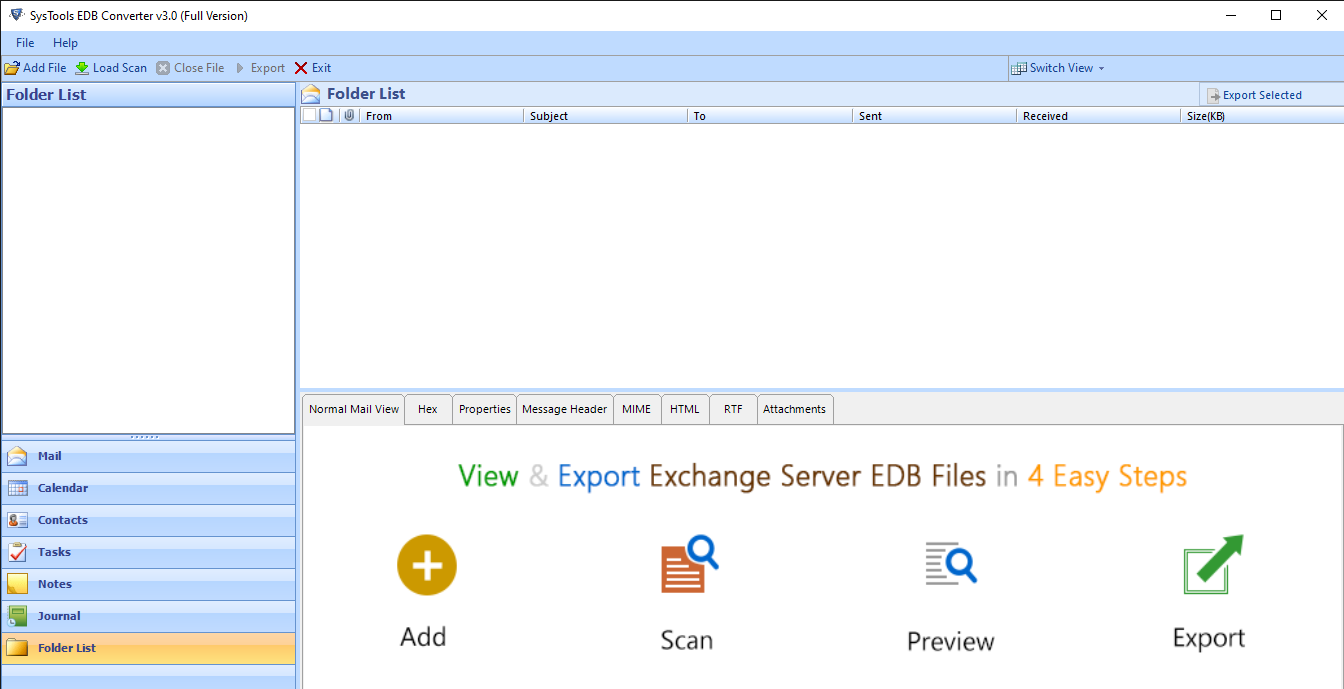 Step 2: Select Add file > Load ofline/dismounted Exchange EDB file > Click on add button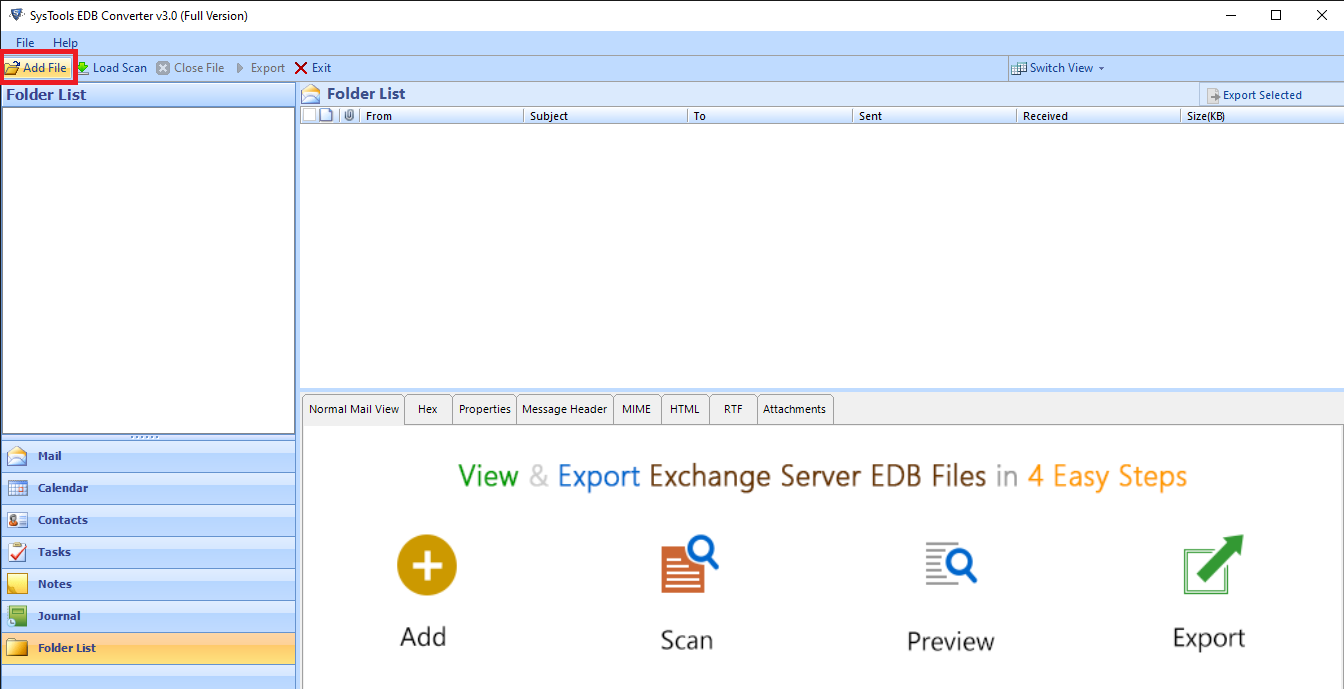 Step 3: Preview Exchange EDB mailboxes data > Click Export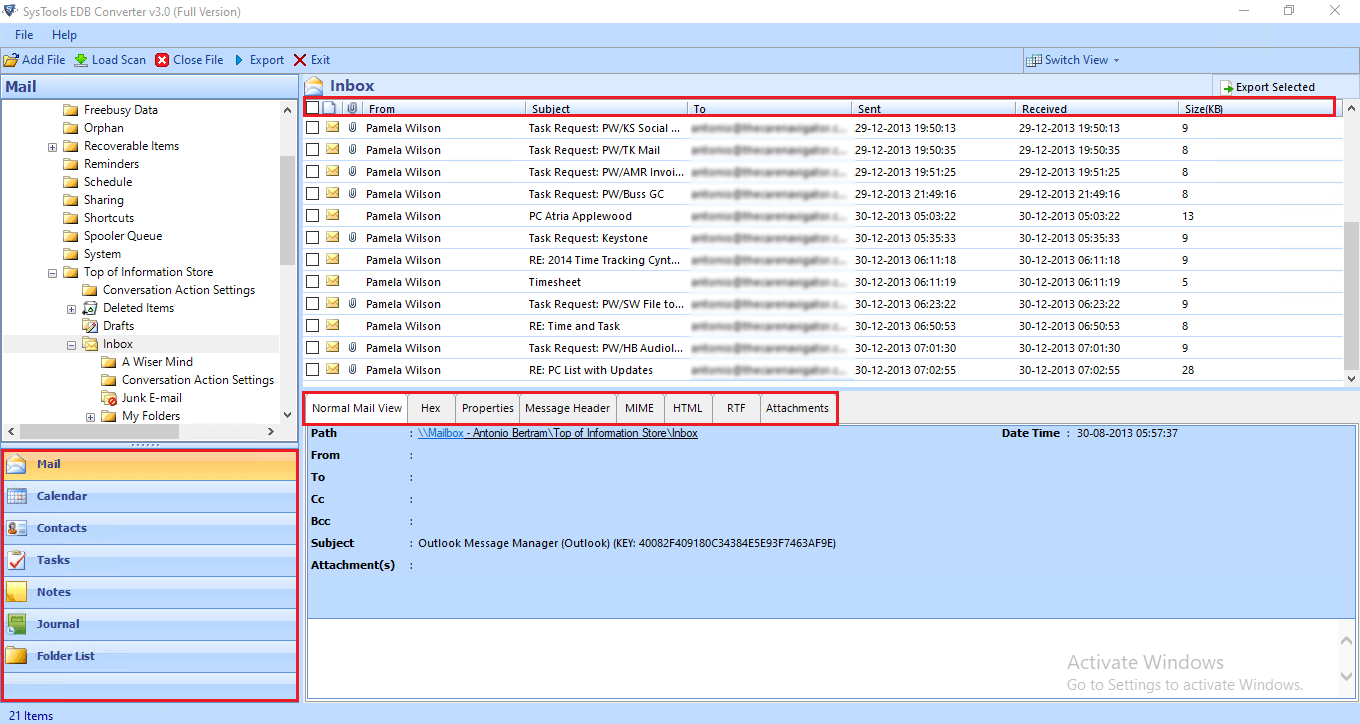 Step 4: Select all EDB mailboxes > Click on PST > Select on browse button to set target file location > Click export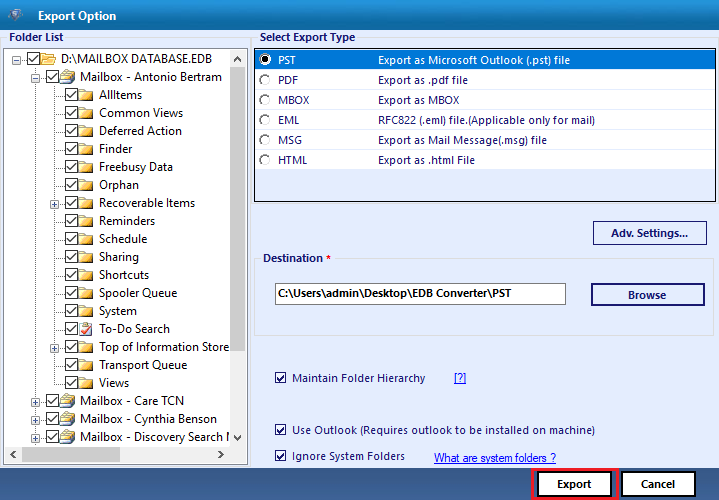 Finally, all Exchange database mailboxeS are successfully exported to the PST file format
Note: If users want to avoid the technicality and complexity of the manual solution and want to backup the mailboxes of Exchange Server in a simplified manner without any hindrance. Then, users can use the SysTools Exchange Export Tool which is capable to export the various Exchange mailboxes such as: journal, hosted, corrupt, enabled, disabled, disconnected, exclude dumpster from Live Exchange Server to the Outlook data file in a hassle freeway without any hassle.
Working Steps to Backup Exchange Mailbox to PST File from Exchange Server
1. Download, Install and run the advanced utility
2. Then, enter the Exchange credentials > Choose Exchange Server version and click on the include sub-domain users option > Click on the Login button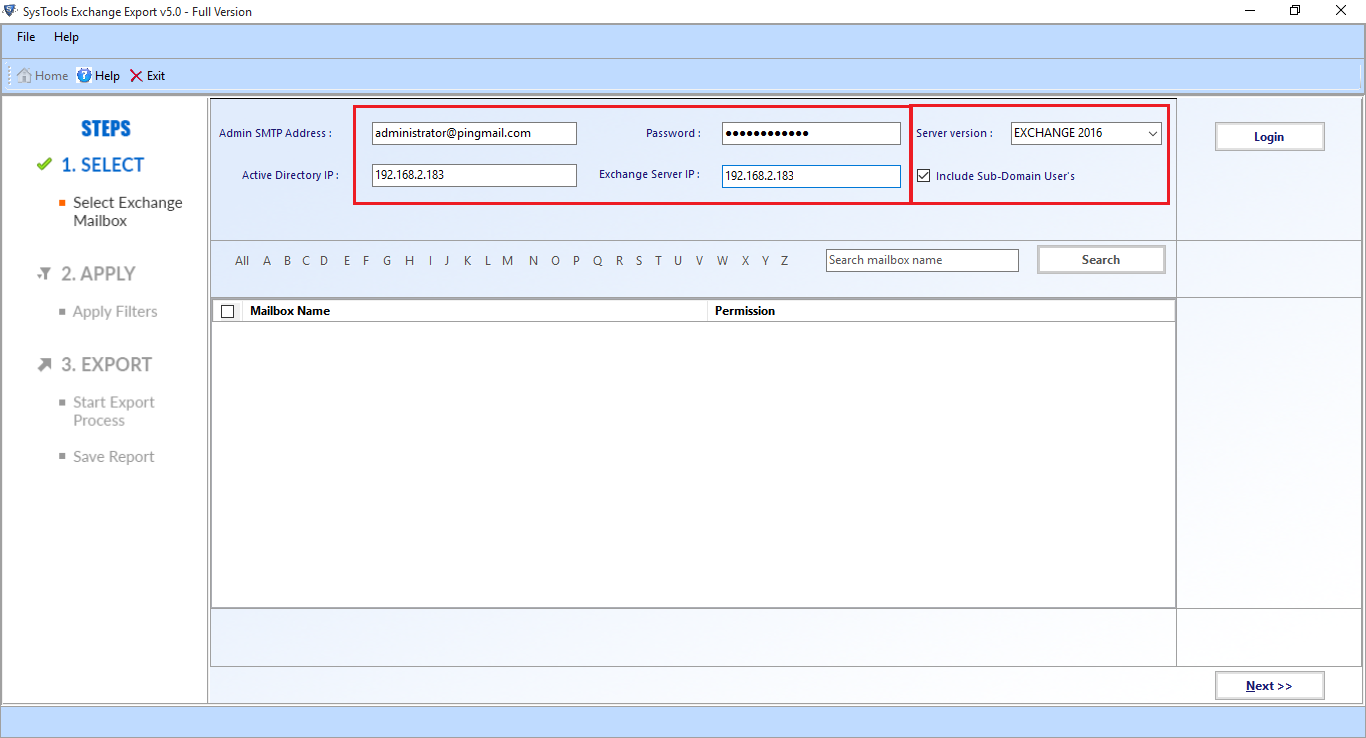 3. Select the EDB mailboxes >> Click on the Next button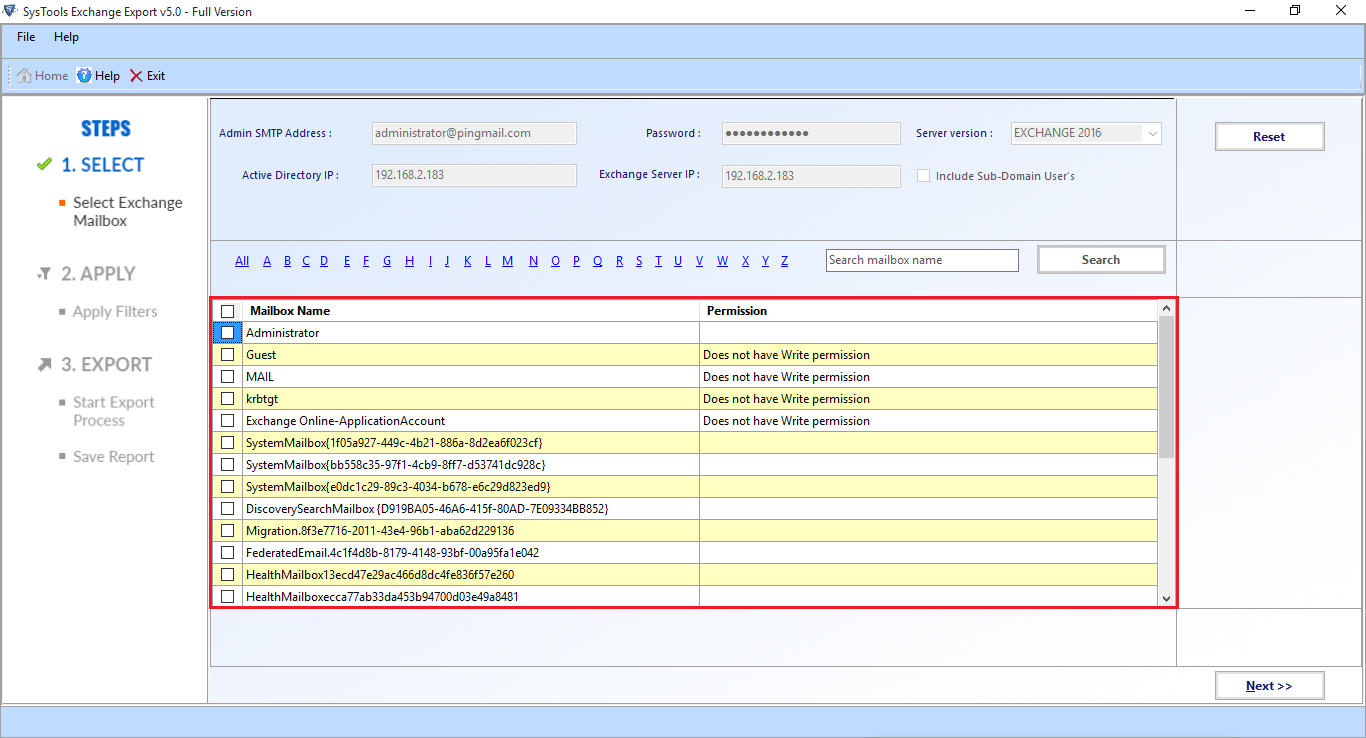 4. Select Exchange mailbox items >> Click on the given checkbox and select the browse button to set target file path >> Click on the export button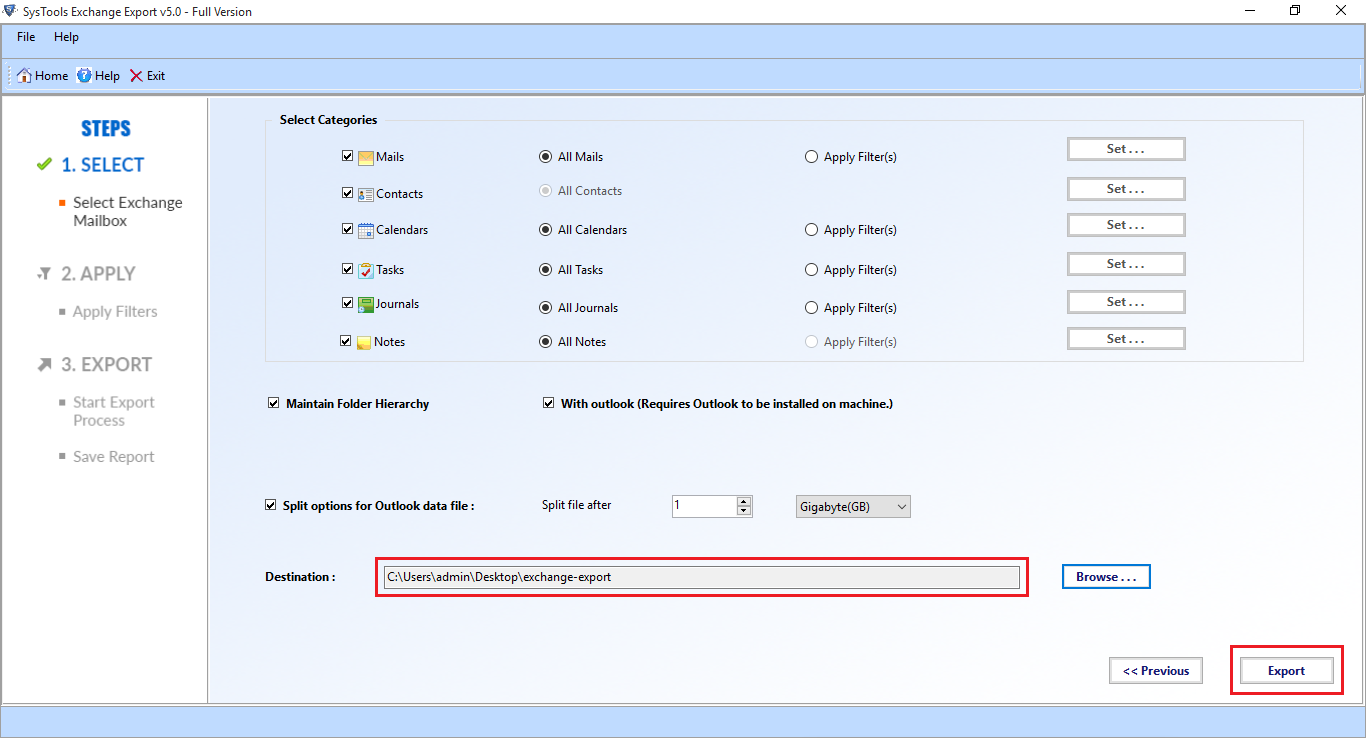 Conclusion
After considering, we have discussed about PST and EDB file. Moreover, we have covered the following reasons to backup Exchange Mailbox to PST due to lack of Exchange Server connectivity or it gets corrupted due to virus infection, become shut down instantly. Still, this application is unable to export large Exchange EDB files. Users must go for an advanced solution that is mainly designed to overcome the limitation of above mentioned Microsoft utilities in an efficient way and export multiple EDB mailboxes to Outlook PST from Exchange Server or Offline/dismounted Exchange database file in no time. Depending on your preferences you can select the solution and perform the conversion.