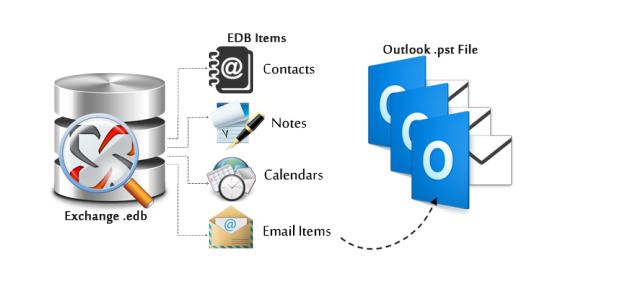 Microsoft has provided Exchange Utility i.e., ExMerge, which helps to export Exchange Mailbox to Outlook PST files. In the following section, we will discuss some of the best solutions (including ExMerge) which can backup Exchange Mailbox to PST file in Outlook
An Organization requires an advanced security measures for securing emails, which are associated with Exchange Database Server. There are few situations in which Exchange server becomes offline or dismounted either due to lack of Exchange database connectivity or corruption in EDB file. In addition, uses require solution that enables them to access .edb file even in absence of the server connectivity. Due to such reasons, there is a need for some solutions by which one can convert EDB file to PST.
Overview of Exchange Mailbox (EDB ) & PST File
Exchange Database Server stores all of its data in a single file having .edb file extension. This EDB file which includes the complete mailbox components such as email folders, messages, attachments, tasks, calendar, notes, and calendar.
Personal Storage Table i.e. PST used to store one or more copies of messages, calendar events, and other data items within MS software such as Microsoft Outlook saved on users Desktop.
Reasons Behind to backup Exchange Mailbox to PST file in Outlook
Exchange EDB files can have limited space to store the files. Problems grow when it has exceeded the file size limit.
1. EDB files are corrupted and damaged as well. Even a minute power gets fail or suddenly computer become restart can corrupt EDB files.
2. If anyone wants to access archived files of Exchange database then it is necessary to convert EDB to PST format.
3. Export EDB to PST format to backup Exchange mailbox database.
4. Mailboxes acquire inaccessible if Exchange server gets down due to maintenance tasks. Therefore, it is essential to transform EDB to PST format so that one can easily access mailbox data.
Manual Approach to Backup Exchange Mailbox to PST file in Outlook
There is not any direct method for the conversion from Exchange mailbox EDB to PST file thus, Microsoft has given an add-on utility i.e., ExMerge which helps to migrate Exchange Mailbox EDB to Outlook PST files. The following steps are mentioned below:
Step 1: Select the process you want to perform.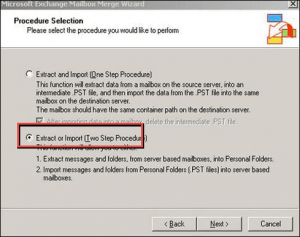 Step 2: Choose Extract or Import option and then, click Next to continue the process.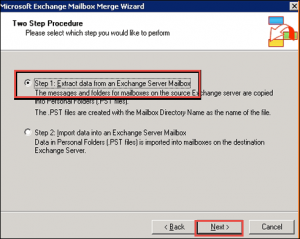 Step 3: Enter the necessary details to the Exchange server and click Next button.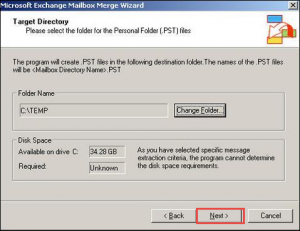 Step 4: Now, choose the Exchange Server Database from which users need to extract the PST files.
Step 5: Then, select the Exchange Server Mailbox whose data must be exported in .pst file format.
Step 6: From the current Window, select the folder location from where anyone wants to save the converted Outlook PST files and then, click on Next.
Step 7: Finally, click on Finish to complete the procedure to Backup Exchange Mailbox to PST file in Outlook.
Limitations of the Manual Procedure
1. It doesn't support Exchange Server Database 2007 and its higher versions.
2. It needs to store mounted of information.
Suitable Approach to Convert Exchange Mailbox to Outlook PST
In order to have a hassle-free solution to overcome all the limitations of the manual approach, You have to download EDB to PST Converter from the official website and then install them on your machine. Now, go through following set of instructions to export the Exchange EDB emails to PST file.
Step 1: Launch the Software, click on Add File option to load the .edb file on the desired application.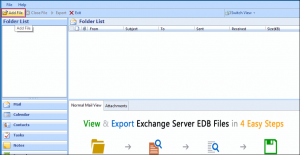 Step 2: Now, browse the EDB files and then, select EDB file which has been converted into PST format.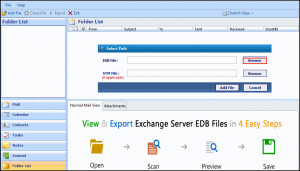 Step 3: For loading .edb files click on Open dialog box.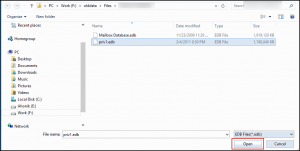 Step 4: Now, click Add File to initiate the Backup Exchange Mailbox to PST.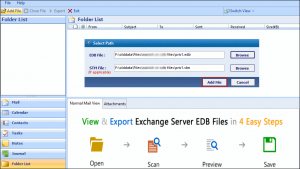 Step 5: Preview the Window and scan the EDB files.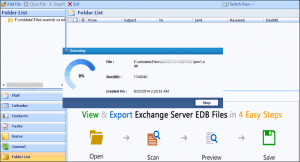 Step 6: Finally, click OK option to complete the scanning process.


Step 7: After scanning, click on Export from exporting the .edb files into PST format.

Step 8: Select the folders that users need to convert into PST file. A PST split option is given to manage the size of Outlook PST file.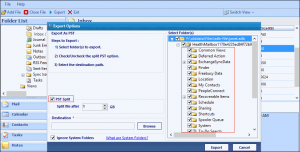 Step 9: Next, Browse the selected location for saving the result into PST file format.

Step 10: Click Export to start the conversion procedure.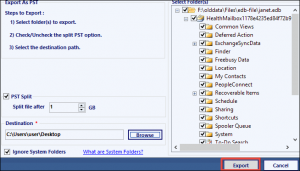 Step 11: After Exporting, let's begin the conversion process.
Step 12: Click OK once the entire process has been completed.


Step 13: Click the Save option to store the Exported data report & take Backup Exchange Mailbox to PST.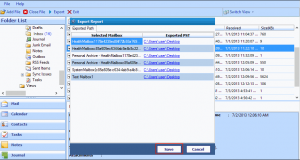 Step 14: After that, click OK option when the exporting report has been stored.
Conclusion
After considering, we have discussed about PST and EDB file. Moreover, we have covered the following reasons to Backup Exchange Mailbox to PST due to lack of Exchange Server connectivity or it gets corrupted due to virus infection, become shut down instantly. Thus, Microsoft has provided an Exchange utility i.e. ExMerge.exe used to extract data from mailboxes on a Microsoft Exchange Server and after that merge this data into mailboxes on another Microsoft Exchange Server. Still, this application is unable to export Exchange EDB files. Users must go for an alternate solution i.e. EDB to PST Converter tool which is mainly designed to overcome the limitation of above mentioned Microsoft utilities in an efficient way.