Best PDF Management Software to Organize PDF Files Efficiently
PDF files are the most common type of file format used by many business persons and individuals. These documents appear same to anyone, any time and anywhere. Due to large usage of these files, there arises a need for some PDF file manager softwares to make the process much easier. We know people don't want to spend too much time managing their business PDF documents when they would rather spend this time on more profitable business pursuits. Hence, for this reason, we are outlining some of the best PDF Management Software to help organize PDF files efficiently.
What Should Users Expect from PDF File Manager Software?
The tool helps users for managing PDF files effectively. Rather than searching for multiple applications to handle the various stages of a paperless workflow, this software present at the single place and delivers all functionality. Mostly, users want a tool that which can easily perform operations on single or multiple PDF documents this condition is full filled with these best PDF Management software. Also, compatibility is the most important factor in software selection process. Users can easily use these tools on any version of Windows Operating Systems i.e. 10, 8.1, 8, 7, etc.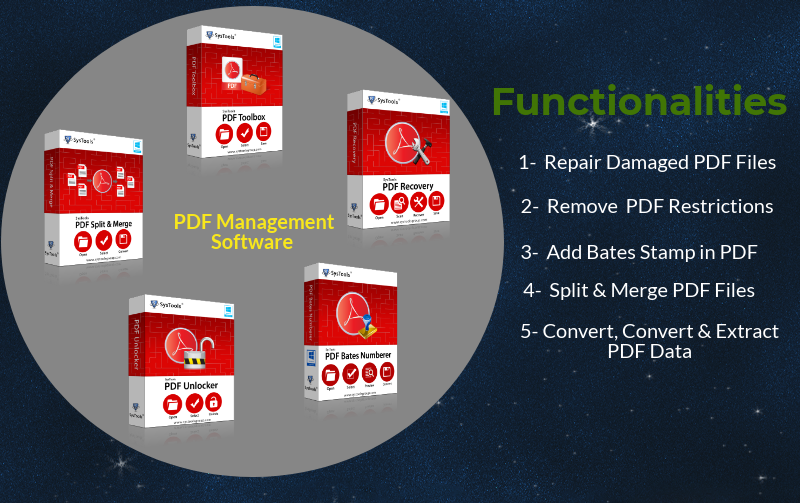 Best PDF Management Software List
All the PDF organizer softwares described below lets you to create new output PDF file after performing required operations. You don't have to worry about the original file, it remains unchanged. Now, let's have a quick overview of different PDF file managers:
1. PDF Unlocker
This is one of the full-featured best PDF file management software which is easy to use. It provides the facility to remove security from multiple PDF files so that secure documents can be turned to unsecured PDFs. Also, the interface of the software is very simple and intuitive. Users just have to select the locked PDF file having multiple restrictions. Once the file is added, all the restrictions are previewed by the tool. After, that tool will unlock the document and users can save that file.
2. PDF Recovery
It is the fully fledged PDF repair tool to manage PDF file after corruption. It easily scans the damaged PDF document and generates the preview of the file. It can resolve all error based issues with PDF files. Several PDF errors are resolved by this tool and enable users to save the recovered file. Moreover, all the components of PDF like text, images, graphics are repaired by the tool efficiently.
This PDF file manager software provides the level of functionality that, it is not only used in business firms or by professionals but also used in many legal firms. The user interface is modern and easy to use. Users can insert bates stamp in their legal documents without much effort. Moreover, the option to add multiple PDF files for numbering is another additional feature of this tool. Users can also set the position of the Bates stamp with this best PDF management software.
4. PDF Split Software & PDF Merge Sofware
Many legal firms are moving towards paperless offices. But, the number of files and documents floating around increases heavily. Therefore, it becomes very difficult to manage them all collectively. So, PDF Split and Merge is the simple and efficient PDF organizer software to manage PDF files. This tool split multiple PDF files without much effort. Moreover, another function of this best PDF management software is, it can also merge PDF files for the easy management of documents.
5. PDF Toolbox
As the popularity of the PDF files has grown many people want to preserve their documents for archival purpose. For this, they can use PDF toolbox utility is the simple approach to convert PDF files to PDF/A format. Moreover, PDF file compression and data extraction can be easily performed by this tool.
6. PDF Extractor (NEW)
There are times when we come across some PDF files from which we need to extract some information like text, pictures or maybe attachments. This tool can extract data (text), inline images, and attachments. The tool gives you option to easily select pages from which you want to extract data or images. While extracting attachments you can use filters like file size or file type. You can also save extracted inline images (images embedded in the PDF) into various formats.
7. PDF Watermark Adder/ Creator (NEW)
As the name suggest, you can create and mark your PDF files with watermark. You can easily add Text,Image or Date & Time watermark to PDF files. Beside this, the software provides you multiple formatting options. This includes Position setting, Font family & Style, Font Size & Color, Mosiac style, Scale image to fit postion, Set Opacity Level, Set Roation Value, Layering the watermark, & Select pages to be watermarked.
8. PDF Watermark Remover (NEW)
Easily remove Text and Image watermark from the PDF documents. You won't require permission password for restricted PDF if you use this tool. Image watermark like logo, stamp or signature can be elimainated. It works for Adobe & Aspose PDF.
Conclusion
If you need a solution for managing PDF files, then I would recommend you these best PDF management software utilities by SysTools. With these tools, you can manage, organize and secure all of your documents without much effort. Well, in this article we have discusses 8 PDF manager tool which makes the task much easier for PDF file management.