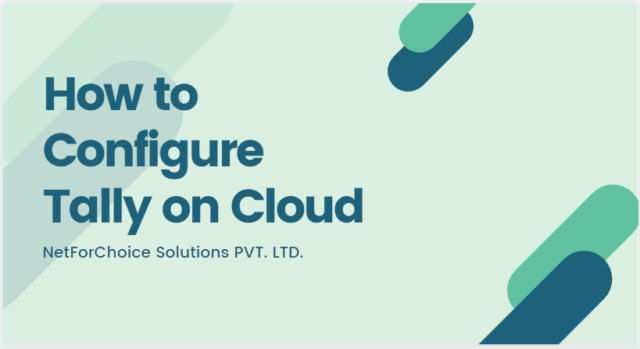 This is my personal experience. I am a senior manager working with CloudCodes. Yesterday, I was attending a Web seminar with 30 other managers on the business impact of Covid-19 on our organizations.
And What! We encountered a big problem there. Most of the staff started doing their job Work from Home. But it is the Accounts team which was affected the most.

The team is complaining about their transaction management. Their query is that due to security, they are using desktop-based Tally ERP 9 Accounting Software.
But then comes to the Lockdown & everything stops.
As I analyzed their problem & the most suitable solution that can resolve their issue is to use online accounting software.
Cloud Accounting Software is very much similar to traditional accounting solutions but with one big benefit.
They are HOSTED on Cloud, which means a user can access the service anytime from anywhere.
ANOTHER ISSUE:
When I suggested to them some of the online accounting management software, their doubt is they still want to use Tally software. To meet both requirements, the only possible way is anyhow enabling remote access to Tally ERP 9 accounting software for them.
As once-great scientist states:
"We cannot solve our problems with the same level of thinking that created them."

Albert Einstein
Which in simple words means, big problems require a big solution.
By Running Tally Software Online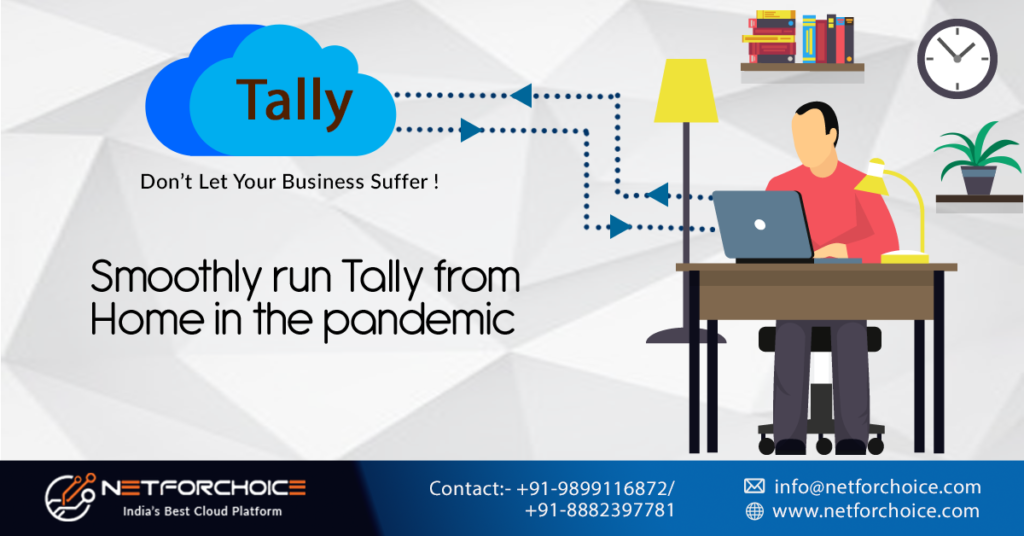 Tally Software is primarily available for on-premise environments & can only use after installed in a system. Officially, Tally is not available for Cloud.
Ok, then How to use Tally Software on Cloud?
Yes, there are many third-party solutions available that will enable the users to run Tally ERP 9 accounting software on the cloud. Users can easily manage their financial account & all other operations through Tally Online service.
Best Tally on Cloud Service:
Are you looking for the best Tally on Cloud Service, then I recommend you to bet on NetForChoice Tally Online solution? The NetForChoice Tally Accounting software on Cloud service will overcome all the problems of accounting professionals. Users can access the Tally software remotely on any device instantly.
How Tally on Cloud Service will Simplify Your Problem?
A Tally software can only be used after installing it in your system. But, Running Tally on Cloud will enable the users to remotely use it on multiple devices. It will generate a live virtual environment for Tally software.
The biggest reason to choose NetForChoice Tally Server Hosting is its configuration process. A user only needs to provide his requirements to the NFC Executives & they will instantly setup Tally software. A mail will be sent to you that will include your log in details like Tally Server Path, Server Name, Username, Password, etc.
Benefits of Using Tally Software on Cloud:
Cloud services allow long-term users to access applications over the Internet or other network through a cloud service provider.
Cloud computing software allows your company to create and store applications on multiple workstations.
Cloud-based accounting solutions enable employees in other departments, remote offices, or branches to access the same type of software.
Be flexible and manage your cash flow on the NetForChoice platform. FinancialForce Financial Management offers a flexible ledger in one place, only payment methods and smart information.
Some other major features of Tally software are:
Connect Tally Software on Mobiles, Laptops, Tablets
Perform Operations off-site instead of Desktop
Extremely Cost-effective with per hour billings & Pay-as-You-Go model.
Plan for the next day & check all your company's inventories & journals from anywhere with any location restrictions.
Real-time synchronization of Tally data thwarted to visible all recent activities.
Way Forward:
Deploy Tally on Cloud Service with high efficiency & low operational costs. Your data will be hosted on a Tier-IV data server with high-speed connectivity. The Bare Metal Server Infrastructure offers zero-latency & provides real-time synchronization of data. Connect with the NetForChoice team to learn about this extremely agile Tally on Cloud service.