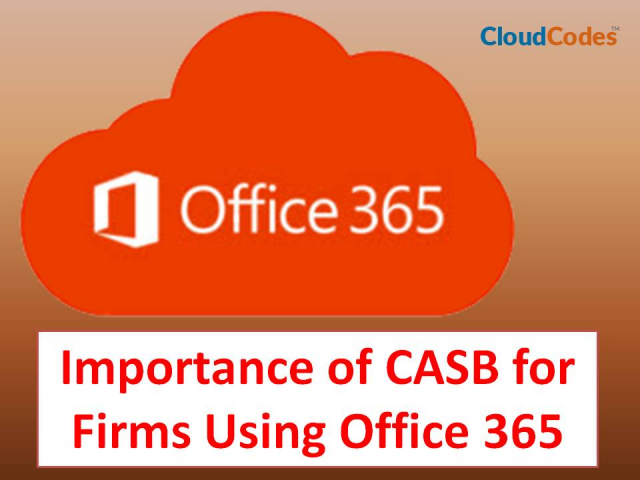 Working with O365 exposes confidential data to unintended users leading to data breaches; these chances of data loss can be averted with the help of effective CASB for Office 365 solutions.
CASB For Office 365 – An Introduction
Over seventy percent of business firms are today using Office 365, but cloud security issues and compliance issues of securing confidential data is sabotaging the entire work systems of corporate entities and putting their work modules at risks and really making them questionable. At time of using Office 365, many firms tend to outsource server management functions along with data center operations to the cloud service provider, Microsoft in this case. But, cloud provider cannot take complete security responsibility and does it only partially, and thus the real onus to protect the data rests with enterprises only. Cloud provider definitely takes care of some of the security aspects and curtail some cyber threats to Office 365 platforms, but still some of unauthorized users tend to pose threats to sensitive data, thus creating compliance violations, which can result in big-time losses for the firms owing to these security breaches in terms of the loss of revenue as well as rapport in the market of those firms. An Organization must need a CASB for Office 365 solution for the complete Cloud data security.
Office 365 Cloud Security Risks
Working with Office 365 opens many passages for confidential data to move out of cloud systems of any enterprise and go in wrong hands due to free data access and easy exposure to unauthorized users, which can be curtailed with the use of CASB solutions. Another major cyber security threat to data being transmitted in cloud networks is that of visibility. Cloud data visibility under cloud-run operations is almost nil, as it can't be seen, and can't be controlled either in any possible manner. So, regulatory compliance and data security are the 2 main risks associated with cloud visibility threats while working with different cloud-based services.
CASB For Office 365 – Solutions to Strengthen Cloud Security
Cloud Access Security Brokers is definitely the foremost thing which comes to the mind to ensure complete cloud security and data visibility under cloud networks being operated currently in most corporate houses today as the CASB solutions provided CASB vendors combine different compliance and data security aspects into a single indigenous platform for addressing this need of the hour for most firms working over cloud data networks. CASB solutions help to extend the security perimeter by offering strengthened access control for corporate data being transmitted in Office 365.
CASB solutions for Office 365 fine tune the cloud-operated systems in terms of security lapses faced otherwise. This is done by applying behavior analytics and seamlessly limiting any unauthorized access to cloud data as well as applications, thereby increasing data visibility of within the cloud. Identifying data transfers is one aspect covered by CASB solutions, and automatically preventing unauthorized data uploads into unknown domains is another. This is done by alerts and reports that are generated whenever such attempts are made to violate the policies and restrictions thus imposed by the IT after deploying CASB solutions. The administrator is informed there and then about these malicious attempts, making it possible to take necessary actions quickly, thus preventing data from being misused.
CASB solutions help in setting certain controls over the applications being used and data being transmitted across these networks. Thus, security can be improved for cloud data and basic to advanced level infrastructure of cloud security policies of enterprises are crafted and thus implemented with an assurance of absolute authority.
CASB for Office 365 is a great way of helping enterprises to detect all network users of cloud-run apps; thus, helping to eliminate shadow IT issues through scrutinizing and carefully analyzing any existing logs as well as detecting any anomalies in cloud data access, so as to achieve better controls over data flow and data management.
CloudCodes CASB For Office 365
We, at CloudCodes, are very happy that our CASB solutions have managed to win the hearts of many firms, big and small, with regards to the security of data over cloud; and also at the same time, for absolute regulatory compliance as per the governing laws and legal regulations set by some world authorities for ensuring total confidentiality of data. Thus, by deploying CASB for Office 365 solutions, all the firms can brilliantly enforce cloud security controls, thus making firms reach compliance as well as complete data visibility across Office 365.