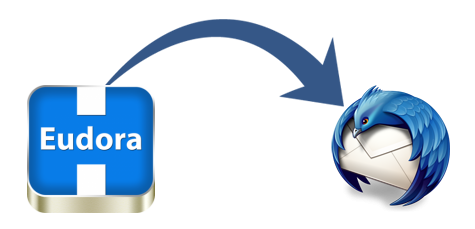 Eudora is an obsolete technology that was once used as an email client for Mac operating systems. It was once very popular with Mac systems like Mac OS and Mac OS X. It was widely used with palmtop computing platforms like Newton and Palm OS. However, development of this product has ceased since the invention of Apple Mail. There are many clients that have used Eudora for years and now find themselves looking for alternatives so they Convert Eudora Mailbox To Thunderbird. They need to keep their business going without much hassle and trouble in both internal and external communication so they used to export Eudora Mailbox to Thunderbird.
Disadvantage of Eudora Email Client:
• Viewing attachments is a quick and painless process unless virus payload is attached.
• If JavaScript enabled in your email reader, you might be the target of rogue JavaScript embedded in an email.
• All messages are stored on the hard drive the valuable space is consumed.
• All attachments are stored(or downloaded) on your system there exists a potential danger for virus attack if we don't have the scanners.
• Email folder files can get corrupted and sometimes lost forever and the archiving the files is not an easy task.
• The whole email messages are stored on your PC, and privacy disappears when someone else sits down at your machine. Even if it is password protected one.
So the users look for better solutions for emailing their customers in Thunderbird. It is a very popular email client by Mozilla. It created a MBOX repository of emails just like Eudora. Hence it is easier to convert Eudora mailbox to Thunderbird. In this post, possible methods have been described to do exactly the same. Read more to find out what the methods actually are and choose the best option.
How To Convert Eudora Email To Thunderbird? Or how to import Eudora mailboxes into Thunderbird?
Emails can be accessed using the two protocols, IMAP and POP3. If the mailbox is created in an IMAP account, then converting a mailbox is not essential. Simply create an account in the new email client and start accessing and communicating through that mailbox. However, if the mailbox is created using a POP3 account, emails are saved in a storage file on the system. Thunderbird can either extract the messages from Eudora directly or use an IMAP account to transfer the messages. And so convert Eudora email to Thunderbird can be held.
Thunderbird only reads a standard UNIX mailbox format (.mbx) format. Any import to Thunderbird will involve importing the data storage file to a .mbx file. Eudora already saves it's mailbox folders in a .mbx file. Hence, the conversion from Eudora to Thunderbird becomes easier. Just that Eudora must already be on the system where Thunderbird email client is installed. Read the following segment to find out more on how to convert Eudora mailbox to Thunderbird.
Solution#1 Manual Solution- Using an Older Version
Thunderbird provides an inbuilt import tool for Eudora in the earlier versions of the product. This feature is not available in the later versions of the tool. Using version 17 is the best bet as the option was removed in version 48. And any version after 17 was reported to have encountered many crashes and bugs. This solution is only for exporting within the same computer that must have both Eudora and Thunderbird already installed so below show to Convert Eudora Mailbox To Thunderbird manually.
• Firstly, take backup of all Eudora mailbox as well as Thunderbird mailbox on a separate drive.(Which will really help you to import Eudora mailbox to Thunderbird)
• Also, make sure that there is enough space in the primary drive to contain three separate mailboxes, one for Eudora, the other of Thunderbird and the third for converted mailbox items.
• Then, uninstall any later versions of Thunderbird application.
• Now, download and install the old version of Thunderbird on the system.
• Next, launch the earlier version of Thunderbird. Follow the instruction below in Windows operating system.
• From the beginning, an Import wizard will appear.
• Alternatively, this wizard is available from Tools< 8. Now, select Mail from the three options. Separate wizard needs to be run to import Eudora address books and settings.
• Next, the import process will start. Click Finish to complete the step.
• Finally, when the import process is completed all the emails will be under the Eudora Settings. Any new emails to Thunderbird will show under Local Folders.
Solution#2 Alternative Measures – Third-Party Tool
There are not many ways through which we can Convert Eudora Mailbox To Thunderbird. Both have different ways of storing data. While Eudora detaches attachments from emails and saves them separately, Thunderbird keeps them together. This makes it's data file take more space. Any conversion from Eudora mail to Thunderbird will involve either fixing the attachments with emails or just exporting emails without attachments. This includes the manual method where separate measures need to be taken to import attachments.
To know more about the tool, visit:
https://www.systoolsgroup.com/thunderbird-importer/
One such measure is the use of an Alternative tool like Thunderbird Importer. This software is perfect to migrate Eudora to Thunderbird mailbox with attachments. Choose from importing a single mailbox file like in.mbx and leave the other trash.mbx, out.mbx files for selective conversion. This will save a lot of time and avoid needless conversion. The tool also supports applying a date-based filter to further reduce the size of the mailbox for migration. The tool is compatible with all versions of Windows(32 and 64-bit) including Windows 10.
Conclusion
It is very difficult to find easy solutions to convert Eudora mailbox to Thunderbird. The manual solution does not guarantee data integrity. Some emails are found to be unread after the move, many other have email formatting changes. Sometimes emails are found in different folders than in the original mailbox. There are also reports of bugs and crashes while the transfer is mid-way. Thunderbird crashes after the export. These are not minor corruptions. Users must be fully aware of the risks involved in undertaking such a task while converting Eudora email to Thunderbird manually. Many look for workarounds to much a manual procedure which is really time-consuming one. And so to export Eudora Mailbox to Thunderbird can be made by a tool that is Thunderbird Importer, which comes highly recommended by many data recovery agents which will migrate Eudora to Thunderbird so easily.