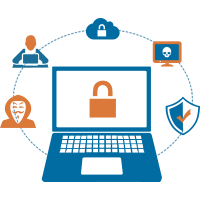 Being the major administrator of G Suite enterprise, users might append cloud security solution on secretive data from being getting shared among outsiders. For this kind of protection, users can make use of rules, which protect data privacy through DLP. DLP for Google Drive works in a way that it regularly scans the enterprise's Drive and files of Team Drive for confidential data. Users setup the policy-based activities, which are triggered at the time of encountering sensitive content. These activities include sending a message to administrator, sending message to users who created, uploaded file with confidential data, edited it, etc.
Methods to Generate DLP For Google Drive
The section will help users in creating rules from the main administrator account of G Suite. So, let's begin!
Using Predefined Templates to Create Rules
Login into the Google Admin Console account where DLP is to be applied
An Admin console dashboard will appear in which you need to go to Rules
Tip: If the 'Rules' option does not appear in front of you then, click on More Controls, which is at the bottom of the web page
Either click on Add icon or on Templates for opening predefined templates list
Edit the title of this rule and its description, if needed
If required then, you can either make changes under conditions, actions, and triggers or simply add a new setting. After doing all this, click on Done
At last, activate DLP for Google Drive by clicking on Create and Activate button
Using Blank Templates For Rules Creation
Login into your G Suite Administrator account and again go to Rules section
Click on Add (+) icon or hit on Templates to continue the procedure
Click on the Blank Template under the section of Data Loss Prevention
Mention the new name of the rule and its description within their respective fields
Add Triggers, Actions, and Condition in this rule and after all this, click on Done
At last, click on Create and Activate to update all the data security settings made by you
Way to Edit Rules of DLP For Google Drive
The following steps will help you in editing DLP rules of your G Drive account:
Open Rules section in your main Google Administrator account
From the top of the screen, click on Manage for viewing all the list of already available DLP rules
Click on a particular rule in which you want to make changes
Make modification under the sections like Triggers, Actions, and Conditions and after all this, click on Done
At last, click on Save and Activate to update changes in DLP rules of G Suite account
Different Ideas to Utilize Rule Audit Data & Template
Here, you will come to know about extra actions, which you can use with rule audit data and template.
#1: View or Export Data of DLP Rule Flagged Items
1. Go to the Rule section of G Suite account and from the top of the screen, click on Audit. Here, you will be able to view all data report of DLP rule audit
2. Click on Select Columns for changing the criteria, which are displayed in front of you
3. In order to configure table and display only specific elements in Filter section, you need to mention names or choose the component in following fields:
Rule Name
Flagged Item Name
Flagged Item Identifier
Item Owner
Team Drive ID
Matched Content Detectors
Date and time range
4. Click on the Download icon for exporting entire report to the Google sheet or save it on local machine in CSV file format. Maximum of 200,000 cells will be contained in the resultant Google sheets or downloaded CSV file. Well, the rows are completely dependent upon chosen columns
#2: View or Filter DLP Templates
1. Login into your G Suite main administrator account and open Rules section within it
2. From the top of the page, click on Templates for opening the DLP templates
3. Click on Columns for modifying the displayed criteria
4. Go to the Filter section for configuring table just for showing specific elements. Mention the name or choose components in following fields:
Template name
Template description
Category
App
Conclusion
Keep the files or folder safe on cloud is actually a difficult task. In starting of the year 2017, Google officially announced the DLP for Google Drive, providing customers of the enterprise edition with more hold over the data being getting shared in company. The detection system of DLP translates already existing templates into the regexes (regular expressions) and utilizes extra parameters for determining the matching probability. There can be false positives and negatives that get triggered by several factors.