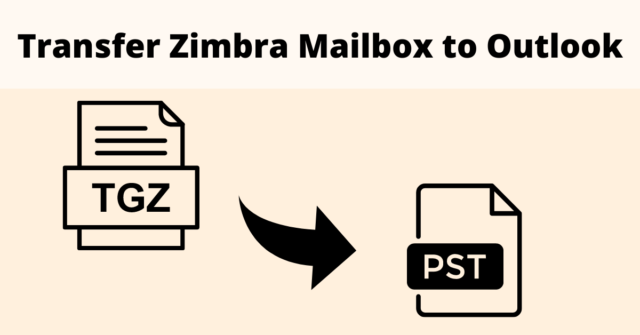 Looking for a way to export the Zimbra mailbox to Outlook? Well, first you need to understand the factors that how you can export Complete data including mails, Calendars, Address books, Tasks, Briefcase from Zimbra to Outlook.
In this blog, we will undergo multiple case scenarios and with their respective method to export data from Zimbra Webmail to Outlook. But before that, we have explained some factors that show migration to Outlook is a great option.

Before checking out the solution section. Let's take a look at the user-generated query displayed on technical forums.
Import Zimbra to Outlook | Query Discussed
"I am using the Zimbra webmail mail client for the last two years due to its popular features. But it's a long time since Zimbra start losing its popularity and stop providing bug-fixing updates and I am facing the data synchronization error. I want to shift my email client data to Outlook. Being from a non-technical background it's difficult for me to transfer data from Zimbra to Outlook. Please help me to get out from this."
Are you looking for a solution concerning the same query? Then, no need to worry in the next 5 minutes read you will be able to transfer your data to Outlook without any difficulty.
Procedure to Transfer Zimbra Data Files | Manual Approach
As it's clear that Zimbra and Outlook are two different email clients with different file formats. Zimbra uses the TGZ file whereas Outlook uses the PST File Format. Let's check out the process to import Zimbra mailbox to Outlook.
Open Zimbra Webmail Client.
Now, select the Preferences option from the Navigation bar.
Click on the Export/Import option from the list.
From the Export panel, select the Advanced Settings and Data Types.
Click on the Export button displayed on the Right button.
The TGZ file downloading process will continue.
How to Import Mails From Zimbra to Outlook | Automated Approach
Most of the users are shifting to the Outlook services due to some limitations of Zimbra webmail. It's a nightmare for the users who don't know how to import Zimbra data files to Outlook.
Thus to make the work easier we have come out with an automated approach i.e. SysTools Zimbra to PST Converter a magical utility that allows converting TGZ files to multiple file-formats including PST format.
Moreover, this tool is enough efficient to migrate Zimbra Emails with Attachments, Contacts, Calendars, Tasks. Even it doesn't require MS installation for conversion and compatible with all versions of Zimbra. The best part of the software is that it allows to  Convert TGZ File to PDF Format with attachments. Let's check out the working steps of this utility.
Import Zimbra TGZ to Outlook | Automated Tool Working Explained
1) The Primary step is to Download and Run the utility and the first interface of the tool will appear like this.
2) Now from the Navigation Bar click on the Add Files option.
3) It offers two options to either Add File or Add Folder.
4) After selecting the desired output click on the Browse Button and insert the TGZ file.
5) A pop menu will appear stating "Scanning Done Successfully" Click OK.
6) All the files will be added to the software panel and easily Preview All Properties.
7) Now click on the Export Button or Export Selected Button to start the conversion process.
8) Select the PST Radio Button from the Select Export Type.
9) Click on the Advance Settings Options to set filters as per your requirement.
10) After selecting all the filters click on the Export Option.
11) The software will count the number of files and a pop-up will appear. Click OK.
12) Afterward click on the "Save Option" and designation to save the files and click Save.
So There You Have It
Outlook is a great option to opt for a new email client. Most of the users have no idea how to export the Zimbra mailbox to Outlook. That's why we have come up with an instant approach to convert TGZ to PST format. As there is no manual method available to convert Zimbra files to PST. So it's suggested to go with an automated approach for good.