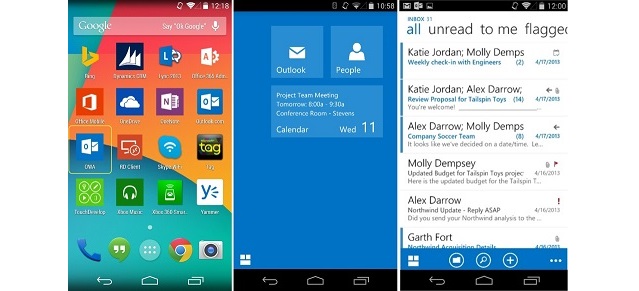 With the fast pace of commerce, users wants to increase his productivity by working anywhere on globe. So Stay in connected with friends, family, and co-workers using the cloud based services via third party application app on user's Android mobile is an easiest way. Nowadays most of the users are working on Office 365 and they want to configure Office 365 account on theirs Android devices. Best suitable way is configuring Office 365 account on Android phones via Outlook app. Because user can work online as well as offline on outlook app and user can configure outlook app on Android device very easily with few steps also.
How to Configure Office 365 Emails on Android Device via Outlook App
User can set Office 365 on user's Android device in no time. Once user follow the steps which are given below, user will have Exchange email and Exchange Calendar happily syncing on user Android phone.
Open outlook on Android device then goto setting icon which on the main menu list.
Tap on Add Account now to Add Email Account.
On the page of Add Email Account, enter your email address and tap continue.
In most cases, outlook will be able to detect user email provider automatically and configure user account. If user is immediately selected the account type, Office 365 from the given icons. If user is not sure about Email provider then go to Troubleshoot email setup on Android device.
Now here, go to password block and enter the password.
Then choose sign in option. User may be asked enter a name and description of user account.
If user is entered additional details such as server settings, see POP and IMAP settings for Office 365.
Outlook app on user Android device may request access to information of Office 365 account Emails. Tap yes or allow to give these permissions.
If user organisation has set up security policies for user, tap Activate.
Then user device will take few second to access account after this user will see emails in outlook inbox folder.
Note: First and foremost, user will need Android phone with data plan. User will also need an Office 365 Account details with which to connect user Android phone. Make sure the DOMAIN\user-name has been filled, are in correct format.
Battery drain warning:
If user set up an Office 365 account on Android phone via outlook app, might need to be careful about his phone battery. Because If user android device will be switched off during configuration, it may be create trouble such as configuration will be stopped. So make sure before doing configuration that Android device battery fully charged or not.
Multiple accounts:
Here user cannot open multiple accounts at a time. If user want to open multiple accounts on single outlook app, it is only possible by using third party tool.
Troubleshooting:
It should be very simple to set up Office 365 accounts on user's Android device. If user has trouble with this process, the cause is most likely an incorrect address, domain, or password.