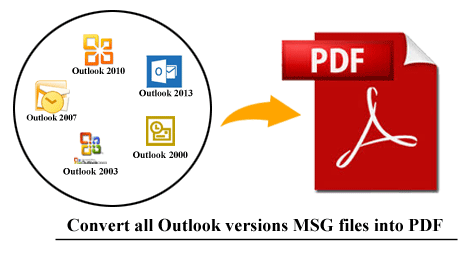 Most of the user have no idea how to view MSG files. This is the most common problem of the MS Outlook user. Because MSG file can view in Outlook email application and this extension used to store an information of a single mail of Outlook. It looks simple and small file format of Outlook but it is not a simple extension. This file always required MAPI aware application to open it and difficult to convert into another format as well. But there is an option where you can save the MSG file into PDF because the PDF file is the highly secure format which is primarily associated with Adobe Acrobat.
PDF file becomes the standard format to transfer an information from one user to another and contains textual information, images with graphics and design. PDF file is a platform independent of OS and the most beneficial feature of PDF file which can open in any OS without any changes in it.
Manual step to converting into PDF from MSG extensions:
If you have MSG file and want to export into PDF format for backup purpose. Here is the given procedure to follow for manual conversion:
Open MS Outlook. Select the mail which you want to export.

Click on File menu and select Save As option from File menu.

After that, you need to select html option from the drop down box and save it.

Then right click on the save HTML file and select the browser.

Then press Ctrl+P and save as PDF.
If you want to save the MSG to Word format, follow the procedure same as it and select the text format instead of selecting the HTML option.
Note: If you converted into word format, you can convert the email content only but you cannot convert the attached file into word format. This is the drawback of the Word format conversion from MSG file.
Conclusion:
Converting from MSG to PDF is not difficult and it can be performed easily without any problem. This blog will help those users who wants to convert from MSG files to PDF or word format with the help of simple manual methods.