As the number of email application is growing day by day, so many users prefer to move from one platform to another. But, switching from one email client to another is not an easy task. It is because most of the applications are platform-dependent. Yahoo contacts to Thunderbird is also one of the types of migration. Apart from this, Yahoo is one of the most popular web-based email client used to perform the exchange of information. Apart from mail service, it will provide many services that are commonly used by desktop users such as news, advertising, video sharing, etc. Due to certain reasons such as major outage makes it difficult to access the mailbox. Security is one of the main reason due to which users need to export contacts from Yahoo to Thunderbird. Therefore, in the upcoming section, we are going to discuss a feasible manual approach to let the user understand how to import Yahoo contacts to Mozilla Thunderbird.
Why Choose Thunderbird Mail Client?
Thunderbird is a desktop-based and reliable email client among most of the users. Also, it helps to manage and access each data without any internet connection. In fact not only provides emailing feature but also organizes contacts, appointments, events, and tasks. However, it's filtering option to remove junk emails and can categorize each email into folders allowing the user to handle the important emails. Being a desktop application, all the contents of Thunderbird are saved on a local system, instead of the server. There are some additional reasons that will become helpful to perform the conversion:
Thunderbird emails, contacts, etc. can be saved locally so that users can easily access all of them
Data can be shared among the different users it is possible if they want
Import Yahoo Contacts to Thunderbird Manually
Yahoo mail one of the needs for the users who use their account for the commercial purpose or some important emails on their profile. Therefore, go through the following workarounds by which the user can convert Yahoo contacts list. Let us follow step by step procedure as given below:
Access Yahoo Mail, reach the Contacts icon on right-top
Click on More (…) option >> select Export (CSV) option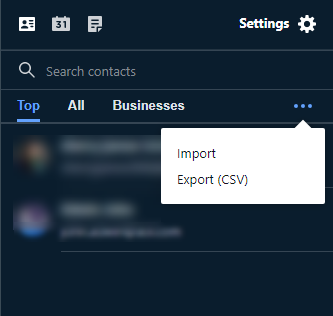 This will export the contacts from the Yahoo account into local hard drive in CSV file format. Next, open the Thunderbird configured account. Perform the mentioned process to import Yahoo contacts to Thunderbird:
Open the Mozilla Thunderbird
From the Tools menu, go to Address Book
In Address Book, click on Tools >> Import

Select the Address Books option and proceed
Choose the contacts file format (.csv) and click Next
Browse Yahoo contacts and click Open
Check the details to import and select the OK option
Click Finish
This will add the Yahoo contacts in your Thunderbird account. View the imported Yahoo contacts in Thunderbird Address Book.
Where the Manual Approach Limits?
There is a certain limitation that users face while using this manual approach. For example, with this solution, the user can import only contacts from Yahoo account and cannot export emails.
An Expert Suggestion:
You can use SysTools Yahoo Email Backup Software to easily backup Yahoo emails in PST / EML / MBOX and another file format. Use this backup file to import in any other format supported email clients such as Thunderbird, Outlook, or Gmail.
Final Thoughts
It is concluded that the user need not worry while importing Yahoo contacts to Mozilla Thunderbird mail client. As we know that both email clients play a crucial role in business success. Along with this, we have already discussed the overall procedure to export Yahoo contacts to Thunderbird mail client.