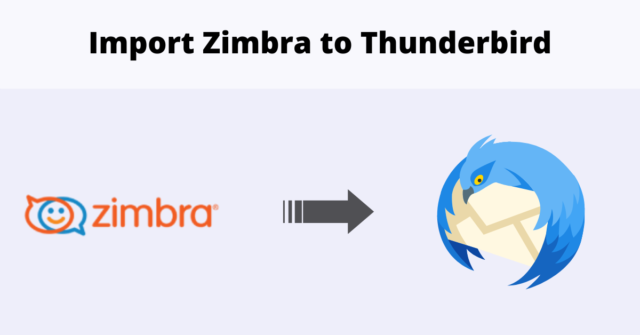 Need to import Zimbra TGZ to Thunderbird but unable to find a suitable guide for this? Do not Worry! We found a suitable approach to perform TGZ to Outlook conversion within a few clicks.
When I planned to migrate my data files from Zimbra to Thunderbird, I didn't know that this conversion process can be that difficult. Manually transfer of data from one mail client to another is the biggest challenging task and there is a risk of data loss or corruption. Here, I am sharing a step-wise workaround to convert and import Zimbra data files to Thunderbird.
Zimbra to Thunderbird Converter | First Move

If you haven't extracted the TGZ file from Zimbra then the primary step is to extract the TGZ file and one maintain the Zimbra webmail backup. Just, carry out the number of steps listed below.
Open Zimbra webmail.
Click on the Preferences button listed on the top bar.
Select the Import/Export button from the navigation list.
Select all the data files from the Export panel.
In the last click on the Export button to download the TGZ file.
Zimbra to Thunderbird Converter | Smart Solution Explained
If you want to import Zimbra TGZ to Thunderbird in a hassle-free way then one can download the SysTools Zimbra Converter. The software is capable to transfer the entire TGZ to MBOX format along with attached files.
User can save their data not only in MBOX format but it allows to Convert TGZ to PDF, PST, EML, and vCard. Moreover, this tool multiple filter options to maintain the data integrity and hierarchy.
Users can activate the demo version of this tool to check the working and interface of this tool. Demo edition allows converting the first 25 files of each folder. Let's check out the working of this smart solution.
Import Zimbra TGZ to Thunderbird | Automated Approach Working Procedure
1) Download and Launch the tool and the first interface will appear like this.
2) Click on Add files button, From the next menu select the Add file or folder option.
3) Use the Browse button to insert the TGZ file.
4) Once the TGZ file is added then the software will scan and display all the file's properties.
5) Software allows to Export complete data files or Export selected files select any of the option and continue.
6) In the next panel select MBOX radio button, use the Advance Settings option to apply the filters.
7) Last step is to click on the Export button to end the conversion process.
Prominent Features of Automated Approach
1) Export Zimbra Data Files With Ease: This automated utility delivers the benefits of converting Zimbra data files to multiple formats including PST, PDF, MBOX, EML, and vCard.
2) Unlimited Conversion in Single Time: Get your multiple TGZ files imported in any other format within a few clicks.
3) Filter Options For Smart Conversion: The Zimbra to Thunderbird Converter made conversion process more reliable as it offers multiple filter option that helps to make data more precise and quick.
4) Compatibility: The smart utility has been compatible with all the latest versions of Windows OS and it supports Zimbra desktop versions 7.3.1, 7.3.0, 7.2.8, 7.0.1 for good.
Import Zimbra TGZ to Thunderbird | Final Move
Launch Thunderbird, click on Tools >>Import/Export Tools >> Import MBOX file.
In the pop-up, select the option "import directly one or more MBOX files" click OK.
Browse MBOX file in the local storage.
Open the MBOX file you can see all your mailbox items.
So There You Have It
If you try to import Zimbra TGZ to Thunderbird without a proper understanding of the steps it may lead to data loss or data corruption. Thus, to avoid inconsistency one can go with the Zimbra to Thunderbird converter. A trustworthy solution that ensures data safety and folder structure.