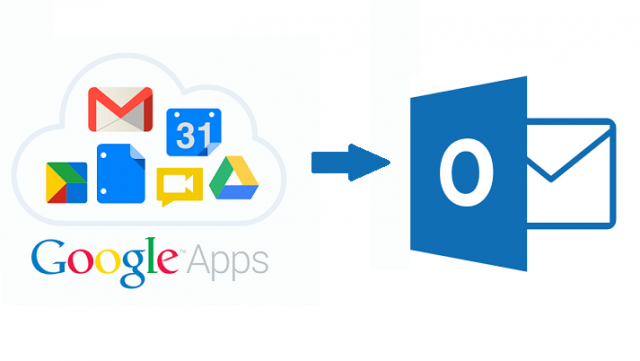 G Suite / Google Apps to Outlook Migration
In today's era, users are performing G suite to Outlook migration because users can use Microsoft Outlook with any of the email accounts, including Gmail as well. This article provides a step-by-step guide to migrate from Google Apps to Outlook.
User Queries
"I am unable to Google apps email to Outlook. Is there any relevant method to do so. One of my friends wants to migrate from G Suite to Outlook. Can anyone please suggest an efficient way to do this?"
Method#1 Manual Methods To Migrate From G Suite To Outlook 2016
There are several manual techniques to export Google Apps email to Outlook. Some of them are described below:
Create Outlook PST File via Google Takeout Import
To move Google Apps to Outlook, make use of free utility provided by Google to archive Gmail account data to your local machine.
This Google Takeout Tool exports the data in downloadable .zip, .tbz, and .tgz files and these files have MBOX files inside them.
The resultant data is delivered in four different ways and you can select any one accordingly:
Add backup to DropBox
Add backup to Google Drive
Add backup to Microsoft OneDrive
Send the download link through email
Note: If you use the fourth option i.e. download link via email, then you are required to download the data using the link before seven days because after this duration of the link expires.
Now, after getting the MBOX files, you have to convert that into Outlook PST format.
After the conversion process, one can easily import the converted file (PST) in MS Outlook with the following steps:
1. Open "Microsoft Outlook" and Click on "Import and Export" Option. An import and export window will appear on the screen.
2. Now, click on "Import from another program or file option" and "Browse". After that, select the PST file and click Next.
Create PST file by configuring the account with Microsoft Outlook
Steps required to configure the G Suite Account to Outlook are:
1. Install Outlook 2016 on your system
2. Configure the Outlook account with Google Apps account
3. Now, users can access their G Suite data after the configuration is completed
4. The default location for the Outlook PST File generated is:
C:\users\username\Documents\Outlook Files
5. Now, get access to the PST file.
Limitations of Manual Solutions:
Some of the limitations of the manual methods:
It is a lengthy technique and requires a lot of time.
Filters could not be applied on mails or other items that are backed up.
Large amount of data leads to data corruption.
It is not an efficient and reliable method to migrate Google Apps to Outlook.
So, it is always advised to go for an automated Third party solution for backing up the Google App account data.
Method#2 Automated Solution For Google Apps To Outlook Migration
There is a simple and efficient solution for the users who want to do GApps to Outlook migration. All the manual solution is very inefficient and time-consuming and the two given above belongs to them only. SysTools G Suite backup software gives a very quick solution to export Google apps to Outlook. It helps users to migrate Google apps data. This tool runs perfectly on all Outlook versions. Professional Tool for G suite to Outlook Migration is much more reliable and provides the satisfactory results as compared to the manual solution.
Some Features Of The Automated Tool To Export G Suite To Outlook:
Capable of archiving emails in 4 different formats, i.e. EML, PST, MSG & MBOX
Supports Exporting of Single or Domain account
Can Backup Emails with time intervals
Archive and delete data from cloud automatically
Displays Download progress report
Can Pause & Resume the Archive process
Conclusion
When it comes to Google Apps to Outlook Migration, then users can export Google Apps Email to Outlook either by using the manual method or by third party tool. In the manual technique, you have to follow each and every step very carefully. But if you have large amount of data then the manual solution to migrate from G Suite to Outlook won't be able to work effectively and users are required to approach any third party tool.