Learn How to Migrate from SeaMonkey to Thunderbird Application
Migration between email clients has always been a difficult task. There are various challenges that a user might encounter while performing email data transfer. One such challenging task could be to migrate SeaMonkey to Thunderbird. Though both the email clients support MBOX file format but still the migration of SeaMonkey emails can turn out to be difficult for users. Therefore, in this post, we will discuss how to migrate SeaMonkey Mail to Thunderbird in an efficient manner. Before going into the main discussion, let us consider some common queries asked by the users:
Query 1: "I have been using SeaMonkey email clients for a long time. Now, I want to switch SeaMonkey files to Thunderbird as I am looking for some changes. Therefore, I'm searching for some easy solutions that can help me migrate all my important emails from SeaMonkey to Thunderbird. If anyone has experience in this, please suggest me the solution."
Query 2: "Somebody suggested me to directly configure my SeaMonkey account to Mozilla Thunderbird. I followed each and every instruction to import SeaMonkey to Mozilla Thunderbird all my messages to but did not get any satisfactory result. That is why I need a foolproof solution that will import all my SeaMonkey data in an efficient and reliable way. Can anyone suggest me a software that will perform this file transfer without any data loss?"

How to Migrate SeaMonkey to Thunderbird
There are two different ways to transfer SeaMonkey MBOX file to Thunderbird. The first one is a manual method which is by ImportExport Tool and another one is by using some efficient applications like Thunderbird Import Wizard. Since the manual technique has got some faults, this method should not be relied upon. Rather, we will focus on a tool that actually works. First, let us tell you why this free manual technique should not be trusted.
Drawbacks of ImportExport Tool
A free add-on is also available for the Thunderbird users to migrate from SeaMonkey to Thunderbird. However, this tool has got some limitations also. It does not maintain folder hierarchy and data integrity of MBOX file data. This add-on is also not compatible with all versions of Mozilla Thunderbird. One cannot import a large number of emails from SeaMonkey Mail to Thunderbird at once with this tool. Therefore, users are looking for ImportExport tool alternatives.
Export SeaMonkey Mail to Thunderbird with Thunderbird Import Wizard
SysTools Thunderbird Import Wizard is an amazing utility that one can easily use to import emails from SeaMonkey to Thunderbird. It is an efficient tool, which is designed in such a manner that it import MBOX to Mozilla Thunderbird without any hassle. The software is capable enough to import selective MBOX file data via a date-based filter. Moreover, it can export multiple MBOX files to Thunderbird in a batch. Considering all these features, it can be said that the application is the most suitable one for this data transfer.
Steps to Migrate from SeaMonkey to Thunderbird
In order to conduct SeaMonkey Thunderbird import, follow the steps mentioned below:
Install & open Thunderbird Import Wizard on the computer.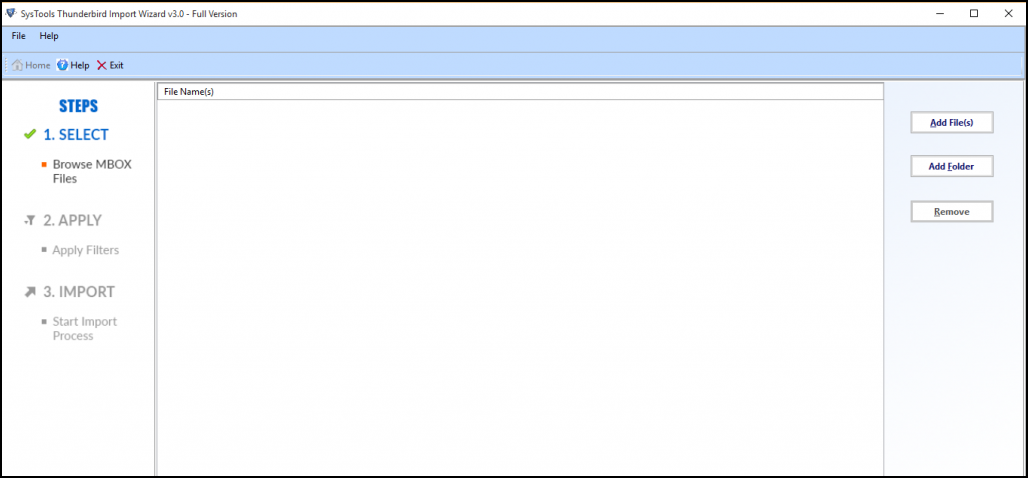 Now, the tool will provide two options to include the file. Click on the option that you need:
Add File: In order to add single/multiple MBOX files at a time using the Shift key.
Add Folder: In order to add a complete folder having multiple MBOX files in it.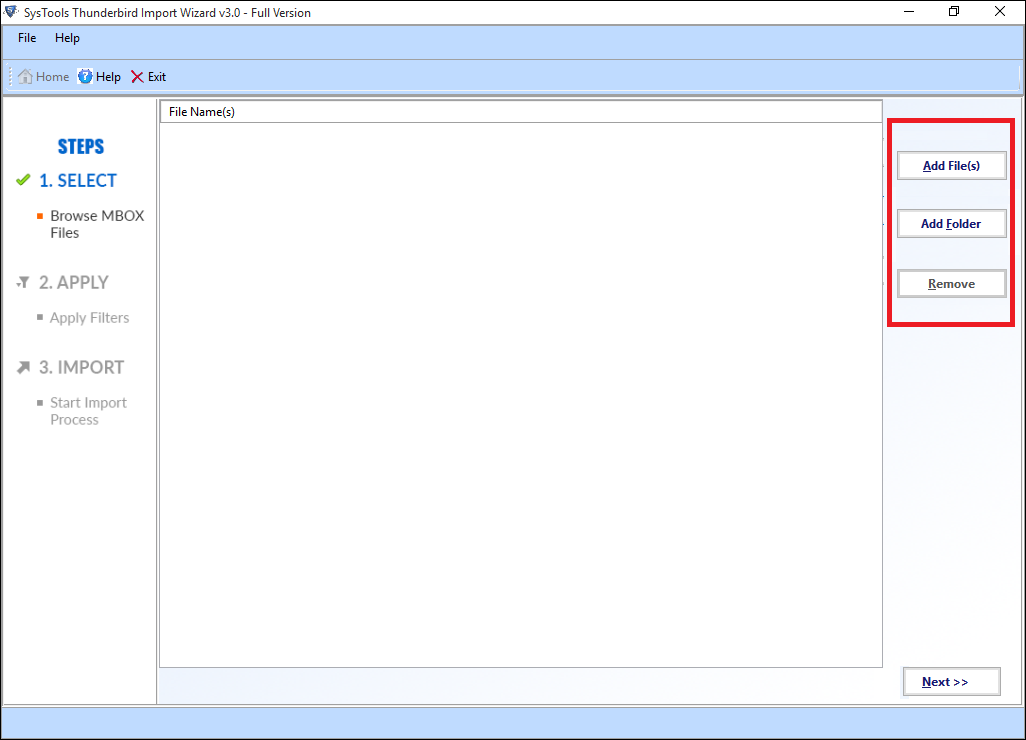 Then, choose the MBOX file by clicking on the Browse and then, click on the Open button.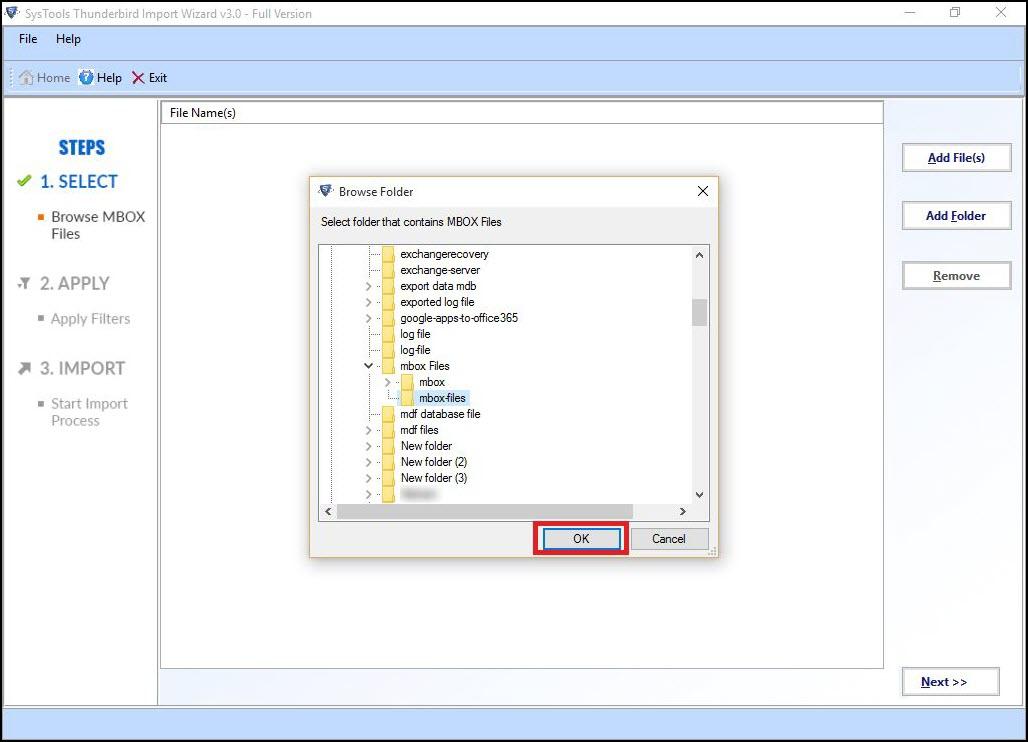 To import selective MBOX files, click on the Apply Filters radio button >> click on the Set button. Now, users can specify the date-range depending on requirement & click on the Apply button.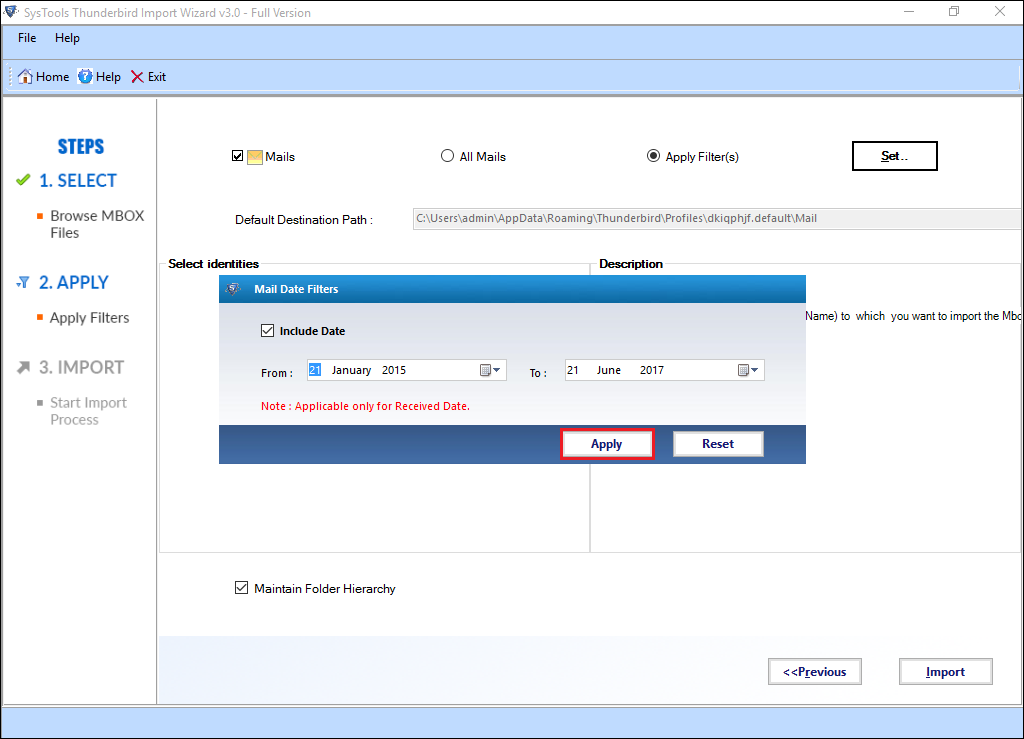 The tool will automatically display all email addresses configured in Thunderbird in Select Identities list. Choose any of the desired email ID and click on Import.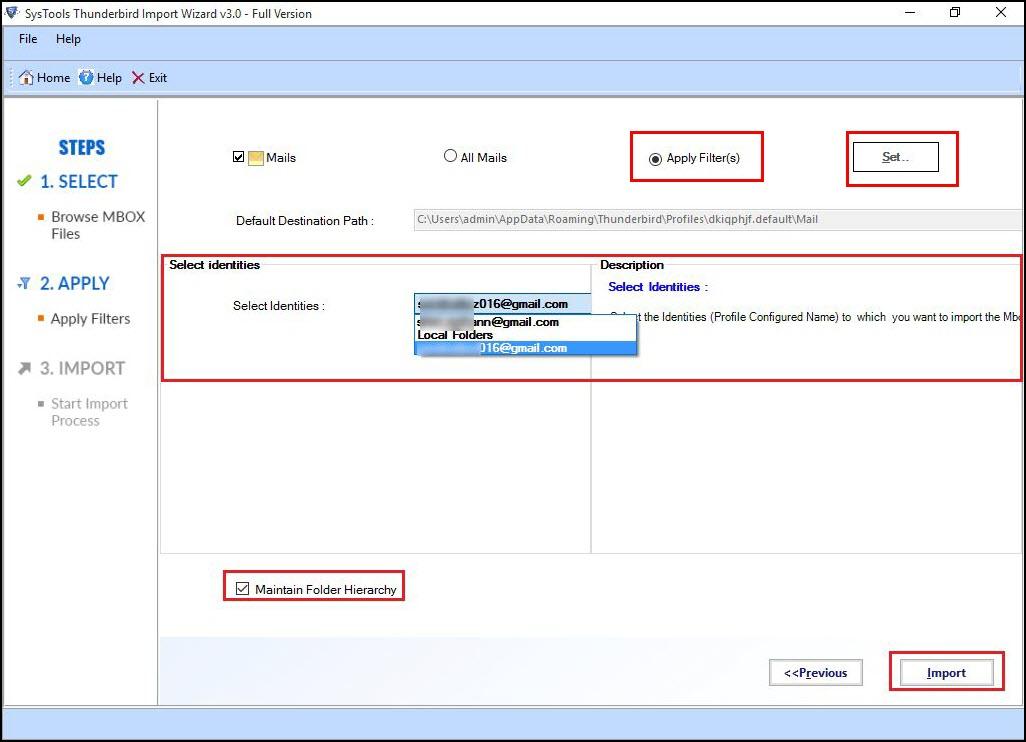 To maintain the on-disk folder structure, select Maintain Folder Hierarchy option.
A message will pop-up after the import process is done, then click on OK button.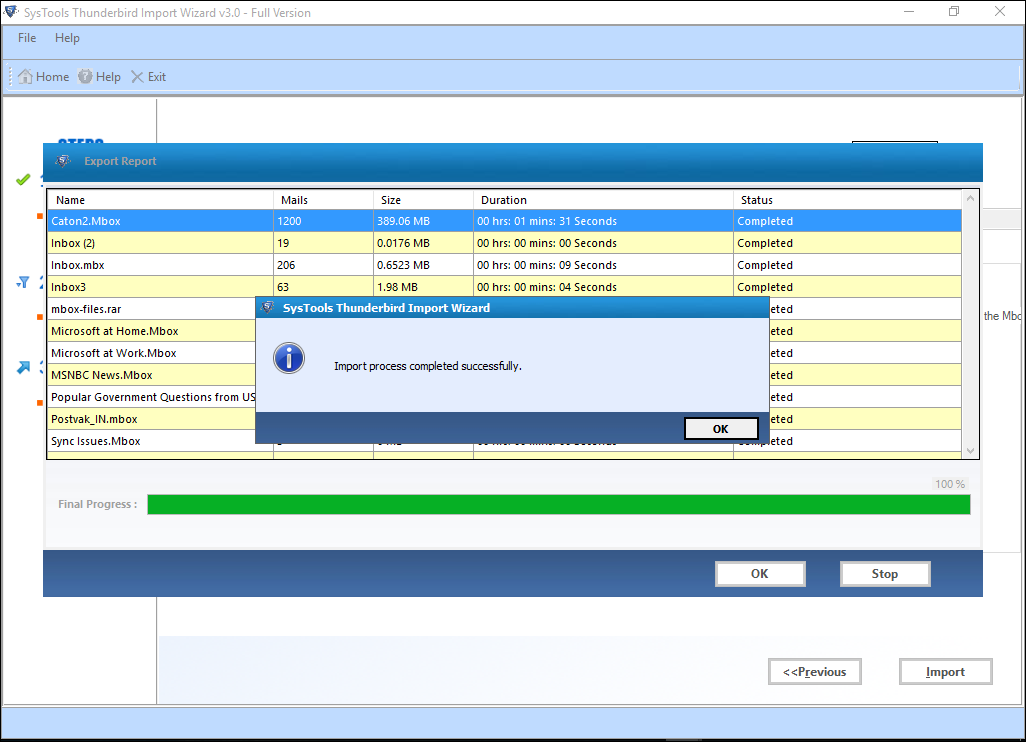 Afterward, the tool will prompt to save the Import Process report. If you want to save it, click on the Save Report option.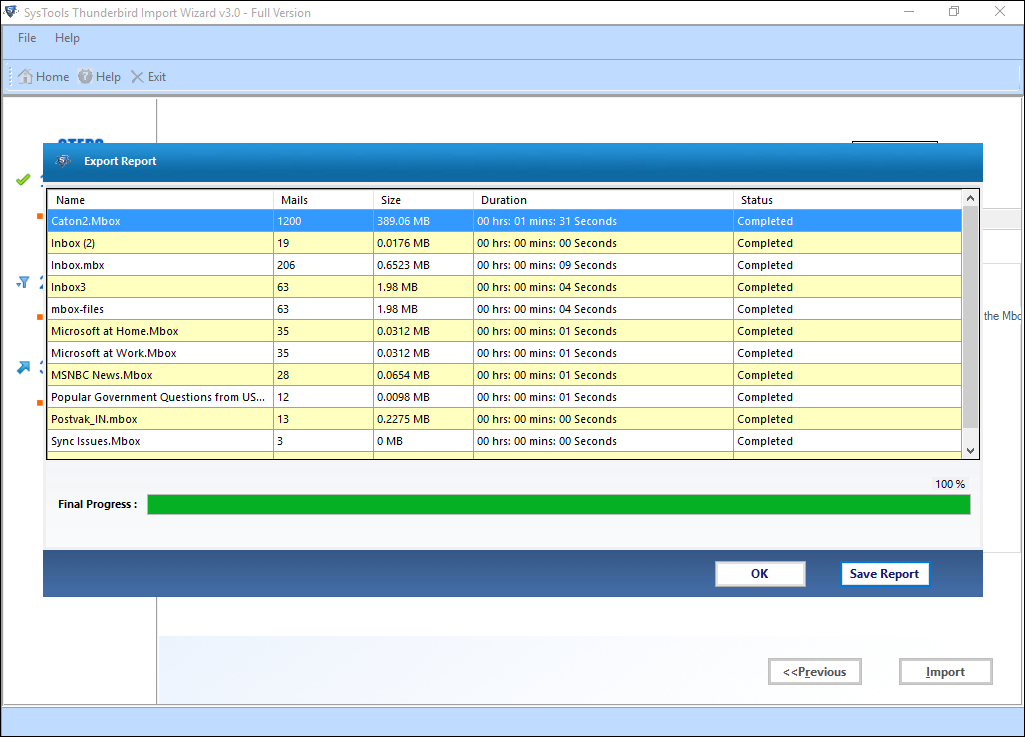 Choose the destination location>> click OK to save it in CSV format.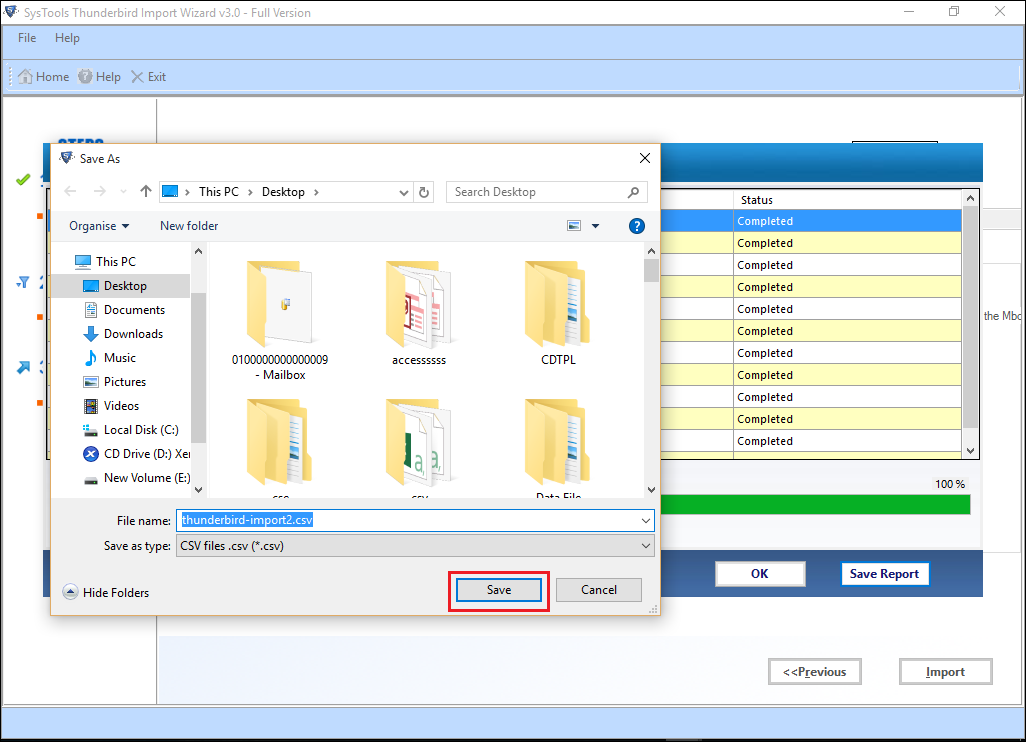 Conclusion
SeaMonkey & Mozilla Thunderbird both supports MBOX file format to store email messages. Therefore, users who want to migrate SeaMonkey to Thunderbird need to move the MBOX file between the email clients. Keeping the user's requirement in mind, a professional solution named Thunderbird Import Wizard is discussed above. It is a one-stop solution to move SeaMonkey MBOX file to Thunderbird without any hassle. Therefore, users can use it without any doubt in order to have satisfactory results.