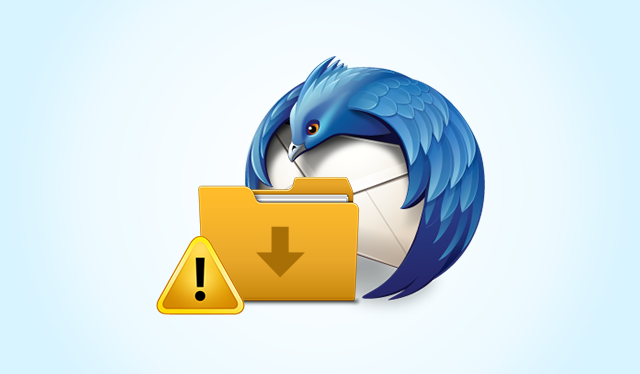 Mozilla Thunderbird is the widely used desktop-based email application. It is totally free of cost and open source client that is mainly used by the business users. It provides users a complete control over their email messages. A user can use the Thunderbird any of the three OS i.e. Linux, Windows, and Mac OS. It offers all basic services like news feeds, chats, etc., same as any other email client. Despite having all such advantages, sometimes users may encounter some errors in Thunderbird application. One such type of errors is Mozilla Thunderbird Cannot Delete Messages. It is the most common problem encountered by the users. The main reason behind such error is corrupted trash folder. Therefore, to fix this issue : "Thunderbird can't delete messages ", a user needs to repair the corrupt trash or create a new trash folder and delete messages again. Hence, in this post, we have discussed the solution for the same.
I am using Mozilla Thunderbird from past few years and I really liked it. It works or performs really well. But, 2 days ago when I tried to delete some of the email messages from Thunderbird, the messages reappear again and again & I can't delete emails in Thunderbird. I tried everything like delete the icon from the Thunderbird, delete key but nothing works perfectly. I am not able to understand what is the reason behind such issue. Why Mozilla Thunderbird cannot delete messages. If anyone knows any solutions, please let me know. Thank you.
Method to Fix " Mozilla Thunderbird Cannot Delete Messages " Problem
Troubleshoot the Corrupt Trash Folder
As discussed above the main reason behind this issue "Thunderbird can't delete messages" is the corrupted trash folder. So, the solution is fix the trash folder and then try to delete messages when Thunderbird won't delete emails. To do the same, follow the steps mentioned below:
1. First, open the Profile Folder from which you want to delete the messages
2. Then, from the top right corner of the screen, you need to click on the Menu icon
3. After that, navigate to Help >> Troubleshooting Information option.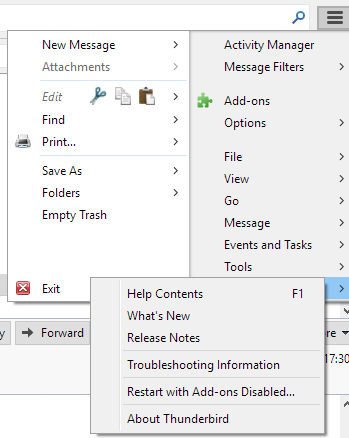 It will open the Troubleshooting Information tab. Then, from the Application Basics tab, click on the Open Folder button and all the files related to that profile will be displayed

4. Close or exit the Mozilla Thunderbird application
5. Next, go to File Manager, click on the Mail folder or ImapMail folder (depending upon the type of account)
6. Now, open the folder with incoming mail server name, for example, pop.googlemail.com or imap.googlemail.com)
7. Then, you can select the MSF files separately or Trash and delete all email messages when Thunderbird does not delete emails. Please Note, in some profiles, it is named as Deleted or Bin folder
8. Now, it's time to start the Thunderbird Application again
If a user is having an IMAP account, Thunderbird will automatically create a new Trash folder
If a user is having a POP account, then click on Folder List and then, right-click on the account name. After that, select the New Folder option. Assign Trash as a name to the new folder and click on Create Folder button to confirm the creation of new Trash folder
After performing all the above steps, a trash will appear again and a user is able to resolve Mozilla Thunderbird cannot delete messages issue.
Open Thunderbird in Safe Mode
If the above method does not work perfectly to resolve issue "Thunderbird can't delete messages", then close the Thunderbird application and open it again in safe mode. After that, perform the following task:
After restarting the Thunderbird in safe mode when Thunderbird will not delete mail, you have to disable all add-ons. So, for that, Go to Help and choose "Restart with Add-ons Disabled" option. If Thunderbird works perfectly like this, then the reason is with add-ons that interfering with the normal functioning . After that, enable each of the add-ons again and one at the time to identify the offender.
Another possible method is restart the OS in a safe mode with Networking. This will load all basics things to start the computer while internet connection is established. Then, click on the OS for instructions and understand how to start Windows in safe mode.
Any of the above-discussed methods will definitely solve your Mozilla Thunderbird cannot delete messages issue.
Conclusion
As everybody knows Thunderbird is an open-source desktop-based emailing application popular among the business users. However, if a user encounters any issue in the normal working of Thunderbird, it will create a big trouble for the users. Thus, in the above post, we have tried to resolve one such issue i.e., Mozilla Thunderbird cannot delete messages in the best possible way. A user can easily refer all the methods discussed and fix "Thunderbird can't delete messages" error in an efficient manner.