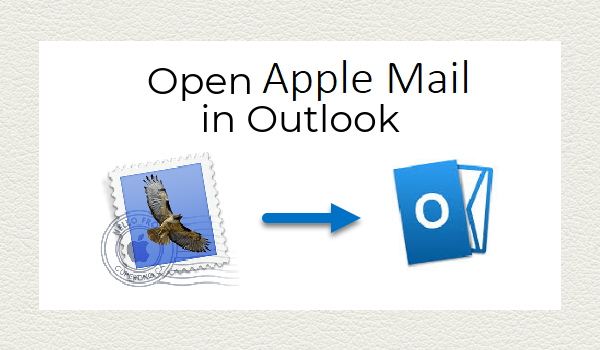 There are a variety of email clients available in the market for users to choose from. These clients may vary in features, price and supported platforms. Users opt for the one which suits their needs more. Their needs may change in time leading them towards another email client. All these circumstances often lead to users facing issues when trying to open the emails of one email client in another. In this article, we are going to discuss one such issue i.e., how to open Apple Mail in Outlook.
Today, both Apple Mail and MS Outlook are two of the most popular email clients. Mac Mail uses MBOX file format to save all its mailbox data. Whereas MS Outlook stores all its data items in PST format. These two formats are incompatible with each other. Hence, users face problems when they need to open the Apple Mail data in MS Outlook application. Now, let's move onto the procedure users can implement to view Mac Mail in Outlook 2011,2013 and 2016.
How to Open Apple Mail emails in Different Outlook versions
Procedure to open and view Mac Mail data varies for different Outlook versions. Outlook 2011 has the inbuilt option to import .mbox files directly. Whereas the 2013 and 2016 version does not contain any such direct method. They either require the use of an Exchange account or an intermediate application i.e., Outlook 2011. Alternatively, to avoid these lengthy and complex methods, one can opt a trusted third-party solution such as SysTools Mac MBOX Converter. Follow the steps given in the section below to open Apple Mail in Outlook 2011,2013 and 2016 manually:
Case I: Open mailbox In Outlook for Mac 2011
Step 1: Export MBOX from Apple Mail
Launch Mac Mail on your local system
Select the mailbox(s) you want to open, then go to Mailbox >> Export Mailbox..

Now, select the destination folder to save the file in and click Choose

All emails are extracted successfully and saved as .mbox file in your chosen location.
Step 2: Import Apple Mail .mbox file in Outlook 2011
Launch Outlook for Mac 2011 on your Mac system
Now, go to menu and select File >> Import
Choose contacts or messages from a text file option and click Continue
Next, select Import messages from an MBOX-format text file and click Continue
After that, locate and select the .mbox file you exported from Apple Mail
Finally, click on Import option and then choose Finish to import the data file
The imported Mac Mail mailboxes will be displayed under On my Computer.
Case II: Open Apple Mail in Outlook 2013,2016
This section describes two separate methods to open and view the Mac Mail app data file in MS Outlook 2013 and 2016.
Method 1: Using Exchange account
Launch Apple Mail and go to Mail >> Add Account

Select Exchange as email configuration and click Continue

Type the credentials of the account and again click Continue

Finally, the account is successfully configured on your Mac Mail

Now, select all the emails from your old account

Then, drag and drop them in the new account folder named Exchange

Finally, launch MS Outlook 2013 or 2016 and configure the same exchange account there. All the emails will be synchronized and displayed on your Outlook application.
Note: Users can also configure an IMAP webmail account(Gmail, Yahoo mail, etc) instead of Exchange on both the email clients to get the exact same results.
Method 2: Using Outlook 2011 as intermediate
Launch Outlook 2016 for Mac on your local system
Now, go to Tools >> Import
Select Outlook 2011 data on this computer >> Continue
Confirm the location to import from by clicking Continue
You can now easily open Apple Mail in Outlook 2016 interface.
Shortcomings of discussed Manual Methods:
Lengthy and time-consuming: The manual methods involve a lot of steps to execute. It may not only confuse the users but also consumes a lot of time to perform.
Installation requirements: It requires the installation of both the applications on the local system. One case demands the presence of not only Mac Mail but two different versions of Outlook as well.
Requires technical knowledge: Users need to know exactly what they are doing. Hence, they require technical knowledge of both the email clients in order to successfully perform the procedure.
Data loss issues: It has been seen that chances of data loss are frequent while using manual methods. In some cases, even data file corruption is possible.
Expert Alternate Solution to open Apple Mail in Outlook
Users tend to avoid methods that involve any shortcomings and risks. Manual ways do not guarantee a safe transfer of data and hence are deemed risky by professional experts. In order to avoid all these issues and prevent data loss, we suggest an expert solution that is SysTools Mac MBOX Converter. It can easily convert Apple Mail MBOX file(s) to PST format supported by all Outlook versions. Users from any background(technical or non-technical) can easily operate this tool. It has a user-friendly interface and the ability to generate results quickly in a few clicks.

Some other proficient benefits of using this tool are:
Easily Converts all MBOX data to PST without any risk of data loss
Provides both selective and batch conversion options
Preserves data integrity throughout the process
Naming conventions and Date filter also available for user convenience
Maintains folder structure in the output data file after conversion
Doesn't require MS Outlook installation on the system for its process
The output PST file is compatible with all versions of Outlook
Summing Up:
In this post, we covered various methods to help users open Apple Mail in Outlook different versions. But these approaches often confuse users into making mistakes and carry heavy risks of data loss. That's why we also provided users with an expert reliable solution i.e., Mac MBOX Converter. Using this tool, users can easily convert multiple Mac MBOX into Outlook PST in a matter of a few clicks.