OST Converter Software for All Windows OS Users
It is not far-fetched to say that in the current software market, we have more converters, extractors, recovery tools, and backup programs than ever before.
I know the confusion and hesitation that creep in when anyone has to pick a converter software.
Is the product worth every penny?
Should I choose this or that software?
I wondered the same, so to help others make better decisions, I am sharing this product review of the SysTools OST Converter.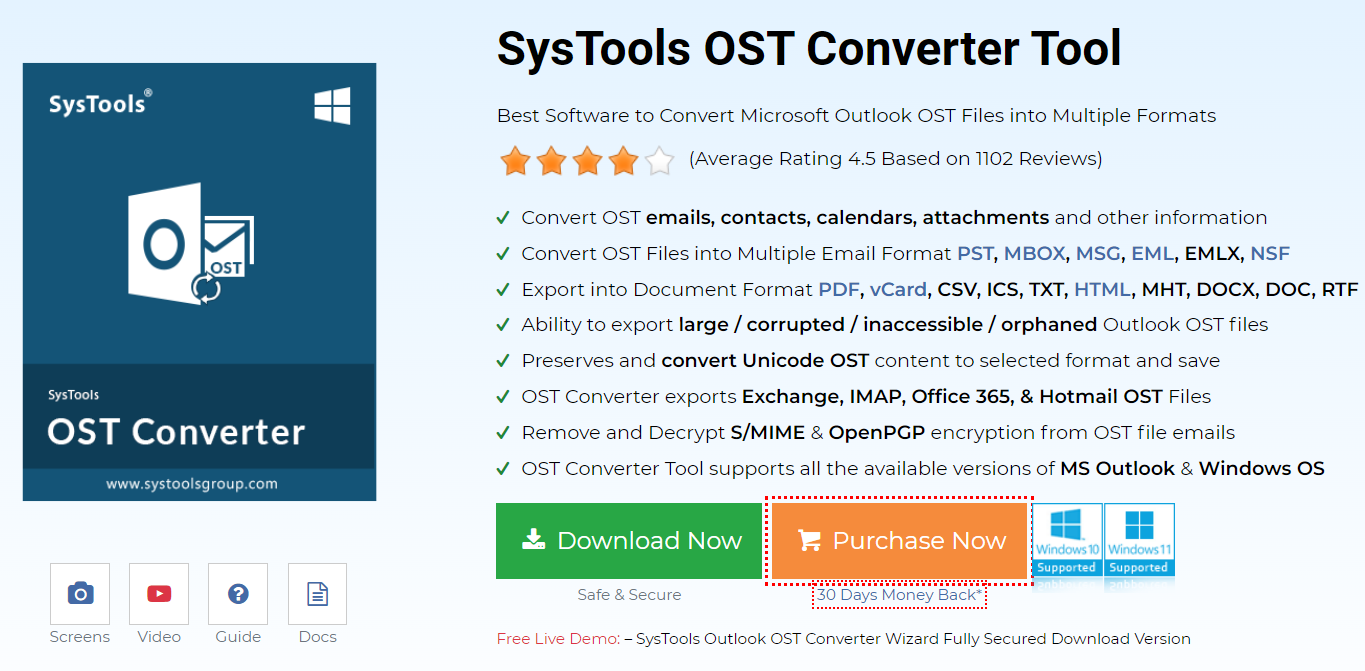 Keep reading, as you will find out whether the OST converter by SysTools delivers what they promise.
And, is SysTools OST Converter better than other tools?
Thus, at the end of this review, you will be confident in your decision regarding purchasing the SysTools OST Converter.
Without wasting any time, let's begin.
Table of Contents
Feel free to jump to any of the following for a quick read of the section of your liking.
SysTools OST Converter – Description and Specifications
Performance of the OST Converter by SysTools
Benefits and Shortcomings
Conclusion
SysTools OST Converter – Description & Specification
Let's start with what SysTool OST Converter does and the promises made by the company.
So, what is OST Converter?
SysTools OST Converter is a document conversion software that can convert any OST file into multiple emails and document formats.
Document conversion software is a program we use when we transform images from JPEG to PNG, when we need to convert an audio file from MP3 to WAV, and when we need to change the video type from AVI to MP4.
Similarly, the OST Converter by SysTools is software that can convert OST files into numerous formats.
It can convert any IMAP/Exchange/Hotmail/Office365 OST file into PST, MBOX, MSG, EML, EMLX, and NSF email formats.
Moreover, you can export the OST file to other document formats: PDF, vCard, TXT, ICS, CSV, HTML, MHT, RTF, DOC, and DOCX.
Sometimes, we find the OST file is orphaned or corrupted, or we do not have access to the IMAP/Exchange server.
For example, when an employee leaves the company, we need to convert the OST data into other formats, when a company changes the Exchange server, and when an organization needs to archive the data.
But, with SysTools OST Converter, it is irrelevant whether the OST file is orphaned, inaccessible, corrupted, or oversized. It can easily convert such OSTs into the desired format.
Not only that, but SysTools OST Converter can extract and transform the S/MIME and OpenPGP encrypted OST files without hassle.
Furthermore, the SysTools OST Converter is functional on all MS Outlook versions and supports all Windows OS.
Who Can Use OST Converter Software?
Different tools are suitable for distinct people and are applicable in different scenarios.
In the same way, OST Converter is usable only in certain situations, but anyone can use this tool in such positions.
People with diverse backgrounds can use this tool. People like:
Student
Working Professionals
Freelancers
Employees
Managers
Organizations
Huge Enterprises, etc.
Steps to Use OST File Converter Developed by SysTools
It is quite easy to use this software on any Windows OS version. Simply follow the listed steps and complete the conversion process.
Step-1: Download the OST file converter and install it on any Windows OS version. The home window will appear, click on Add File button.
Step-2: Add the OST file into the software environment and preview complete data onto different preview panels: Normal Mail View, HEX, Properties, Message Header, MIME, HTML, RTF, and Attachments. After that click on Export Button.
Step-3: Select an Export option from the list and apply advanced settings (if required). After that browse path to save the exported file.
Step-4: After completing the conversion process, locate the provided path and view the exported PST file.
Pricing Structure and Product Classification
SysTools OST Converter comes in 5 classifications. These classifications consist of licenses.
Demo: Free
Personal License $ 49
Corporate License: $199
Technician License: $299
Enterprise License: $599
Features of SysTools OST Converter
Convert all OST files into multiple formats.
Export any number of OSTs simultaneously.
This tool supports all versions of Outlook.
Ingenious search and preview option
Detailed reporting
Maintain file/folder hierarchy
Technical Aspects
Language(s): English
Supported OS: Windows all versions
Hard Disks space: 100 MB
RAM: 4GB (Recommended)
Processors: Intel Core 2 Duo CPU E4600 @2.40 GHz 2.39 GHz (minimum) or Any equivalent processor
File Size: 36 MB
Version: 8.0 (latest)
Delivery: Electronic (Instant)
Performance of SysTools OST Converter
We all have dealt with the mismatch between what a company claims and what the product can do.
It is an annoying business practice that a company claims and bluffs and the product don't meet the standards.
Therefore, I have put SysTools OST Converter through various trials.
In this section, I have recorded the performance of the SysTools OST Converter on different aspects and matrices.
Let's begin.
Error-Rate in Conversion
This matrix calculates the average output error per a fixed set of conversions.
I have considered 100 exports for each format.
In each export, I exported 10 OST files.
The total exports add up to 1600.
And the total number of errors observed is 2.
Accordingly, the aggregate error rate is 0.125%
SysTools OST Converter can safely and successfully convert any OST file into multiple formats and faces only 0.125% errors.
Time Taken to Convert OST File
This matrix calculates how long it takes to convert an OST file into other formats.
Important: The time taken for conversion heavily depends on the system configuration. If you have a higher-end system, you should expect less time than one with a low-end computer.
My system specification: I use a 10th Gen i-7 with 8GB RAM and a 1 TB SSD for Harddrive.
The average time observed is 49 secs for an OST of 1GB.
SysTools OST Converter can convert different OSTs into other formats in 49 more or less.
Customer Support
No product is successful without good customer support.
The features, specifications, and performance play their part, but when the product starts to fail, the only solution is to reach customer support.
So, how good is the customer support for SysTools OST Converter?
Foremost, the measurement for this matrix mostly comes from experience with customer support.
Moreover, the assessment is not free of subjectiveness.
But, one aspect is quantifiable, I can determine the average duration of the response.
And that's what I did.
I contacted them through all the available means: Live chat, emails, and phone calls.
And, every time, I inquired differently.
So, what was the result?
The response was adequate: the respondents calmly listened to what I had to say before suggesting me a solution. They were respectful toward me throughout the whole experiment.
And the response time averaged only 2 mins.
As a result of that experiment, I can say that SysTools OST Converter has a reliable customer support team.
Benefits and Limitations of SysTools OST Converter
Please Note: All the Benefits and Limitations are according to my observations.
Now, let's look at the practical benefits of using the SysTools OST Converter.
Simple User Interface: The UI design is simple and easy to navigate. SysTools OST Converter is built in a way that anyone can quickly get accustomed to it.
Stable conversions: After measuring the performance of the SysTools OST Converter, I can say it has close to no errors, and you can enjoy stable and intact conversions.
Virtually No Limit: SysTools OST Converter can import/export as many files as you want in one session. No need to stress about how many files to convert at a time.
Lifetime access to the Tool: When you purchase SysTools OST Converter, you get a lifetime license for the product. It means never thinking about the renewal and using the software with complete freedom.
Now we'll see the short side
Not available for MAC.
I have only one problem with SysTools OST Converter: it is unavailable for Apple users.
Conclusion
In conclusion, SysTools OST Converter delivers what they promise. They provide a one-stop solution for converting all types of OST files into multiple formats.
While using the Converter, you can expect optimum performance and consistent results. If you need to contact the support team, SysTools got you covered. They will go over and beyond to help you resolve your issues.
The only complaint is that the software is not available for mac users.
Nonetheless, I recommend using SysTools OST File Converter for your conversion needs.