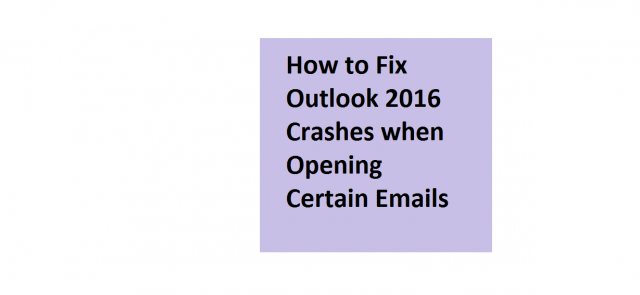 Are you one of the Outlook users whose Outlook crashes when they try to open a particular email? Do you want to know how to fix Outlook 2016 crashes when opening certain emails ? Well, you are not alone. Read this user query to see how other people are also facing the same situation.
"I am an Outlook user and from the last few days, I am facing a strange problem. Whenever I try to open certain emails, Outlook 2016 crashes. Then I have to restart Outlook. This problem only happens in the case of those specific emails. The rest of the time, Outlook is working fine. Tell me how can I fix this problem and be able to open those files. Thanks in advance."
Numerous Outlook users face this similar situation and look out for the remedial approach. This blog will probe into the main reasons behind this problem and how it can be fixed using some simple methods. Continue reading to know more.
Outlook 2016 Crashes when Opening Certain Emails: Reasons and Solutions
In this section, we will focus on the techniques that will help you to get rid of this problem.
1. Disabling Anti-virus
If users have an anti-virus installed on your system, and the emails contain some attachments of inline images, then the anti-virus may be blocking the email. And that is the reason why Outlook is crashing. Users can temporarily disable the anti-virus and see if this problem goes away or not.
2. Open Outlook in Safe Mode
Users may also delete those emails if they are not important. For that, they have to turn off the Reading pane feature of Outlook. Thus, the file will not open when users select it in order to delete it.
To open Outlook in Safe mode, shut it down properly and go to Start Menu. Type "outlook.exe /safe" in the Search box and press "Enter." This will start Outlook in safe mode. Now, all the add-ons of Outlook and the reading pane feature will remain disabled. Go to Inbox and select the emails that are causing the problem. Click on Delete button and the emails will be removed from the Inbox.
After deletion, restart Outlook and continue your work. But, if you are having trouble deleting those emails or the Outlook still crashes when you select the emails for deletion, then your PST file is badly corrupt.
Fix PST Corruption with scanpst.exe
If these above-mentioned tricks fail to fix Outlook 2016 crashes when opening certain emails, then users have to fix the PST file corruption. To remove corruption and damages, try using scanpst.exe that comes for free with MS Outlook. In your computer Search box, type scanpst and find out the location. Then you can run this utility and repair PST file if there is any corruption. Try opening the Outlook and see if the problem persists.
Try the Next Generation Software Outlook Recovery
If the corruption level of the PST file is high, scanpst.exe will not be able to repair it. For stubborn PST file corruption, you will need sophisticated software like Outlook Recovery. This application is designed with state of the art technology keeping in mind the highest level of PST file corruption. If you have tried some other applications and yet, could not resolve this problem, give this tool a try.
1. Download the software on the Windows system.

2. Click on Add File button to add one or more PST files.
3. Select Advance Scan to remove severe corruption.
4. Preview all data in healthy condition.
5. Choose PST and click on Export button.
You will get a healthy PST file completely free from corruption. Now, they can open any email from Outlook without having to encounter "Outlook 2016 Crashes when Opening Certain Emails".
Why Choose the Software to Fix PST File Corruption
PST file is the data storage file of Outlook, and a healthy PST file is the recondition of smoothly functioning Outlook application. A corrupt PST file will cause innumerable trouble in Outlook. As a result, users will not get any benefit from using Outlook. For PST file damage and corruption, users need a smart tool with proven proficiency.
Outlook Recovery Tool is an application that has become a household name among Outlook users. This Windows-based software works on all sizes of PST files generated in any version of Outlook including Outlook 2019. This virus-free and GDPR compliant software ensures 0% data loss and does not steal or sell your data. Hence, users can leave their worries aside and choose this application.
Concluding Words
Being an Outlook 2016 user, one may have trouble while accessing some particular emails as the whole Outlook application crashes. This blog thoroughly discussed the reasons behind this annoying "Outlook 2016 crashes when opening certain emails" problem and suggested some dependable solutions. All you have to do is to follow these instructions and implement them without a miss.