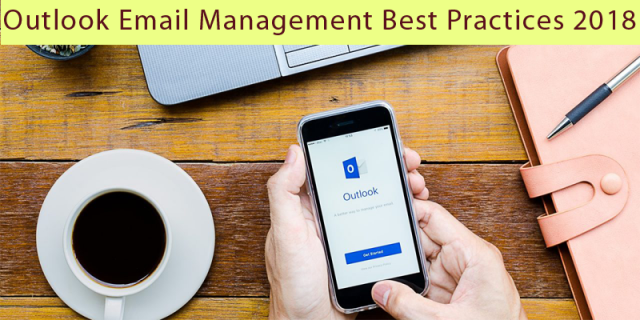 In this technical environment, Outlook is the most popular email client, which is used to store the copies of data items including emails, contacts, calendars, etc. on both on the Windows platform as well as Mac operating system. Despite being one of the most preferred email clients, MS Outlook has some drawbacks also. As for example, old Outlook versions PST files were bound by size-limit. As long as the amount of PST data stored in them, it exceeded the size limit. Then, they started facing issues like corruption, degraded performance, etc. Read to know Outlook email management best practices 2018.
When an Outlook user faces any issues, then it may become the worst experiences and irritate users. There are also so many problems regarding data management, recovery, and organization faced by Outlook users. Thus, in this write-up, we will try to give you some smart tricks to Outlook mailbox management best practices in 2018.
Microsoft Outlook Email Management Best Practices

In order to manage Outlook emails manually, you can follow these Outlook email management tips:
Reply Mail Management
The reply of incomings emails is one of the important task that every user needs to operate. The Outlook email management tips defines the easy way to manage reply of Outlook mails. You can block the Outlook calendar for approx. 30-60 min for reply mail management and give the priority of emails on the basis of email importance. Further, you can categorize them in order to identify that which is to be reverted today or not. For this, you have an option to use the flags along with a set time notification for the reminder.
Create Templates for Quick Messages
We are in the habit of typing emails and sending it. There are many times where we have to send same email message again and again. In this case, instead of typing email, you can save some frequently used message in the draft as a form of templates. You can also customize these templates on the basis the email requirement. By using this template, you can save your crucial time. Creating templates for routined emails is of the major Outlook email management best practices that every user needs to implement.
Read Relevant Emails Only
Outlook Email management best practices also includes the way to manage the incoming mails based on the relevancy. In Outlook application, you may receive hundreds of emails every day that are unnecessary. You do not need to read these messages as it might include some advertising emails, group mailbox responses etc. In this case, you should just move them into the other folder and address them whenever required. This process will reduce the number of emails available in the Inbox folder.
Short & Required Message
Sometimes people receive lengthy emails which more or less look like an essay. Most of the users do not read that message and ignore them. Therefore, we should always try to write our email content short and to the point. For short messages, there are some alternate tools also available for communicating within the organization like Skype etc. It will avoid writing unnecessary emails. You can consider this point of view like a subpart of reply email management.
Quick Tips to Manage Outlook Email Header
This is something which should be clearly looked into whenever you received any email in your mailbox. Most of the time the email message is intended to someone who is marked in "To" and all marked in "CC" are just for information. You can ignore emails when you are marked in CC and no action is usually needed on them.
Acknowledge Emails to Senders
Sometimes, you may receive an email and think that this email message might take more than one day to revert. In this case, you just need to send a small email acknowledgment to the sender. This is just for notify the sender that you have got the mail and you are currently working on the email but it might take a specific time for closure.
Create New Folders to Save Outlook Messages
Inbox zero is a very famous term which helps us to minimize the email count in the mailbox. After minimizing the email count, you may have separate and specific folders for importing emails for future reference. In addition, there is a "Rules" option that is used to transfer emails to the specific mailbox folder automatically.
Automatic Replies of Emails During Unavailability
This is the most significant feature of Outlook email client. You can use it whenever you are on leave, left early for the day or in training and would not be able to revert to the sender instantly. By using this out-of-office replies feature you can notify the sender that you are not available for replying their email and managing email response.
Email Answering
Every email message which is in the mailbox should be answered, archived, forwarded, or deleted. It will decrease the count of emails that are manageable. You are also allowed to request for email delivery at an exact time but your Outlook program should be in running state during that time.
Use Voting Option Instead of Sending Bulk Messages
Outlook email management best practices includes way to gather information from via emails. Usually, we are in the habit of sending lots of emails. Most of the time we have to give only responses in yes or no, true or false etc. Therefore, instead of doing manual work we can use the voting option that is available in Microsoft Outlook.
Outlook Email Management Best Practices With SysTools Outlook Toolkit
If you have applied all these above-mentioned guidelines, but still you are facing problem in managing Outlook emails. Then, you can use SysTools Outlook Email Management software. This tool is one in all solution that helps to manage Outlook emails in various ways. This tool lets you to find Outlook mailbox along with attributes automatically.
If you get any corrupted email in Outlook, then Outlook Management toolkit will handle it and recover the corrupted OST or PST files. SysTools Outlook Toolkit is able to convert Outlook data files into more than 10 file formats such as EML, MSG, NSF, MBOX, PDF, HTML, VCF etc. There is an option to split and merge PST files in this tool. If you get same emails again and again then this toolkit exclude the duplicate emails. You can also search and extract duplicates emails from Outlook mailbox. It saves users time and prevents their file from corruption.
Wrapping Up
After all these discussions, we can conclude that the best practice for Outlook email management in 2018 is to opt SysTools Outlook Email Management software. It is very easy to use and recommended by many data recovery experts and one of the best Outlook email management practice.