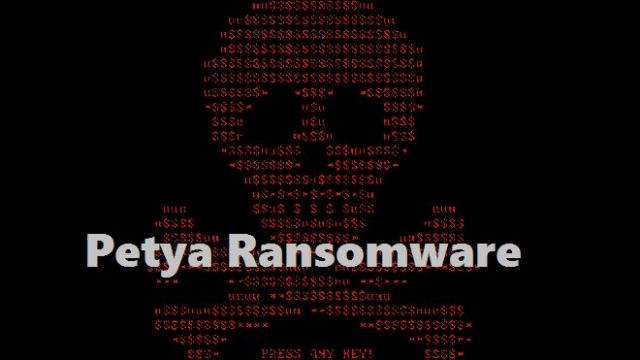 Horror! Now, there is an another threat for the organizations after WannaCry- Petya Ransomware. This destructive software has already struck systems in more than 60 countries. Yes, there are many companies in US and Europe, which are crippled by this deadly malicious code. It is the second key global cyber attack in the past 2 months. Lets us discuss the details of this destructive code and the know how to escape from its attack.
What Petya is?
It is dissimilar as compared to the other ransomware spreading these days. It does not encrypt the file one by one but denies access to the entire machine by targeting low-level structures on disk. The creators of this destructive virus have brought forth their boot loader with a small kernel that is 32 sectors elongated.
First Place of Identification
Ukraine is the first place, where approximately 12,500 systems encountered this malicious program, declared by Microsoft. After this, it is observed in other 64 countries. These countries include Brazil, Germany, Belgium, Russia, and the United States.
According to the Microsoft, this infection is initially traced to tax accounting software from a Ukrainian's company.
This malicious software is still affecting the airports & ATMs of Ukrainian. It is also hampering the international business from a shipping giant to a drug company.
Why is this Ransomware called Petya?
The malware seems to share a major quantity of code with the older piece of malignant code, which was called Petya. However, after some hour of its outbreak researchers noticed that the resemblance is skin deep only. The security researchers at Russia re-dubbed it as NotPetya & increasingly tongue-in-cheek alternate of that name: Pneytna, Petna, and etc. began to spread.
How Does Petya Cyber Attack Spreads and Works??
Petya ransomware spread via large firms, which includes the food company Mondelez, advertiser WPP, legal firm DLA Piper, & Danish shipping and transport firm Maersk. It results in the encrypted PCs and data. Later, to decrypt the data a certain amount of ransom is required.
This malware takes the control over machines and then demands $300, paid in Bitcoin to recover the encrypted hard drives and files. It is extending quickly across a company after a system gets infected with the help of EternalBlue vulnerability in MS Windows. Moreover, it can also spread via two MS Windows administrative tools. It attempts the first option and in the case of failure move towards the next. In addition, the system may get shut down at the time of these cyber attacks. Apart from the file encryption, it also overwrites and encrypts MBR (Master boot record).

File Encryption
Petya performs the encryption in two modes:
User Mode: Once this malicious code, Petya, spread to multiple computers, user-mode encryption happens where only the specific extension files are encrypted on the disk.
Full Disk: The MBR is changed for adding a custom loader that is helpful in loading CHKDSK. This stimulator helps in hiding the fact that the disk encryption is happening. It occurs once the user mode encryption is done.
Stages of Data Encryption
Stage 0 "MBR Overwrite"– Overwrite hard drive's Master Boot Record & inserting custom boot-loader.
Stage 1 "MFT Encryption"– Usage of custom boot-loader, which is introduced in stage 0 for the encryption of all Master-File-Table. This renders the file of the system entirely unreadable.
Stage 2 "Ransom Demand"– Shows the logo of Petya and a ransom note displaying what must the user do for the decryption of the hard-drive.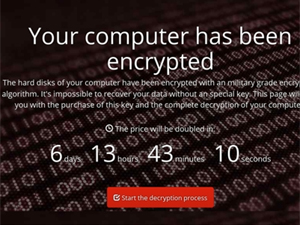 Petya Ransomware Attack: How to Escape from this Virus
These are some actions, which may help in the prevention of Petya Cyber Attack as mentioned below:
Block Source E-mail Address
wowsmith123456@posteo.net
Block the Following Domains

http://mischapuk6hyrn72.onion/
http://petya3sen7dyko2n.onion/
http://petya3sen7dyko2n.onion/MZ2MMJ
http://petya3jxfp2f7g3i.onion/
http://french-cooking.com/
http://mischa5xyix2mrhd.onion/MZ2MMJ
http://petya3jxfp2f7g3i.onion/MZ2MMJ
http://benkow.cc/71b6a493388e7d0b40c83ce903bc6b04.bin COFFEINOFFICE.XYZ
http://mischapuk6hyrn72.onion/MZ2MMJ
Block these IP address
95.141.115.108
84.200.16.242
111.90.139.247
Disable SMBv1
Update Anti-Virus Hashes
a809a63bc5e31670ff117d838522dec433f74bee
1b83c00143a1bb2bf16b46c01f36d53fb66f82b5
078de2dc59ce59f503c63bd61f1ef8353dc7cf5f
0ff07caedad54c9b65e5873ac2d81b3126754aac
d5bf3f100e7dbcc434d7c58ebf64052329a60fc2
7ca37b86f4acc702f108449c391dd2485b5ca18c
2bc182f04b935c7e358ed9c9e6df09ae6af47168
aba7aa41057c8a6b184ba5776c20f7e8fc97c657
82920a2ad0138a2a8efc744ae5849c6dde6b435d
bec678164cedea578a7aff4589018fa41551c27f
51eafbb626103765d3aedfd098b94d0e77de1196
Disable WMIC i.e. Windows Management Instrumentation Command-line, which is based on https://msdn.microsoft.com/en-us/library/aa826517(v=vs.85).aspx
Be cautious of unwanted or irrelevant URLs and the attachments you receive through an email.
It is always recommended to take the backup of the data regularly.
Retain the least confidential access with the employees.
Keep the control on who can access Admin portal easily.
Final Words to Conclude
As the usage of the internet or digital things is becoming more intense, several ransomware attacks are also increasing. The creators of malicious software are getting more innovative to encrypt the system files and the crucial data of a user. One such new harmful application is Petya ransomware, as discussed above. Just like the other malware, this harmful virus locks the computer and its files too. However, this malignant software comes up with a better mechanism to spread itself than WannaCry. So it's better to encrypt your computer systems and files, to stay away from these kinds of harmful cyber attacks.