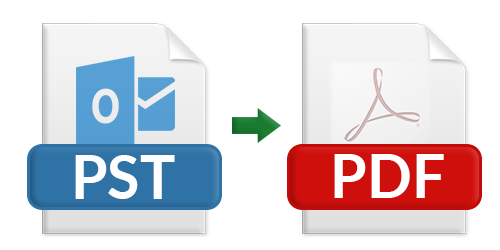 Nowadays, the demand to print Outlook messages as PDF files is rising day by day. Moreover, the users of Microsoft Outlook who are using the email application from a long time are asking such queries involving to export emails from Outlook to PDF format every now and then. Moreover, it is well-known that Outlook email application and Adobe software gives plug-ins for storing emails from MS Outlook to Adobe PDF. Although, the main issue is email attachments. Plenty of problems come up that avoid the users from moving these attachments while the Outlook data to PDF conversion is done. In fact, the present era is of legal and graphical users, where attachments hold a great prominence, as they are so crucial for preserving several industrial projects etc. In the following section, we will explain the requirement and method to export emails from Outlook to PDF in both manual and automated way.
Why do Users want to Print Outlook Messages as PDF Files?
People have become extremely work addicts and have to travel with their work as well as their data along with them wherever they go. Carrying around email data creates some problems, as you may not access the same email application everywhere you go.
Portable Document Format is highly measured for storing the data in versatile yet secure and reliable manner too. The PDF files are immensely safe to store data in the form of text, image, hyperlink, etc. as it offers two types of password protections i.e. Owner password and User password. The User password totally protects file while on the other hand, owner password just places up types of restriction over the content of Adobe PDF files such as copy, edit, print, and extract restriction.
How to Export Emails from Outlook to PDF?
Two methods can be implemented to print Outlook messages as PDF format. The first one suggests doing it manually, i.e. without using any professional software while the second one suggests the usage of a third-party utility.
Method 1: Manual Method
Open Outlook email application on your system.
Select a specific mail which you want to be converted to PDF.
Choose File Label >> Save As then select the desired location to save the data.
Select "Save as Type" by simply clicking the drop-down option.
Choose HTML file format to save the file.
Go to the selected location, select the file and open it in MS Word.
From the file label, select Save As option.
Now from the drop-down menu of "Save as Type", choose PDF format and hit Save button.
Limitation: If in case you have a huge amount of data files, the method fails to perform the migration as it takes a lot of time and efforts to execute the process. Proper technical knowledge and concentration are required to implement the procedure. Moreover, the above method is quite lengthy and tricky as well.
Method 2: Trouble-Free Solution to Print Outlook Messages as PDF
Instead of going for a lengthy procedure, you can go for a third party utility. There is an application named PST to PDF Converter. The software is completely reliable and secure to implement the conversion process. The software easily transfers the data to Acrobat Adobe in the original form. The tool can be operated on all Windows and Adobe Editions. There is no need of the external application to execute the migration process.
Start To Print Outlook Messages as PDF Files Easily
This technically advanced application has been designed with a user-friendly graphical interface to offer users with an uncomplicated experience to export Outlook emails to PDF with attachments.
Conversion of Outlook data files into PDF format is executable in any number i.e. you can move unlimited number of email messages without facing any type of hang up in the procedure.
Working with the utility is uncomplicated because of it's easy to perform conversion steps and user-friendly interface offered by the software.
You can export emails from Outlook to PDF, regardless of the file format in which they are or the number of attachments there are.
Outlook files belonging to any version of Outlook email client can be converted without any type of obstacles faced as the tool supports all Outlook versions.
Even if the PST files are corrupted due to any reason or cause, then also you can convert them into PDF as the tool offers thorough scanning for corrupted files to recover them before proceeding with the migration.
Final Words
Now, you know how to print Outlook messages as PDF without and by using the tool. You can choose the method which suits your convenience and proceed accordingly. If you face any issue while implementing the procedure then, feel free to contact us.