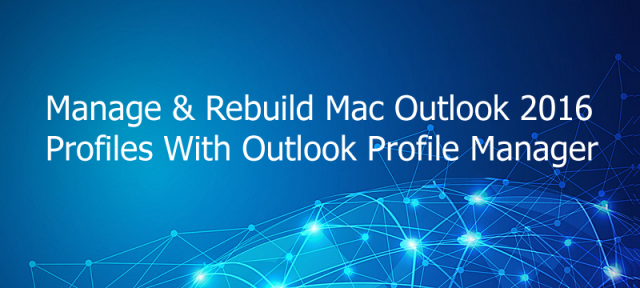 When it comes to email clients, Microsoft Outlook's name comes first as it is one of the most commonly used email clients. It acts as a personal information manager that manages user's information in an efficient way. It manages emails, calendars, contacts, tasks, etc. and is available for both Mac and Windows. There are some features that make Outlook Mac 2016 different from Mac Outlook 2011. Outlook Mac 2016 has a more standardized look and feel and also it provides integration with OneDrive. Read to know how to rebuild Outlook database Mac 2016 profiles and how to backup Mac Outlook database.
In the case of Outlook Mac 2016, the performance factor has improved this is because Microsoft switched from its previous database to SQLite. Besides all this, some situations occur in which a user has to repair and rebuild the Outlook profile Mac 2016. Now, Outlook Mac 2016 user can easily repair and rebuilds the profile as Office 2016 automatically rebuilds the Outlook Mac profile if issues like Outlook data corruption occur. This is one of the main upgrades from Office 2011 for Mac, in which the user had to manually rebuild the Office database.
Location of Outlook 2011, 2016 Mac Profile
For Outlook 2016 Mac: /Users/me/Library/Group Containers/123THEID.Office/Outlook/Outlook 15 Profiles/Main Profile/Data/Messages/
For Outlook 2011 Mac: /Applications/Microsoft Office 2011/Office/
Easy Solution to Rebuild Outlook Database Mac 2016
The users who are facing issues with Mac Outlook Database / Profiles / Identities can try this hassle free way to repair and use Mac Outlook 2016, 2011 without any issue. This Outlook Mac Database Recovery Tool is an one-stop solution which allows users to rebuild Outlook Database Mac 2016, 2011 as well as Outlook 365 profiles. Additionally, it provides several other features as well such as 10 file format options to export data, option to preserve folder hierarchy, etc.

Let's have a look at some of its features:
Rebuild Outlook Database Mac 2016, 2011 Easily
Repair & Export Mac Outlook Profile in 10 File Formats
Rebuild Database & Maintain Folder Hierarchy
Date & Category-Based Filter & Repair Important Data
Manage Profiles in Outlook 2016 for Mac using Outlook Profile Manager
In Outlook 2016 for Mac, one can manage profiles with Outlook Profile Manager. It is an inbuilt tool for Outlook Mac 2016 by using this utility one can create a new profile or delete the existing profile and much more. You can not use the Outlook Profile Manager in Outlook 2011 for Mac as it is an inbuilt utility for Outlook Mac 2016 only. Step to manage profiles in Outlook 2016 for Mac are given below:
Learn How to Rebuild Outlook Database Mac 2016 Profiles Via Outlook Profile Manager
Follow below mentioned steps to manage and rebuild Mac Outlook 2016 profiles via Outlook profile manager.
Access Outlook Profile Manager
First, you have open the Finder menu and then navigate to Applications
Click on Control, in the Applications window
Now, you have to click on Microsoft Outlook and choose Show Package Contents
After this, navigate to Contents and then Shared Support
Now, open Outlook Profile Manager
Create a New Profile for Outlook Mac 2016
Once, you have opened the Outlook Profile Manager, click on the + (plus) button
Now, in the text box, you have to type a name for the new profile and then press Return
Delete a Profile
To delete a profile in Outlook Profile Manager, click on the profile to delete
Now, you click on the – (minus) button
A confirmation dialog box will appear, click on Delete in the confirmation dialog box
Set a Default Profile
In Outlook Profile Manager set a default profile by clicking on the profile to set as default option
Now, click on the gear button and choose Set as default
Steps to Rebuild Outlook Profile Mac 2011
To rebuild Outlook profile Mac 2011 you just have to follow the steps given below:
1. First, click on the Turn Off Office Reminders on the Outlook menu
2. Now, you have to quit all the Microsoft Office application including Outlook and Messenger for Mac also
3. Open the Microsoft Database Utility (Default Location is Applications/Microsoft Office 2011/Office)
4. After that, you have to click on the identity of the database you want to rebuild
5. Click on the Rebuild option
How to Take Backup of Mac Outlook 2016 Database?
In-spite of creating OLM file in the backend the Microsoft Outlook 2016 for Mac also stores messages and other items as an SQLite database in the directory /Users/username/Library/GroupContainers/UBF8T346G9.Office/Outlook/Outlook 15 Profiles folder. There is a functionality called Time Machine in Mac machine which automatically takes backup of computer files on a regular basis. If a user's file gets corrupt, damaged or lost then he/she can make use of Time Machine to rebuild Outlook database Mac 2016.