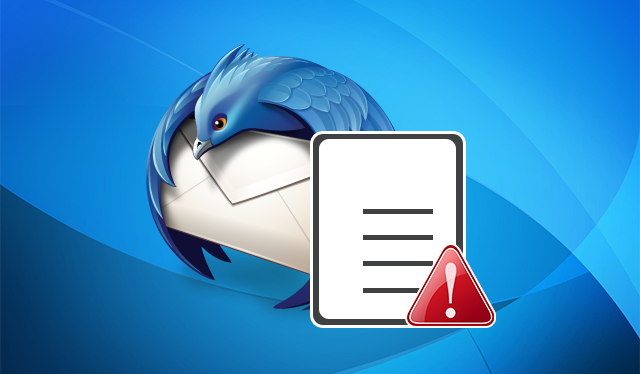 "Hello Folks! I am working on Mozilla Thunderbird since 2 years. It never showed any problem. But, since few days, it is showing an error Thunderbird inbox empty after crash that your data has gone i.e., Thunderbird Messages Empty. Is there any way out to solve my issue? Please Help!"
There are four ways out to resolve the problem when your thunderbird sent messages empty after crash.
Author's Choice :  Best Alternative solution to resolve this error is to repair MBOX Files using SysTools MBOX to Outlook Converter.

Method 1: Setting X-Mozilla Status to 0001
If you have been accessing a profile folder and have located your 'Inbox' MBOX file there might chances that Thunderbird empty message pane is displayed. Then, try to open the Inbox by using Notepad and can see mails and set status to reset X-Mozilla-Status to undelete Thunderbird Emails, and have done the process correctly.
Follow the instructions listed below and perform the process easily to resolve error Thunderbird messages Empty:
In Mozilla Thunderbird
1. Click on Help>>Troubleshooting Information
2. Select Show Folder
It opens a new window that comprises of the profile folder name
3. Close Mozilla Thunderbird
4. Open Control Panel and then Click Mail for POP3 account
5. Select the Mail Account Name
Note: The "Inbox" MBOX file has no extension.
6. Open Inbox file via Notepad
7. Use Edit>> Find the starting at top and use X-Mozilla Status:0001
8. Edit number as working down through document and Save the file
9. Delete Inbox.msf file. It open a new one and is auto-created & Restart Mozilla Thunderbird. It opens all the mails back in Mozilla Thunderbird Inbox & help solve the issue when thunderbird empty folder is displayed
Method 2: Show Hidden files/folders
There might be possibilities that some files get hidden in your system. In such cases to resolve this error : Thunderbird messages Empty .You can go for the steps mentioned below:
1. Navigating to Folder: Set Windows and get hidden files/folders by changing the "View Settings" in the Folders Option shown in Windows XP. Users can access Folder Option from Tools menu present in Windows Explorer or Windows Control Panel. Users can temporarily enable menu bar by hitting the Alt key. For enabling it permanently, enable it and click on Organize button, go to layout and then select Menu Bar. Users can even access the Folder Option from the Tools menu in Windows Explorer or Control Panel.
Note: Windows Vista disables File>> Edit >> View >> Tools >> Help menu. It can be enabled also by pressing Alt key. In case you need to enable it permanently, click on the organize button and go to the layout and then choose Menu Bar.
2. For getting Hidden Folder option, view on tab and then Hidden Files and Folders option, choose hidden files and folders. Also, uncheck the Hide Extension for known file type box, and then get the file extension for all files. In case, you still cannot see hidden files, users need to hit on Hide protected Operating System file option.
Method 3: Compacting files/folders
When the users delete a message present in any Mozilla Thunderbird, they are not deleted permanently, sometimes, even deleting the files completely that includes trash too, and still we don't get the data completely deleted. Instead of it, Emptying Thunderbird is of no use unless you don't compact the folders. By compacting the files, the files get completely deleted. Messages that we delete from a particular mail account, don't get deleted.
The Compacting Files/Folders can be done by three ways:
Let's begin with Compacting Files/Folders Automatically.
Open Tools and then Advanced
Then, Network and Disk Space
Compact Folders, when it will save the folders>>
Edit>>Preferences
Click on Network and Settings>> Compact all the Folders
For Thunderbird5 Edition,
Open Tools>> Options>> Advanced>> Network and Disk Space>> Disk Space>> Compact Folders when saved over 100 KB and then click Ok.
For IMAP Account
To solve the Thunderbird Messages Empty Error in IMAP, follow the step mentioned below:
Check Tools>> Account>> Settings>> Server Settings>> Clean Up inbox on exit
Note: It compacts the Inbox Folder while exiting Mozilla Thunderbird.
Drawbacks of Compacting a Folder
Compacting takes a lot of time and slows the system
It hangs the system, if tried to compact large files
Sometimes, it fails to delete the Temporary files
Compacting System does not work in many cases for many folders and can corrupt the files
Method 4: The Way Forward: MBOX Converter
Automated Solution is the best way to get the problems solved in no time. After getting all the manual methods through which problems cannot be solved. In such cases, the users need to opt for the professional tool as mentioned above. The program has proved its credibility many a times by solving many errors among which one is Thunderbird Messages Empty. So, the users should give it a try.
The Final Note
Despite of the fact that there are multiple way around to resolve the Thunderbird Messages Empty Error when Thunderbird inbox gets empty after crash, but in actual this might create problems. So, in such workarounds, the best way out is going for an automated solution and among all the best is MBOX Converter program with simple interface and multiple functionalities.