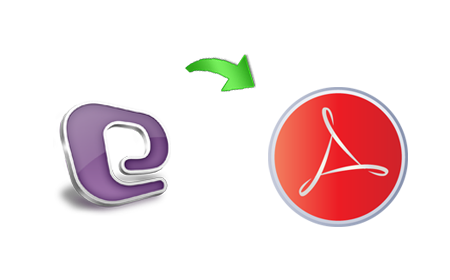 Save Entourage Email as PDF
In today's scenario, users are keen for this conversion process because Entourage is a Microsoft Email Client specifically for Mac operating systems. Entourage mail is a personal information manager with the help of which users hold the list of emails which are related to their business and others. It provides various options to save data like emails, calendars, etc. The Entourage saves single email file in .emlx format and the database file in MBOX file format. And it is useful to save Entourage Email as PDF because PDF file format provides numerous features to the users. It offers password protection functionality to users so that documents can be made more secure. Fonts, images, text, etc. are also included in the complete description of a 2D document embedded in each PDF file. It saves every file with .pdf extension.
User- Queries Regarding "How to Convert Entourage Email to PDF"
"I am required to save all my email messages in my inbox as individual PDF documents. I know I can do it one at a time via "Print -> save as PDF" but I am talking about a few hundred email messages here. Is there any way out to do so with the help of some software to batch save all of these messages?"
"I know that we can save multiple attachments within a single email message. But can we save multiple attachments across multiple messages with a single command? We can save Entourage Email as PDF. We could highlight multiple messages with attachments, choose "Save all" under the attachment sub-menu, and they would all get saved to the specified folder. However, my copies of OUTLOOK 2011 do not allow this. If you highlight multiple messages and select save all, the program only saves the attachments to the First highlighted message. It will not save the attachments from any subsequent messages. Is there a way around this problem?"
Manual Solution to Save Entourage Email as PDF
Open Entourage and click Edit → Select All.
Go to File Menu → Click Print.
Click PDF → Click Save As PDF.
Click Save button.
Limitations of Manual Methods
The Manual Method is not capable of exporting multiple email files at a time.
Export process cannot be performed reliably using the Manual Method.
A technically sound person can only perform this task manually
Automated Solution to Save Entourage Email as PDF
In today's era, there are a number of third party utilities available to convert Entourage Mail to PDF format but one of the best-suited tools is SysTools Mac MBOX Converter. This software provides the simple interface to make the conversion easy and keeps the Meta data intact. It can not only export the Entourage MBOX file but can also read MBOX / MBX files. Now, follow the below-given steps to do the conversion:
Click Add Files to add the MBOX files.
Browse to select the MBOX file → Click Open Button.
Now, the size and the path of the MBOX file are visible. Click Next.
Click on PDF option to export the MBOX file as PDF file.
Now, click on Settings for further settings options.
PDF export options window will be displayed. Apply the layout settings for PDF format.
Click on Save to save the settings.
Click Browse to navigate to the destination folder where PDF files are to be saved.
Navigate to the destination location and click Open.
Now, export process will begin.
Now a message showing that file is successfully exported will appear on the screen. After that click on Close.
Browse the destination location to view all the emails in PDF format.
Now, open any of the emails and view the contents.
Features
This tool converts multiple MAC MBOX files at once.
It is capable of maintaining inline images and the HTML formatting in the email body.
This utility converts MAC MBOX to PDF with retained mail properties.
It is capable of maintaining the integrated structure of email after the conversion process.
Conclusion
The above-written blog put some light on how to save Entourage Email as PDF. In case, if you are also curious to perform this hassle free exporting process then you can also follow the following techniques discussed in this blog.