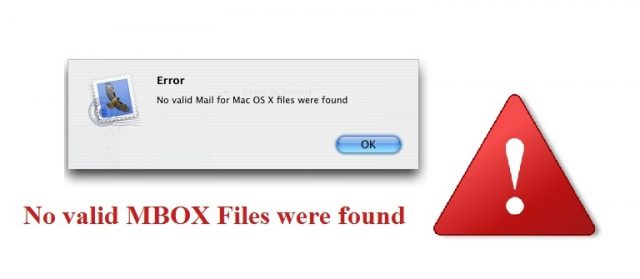 Solutions to Solve "No Valid MBOX Files Were Found" Error
How to Cope up the error: No Valid MBOX Files Were Found -Nowadays, organizations need is rising day-by-day at an exponential rate. In addition, there are the variety of email file formats, which are coming into existence and computer users are using these file formats for saving their data. A MBOX file is one such format, which is used on a variety of operating systems (like Apple, Windows, etc.). This format is used for saving email messages on a local machine in form of single plain text.
There are many email applications like Thunderbird, Eudora, Mulberry, Horde Mail, Chaos Intellect, etc., which are using MBOX files as storage means to save mail content. Since MBOX is a file format, which is locally saved on computers, therefore, there are chances of corruption in this file too. There are the variety of reasons behind MBOX corruption like virus attachment, improper management, sudden termination, etc. Due to corrupt email files, the applications, which opens this MBOX file generates one or the another error when users try to work with it. Now, consider the following scenario:

"A Mac Mail user is having MBOX file with him and want to access it on his Apple platform. Unfortunately, this file had gone corrupted due to some unknown reason, therefore, when he tries to import MBOX file he encounters an error message i.e., No Valid MBOX Files were Found. Hence, he requires a solution by which he can fix this problem and continue working with the file."
The scenario discussed above explains the need to have solutions for fixing a problem while you try to import MBOX file & encounter a MBOX file error i.e., No Valid mbox files were found. The solution will be helpful for such users who are facing this error message while accessing MBOX file.
Causes With Their Respective Solutions to Fix MBOX File Error
The approaches of the problem are dependent upon the cause of error occurrence. Therefore, in the following section we are going to discuss all possible reasons while you try to import MBOX file & encounter a MBOX file error i.e., No valid MBOX files found and solutions to fix it.
Reason #1: Variations in Versions of Mac Operating System
When a user tries to export MBOX file of one Mac OS version (say, Mac OS 10.6) to another version (say, Mac OS 10.7), there occurs some file compatibility issues due to which such error i.e., No valid .mbox files found exists. It means that the variation in Mac operating system versions makes MBOX file inaccessible on the current platform. Therefore, a solution is required in which MBOX file created from one Mac platform is accessible on another without arising any error.
Solution: Before proceeding further with the solution to fix this MBOX error while you try to import MBOX File, users need to perform some following instructions for some security reasons:
1.Create backup of ~/Library/Mail/ and ~/Library/Preferences/com.apple.mail.plist
2.Open hidden library folder on Mac OS with help of following steps:
Navigate towards Go >> Go to Folder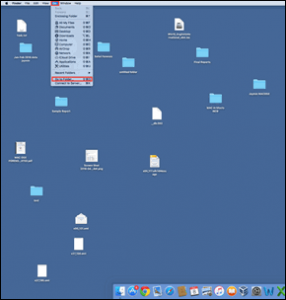 Write ~/Library/ and then hit on Go button.

3.Acquire access to old messages by locating files in ~/Library/Mail/ folder.
After completing up with following steps, you need to follow the below set of commands:
a) Close Mail.app (if open), then copy MessageRules.plist from an old folder of Mail to the new location i.e., ~/Library/Mail/V2/MailData/.
b) If MessageRules.plist.Backup is present in current folder then delete it; else skip this step
c) Launch Mail.app and then examine the present rules in Preferences list
Note: From the further steps you are going to import MBOX file into Apple Mail
d) Now, go to File >> Import Mailboxes >> choose Apple Mail and click on Continue.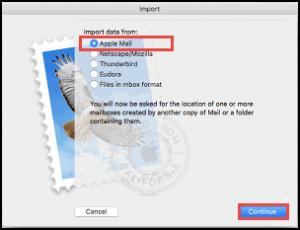 e) Go to the location where your MBOX file is located, select that file and then click on Choose button
f) You can take preview of all the mailboxes found by Mac system and then click on Continue to proceed further
g) Close the Mail.app program and then open it again
h) Check the Import Mailbox and then move the imported mailboxes to original path
i) Verify whether the search tool is working correctly or not
j) If not, then recreate Spotlight index by using sudo mdutil -E shell command; else skip this step.
k) At last, once take a look on Preferences to examine the mail rules.
Reason#2: Improper Synchronization Between External Devices And Mac Machine
In general, users archive old mailboxes in MBOX file format and save them to an external device. However, when one tries to open the file directly from an external device, they encounter an error message dialog box, which indicates that there is no valid MBOX files were found on the machine. Therefore, in such situation users require a method to export MBOX files from external devices.
Solution: In order to import MBOX files, you can use the import instructions, which are described in the procedure of resolving MBOX error due to variations in Mac OS. You can refer the above-described Steps.
Reason #3: MBOX File Error Due to Incorrect Directory Level
If a MBOX file is located in an incorrect directory level and the user is trying to access it from that location, then also this error message might occur. An error message screen will get displayed on the screen no valid MBOX files were found, which will show that machine had failed to locate desired MBOX file.
Solution: Go through the following set of instructions to fix the problem, which is caused due to incorrect directory level:
Back up the directory level by one
Select Mailboxes folder from /Home/Library/Mail/Mailboxes
From the list, which is appearing in front of you, choose MBOX file that you want to import and then start the import procedure as elaborated in detail before.
Expert Solution
If you want to access the important data that is residing in the MBOX files then you can use an expert solution to fix this error. To recover emails from the error causing email files by using the third party tool by SysTools, users can migrate emails from MBOX to Outlook and can access those emails as Outlook provides a stable environment.
Conclusion
There are a variety of users who faces this error message when they are using MBOX files on an email application. Therefore, all available solutions are provided to clients for fixing No valid MBOX files were found the problem as soon as possible.