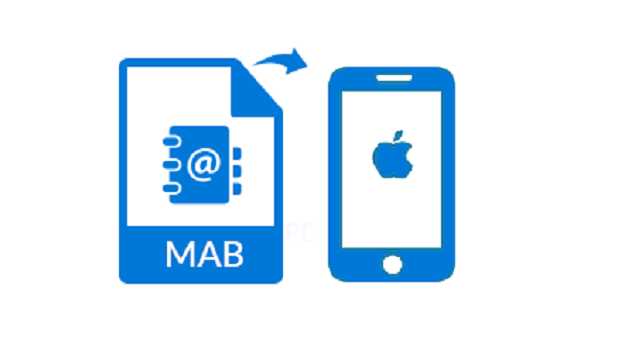 Do you wish to migrate Thunderbird MAB contacts into iCloud? But, couldn't find a solution to do so. Then you are in the right place. Here, we are going to describe both the automated as well as manual solutions to move Thunderbird contacts to iCloud.
More Information about Thunderbird MAB Files
Mozilla Thunderbird generates three different kinds of MAB files as described below.
abook.mab: Address book contacts stores all contacts added by the user.
history.mab: Collected address book includes all previously installed contact files.
impab.mab: Imported address book contains all Thunderbird imported contacts.
Where are Thunderbird MAB files Stored?
Follow the steps to locate your Thunderbird contacts:
Run the Thunderbird email client.
Open Thunderbird Menu and select Option tab.

Locate Thunderbird directory by navigating to Account Settings >> Server Settings >> Local Directory.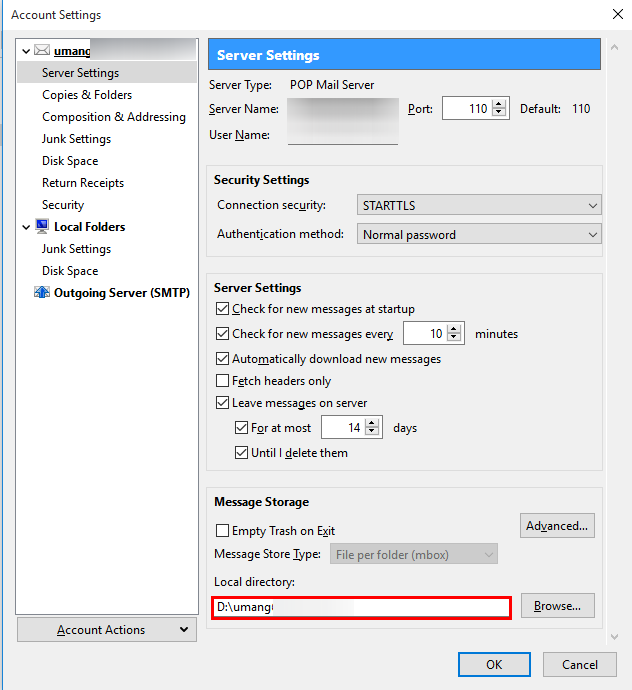 Go to the Thunderbird local directory and locate Thunderbird address book .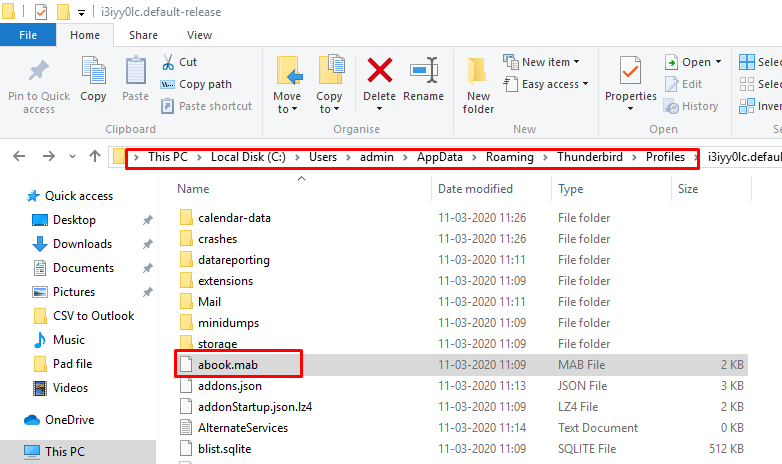 Store address book files (abook.mab, history.mab, impab.mab) on the desired location.
Manual Solution to Import Thunderbird Contacts to iCloud
Here, we are going to describe about the manual solution to migrate Thunderbird address book to iCloud.
Launch Thunderbird email client and select Address Book tab.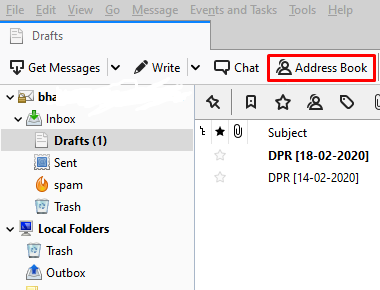 Click on the Tools tab and select Export option.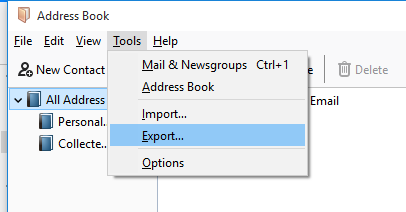 Choose vCard file format from the Save as type button.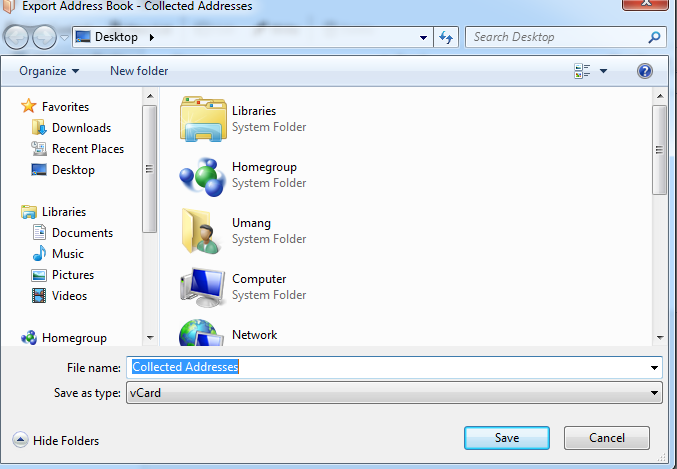 Now, these contact files can be saved at any desired location.
Lastly, Users can explore the steps mentioned in phase-2 below to move VCF files to iCloud account.
Alternate Solution to Import Thunderbird Contacts to iCloud
We have discussed an alternate solution i.e. SysTools MAB File Converter to solve the user query i.e., transfer Thunderbird address book to iCloud.
Phase-1: Export MAB File by using Third Party Tool

Launch the third-party tool and select the Add File button.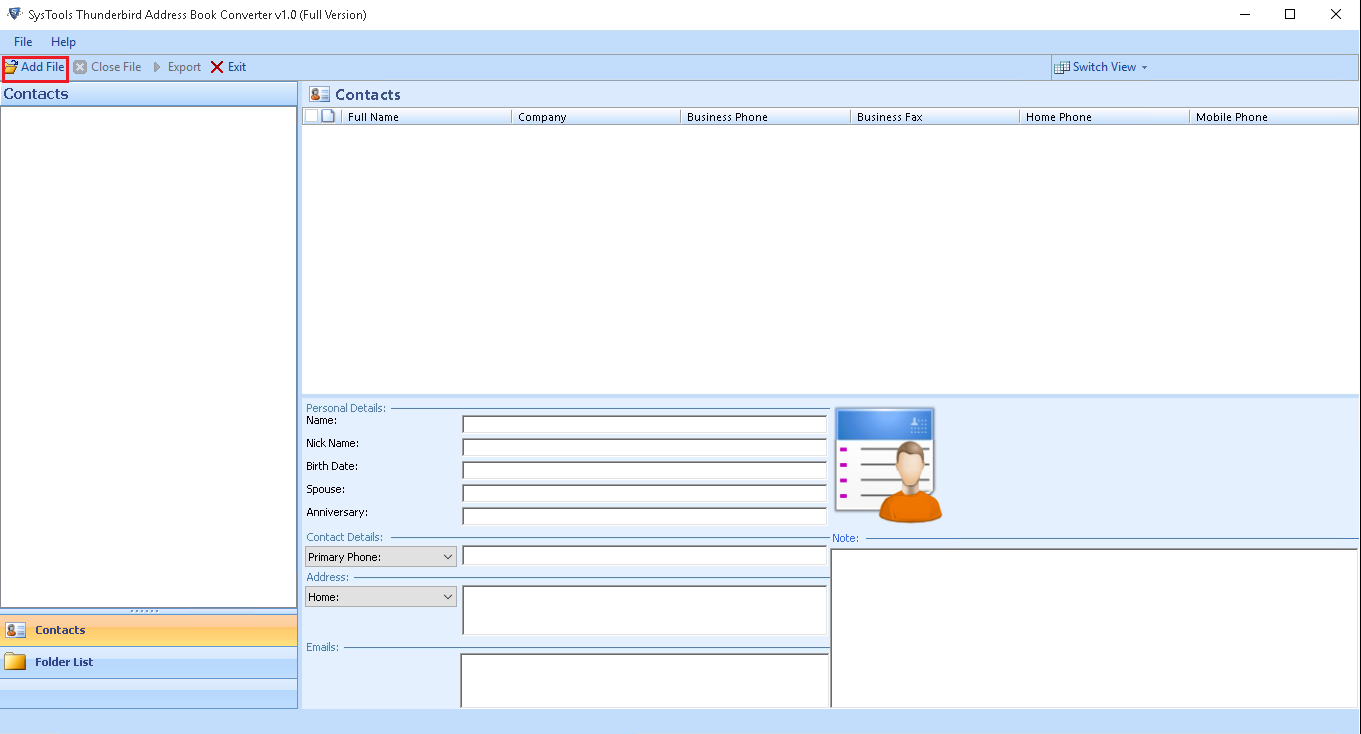 Choose File or Folder option. Click on the Browse button to locate Thunderbird contact files and click on the Add button.

Choose VCF option and select Browse button. Lastly, click on the Export button to save these files to a desired location.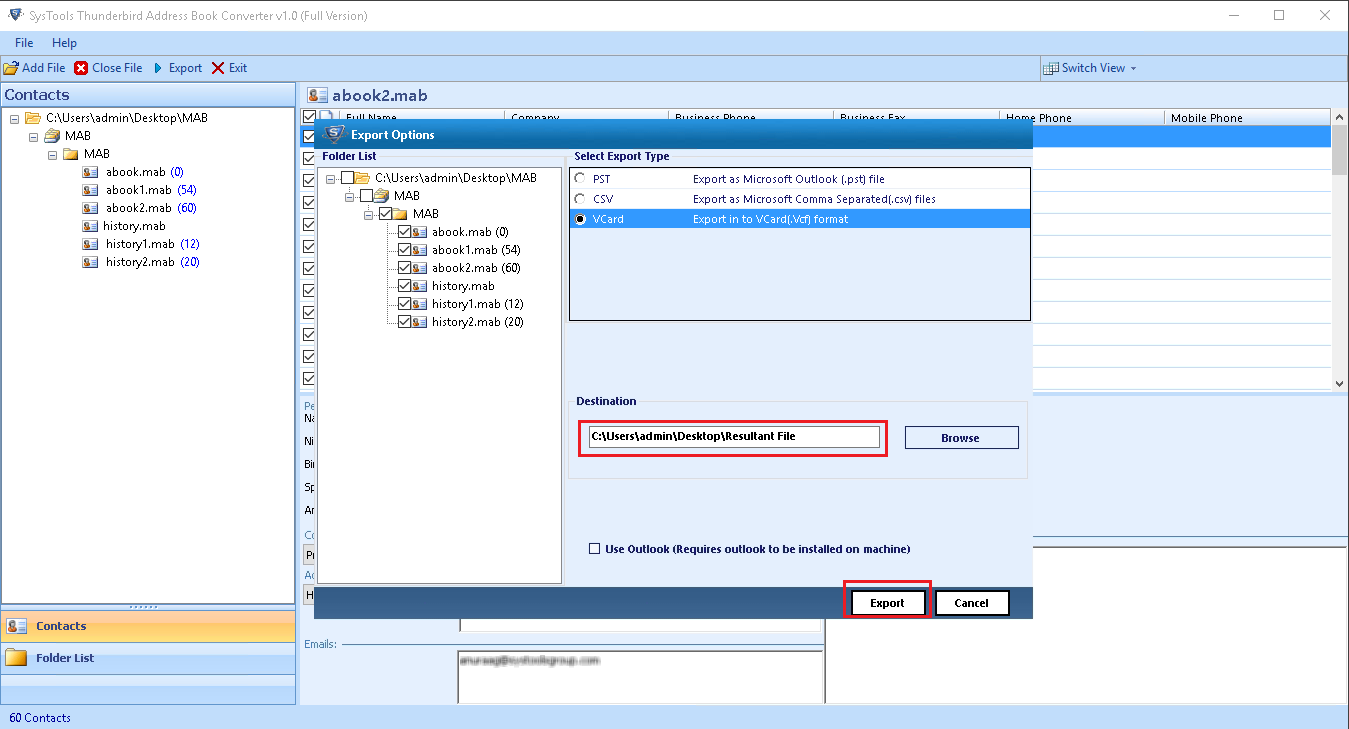 The VCF files are exported successfully.

Phase-2: Move vCard into iCloud Account
Log in to iCloud account and select Contacts option from the iCloud menu.
Click Gear icon from the user screen and select Import vCard option.
Select Browse option to locate VCF files on the system.
Select the vCard and click on the Open button.
All user contacts will be directly added to iCloud account.
Also Read: How to Transfer Thunderbird Address Book to Another Computer
Benefits of using Third Party tool
Either a single MAB file or a Complete folder containing MAB files can be converted to VCF at once.
The software allows the user to preview information details like name, surname, profile picture, email address, phone number etc.
Users have the option of converting address book files to CSV, VCF or PST file formats.
The Application tool enables the user to merge multiple contact files at once.
No need to install Thunderbird email client in your system.
There is no file size restriction to migrate Thunderbird address book to iCloud.
Final Words
There exists manual solutions to solve the user query i.e., to import Thunderbird Contacts to iCloud. Users can try any of the above mentioned methods to transfer Thunderbird address book contacts. But, if the user wishes to migrate selected contacts then, the manual approach is not able to do so. So, we suggest the users to try the automated solution which offers options to transfer selected contact files at once. It even allows the user to transfer complete folder containing contact files which also saves a lot of time.