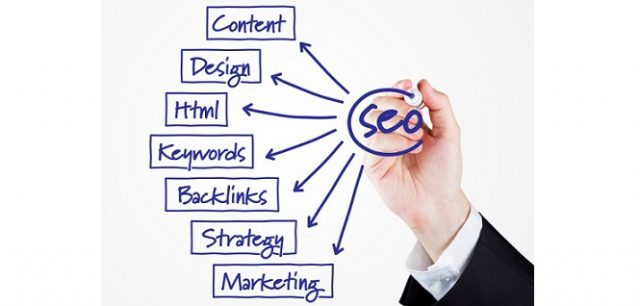 Overview:
Search Engine Optimization is a technique that helps to grow the visibility in organic/unpaid search engine results. SEO includes the technical and creative elements required to improve the ranking, and increase the awareness of search engines. It is the best way to expand the credibility of a website and increase the awareness of brand. SEO is not only constructing search engine-friendly webpage in fact, it makes your website better for people too.
Two Major Components of SEO:
SEO is the process of being stuck in traffic from free, editorial or natural search results/outputs on search engine. Two main SEO strategies help to improve ranking of website:
On-Page SEO

"On-site" SEO is a method in which to integrate the SEO strategies within own website. Some of the major concerns for on-site SEO include:

Optimized description, titles & content (with no duplicacy)
Implement proper interface
Fast loading of web pages
Optimized images & internal links

Off-Page SEO

"Off-site" SEO focuses on increasing the traffic of user's domain through back getting the links from other web pages. The major parameters for off-site SEO include:

Creating Valuable links (Forums or Blogs Commenting)
Guest blogging On Websites
Posting links on social media
In the following section, we will discuss the SEO checklist for On page Optimization.
About SEO Checklist for On-Page
In order, you should target on the keywords or phrases in the search engine result pages (SERPs). In the following section checklist of essential SEO tips, and tasks are mentioned below for any new startup website.
SEO-Friendly URLS

Google has specified only fist 3-5 words in a URL are given more rank. Make sure your URLs should be short and attractive. Always try to focus on target keywords on your URL. It is an easily way to read a URL by human beings for search engines. Anyone can access it without any restrictions.

Title & Description

Title tag is the most essential on-page SEO. To make the title more impressive and attractive so that users can easily access it. We strongly recommended matching the page title and visible headline on the page. In Title and Description, there should be 65-70 and 150-160 characters respectively.

Page speed

Google has started that page speed used as a ranking signal. Around75percentage users would not revisit the site again that took longer time to load. This SEO checklist helps to boost the speed of site and make users comfortable.

Keyword Analysis (Density, Proximity, Prominence)

Keyword is the main factor to get good ranking on the SERP. In order to get top ranking, it is preferable to use the main keyword in the URL. The focused keyword should appear in first 100 words of the article.
In the following section, we will discuss the parameters that are a part of keyword analysis

Keyword Density-
Keyword density is the way to check the ratio of your keyword appears on the page of your article as well as check the number of words on the page. For example, if your home page has copied 500 words of body and your keyword phrase appears 5 times, your keyword density will become one-percent.
Keyword Prominence-
It refers to know how prominent your keywords come with key elements of your webpage and how close to the beginning of page title tag, heading tags. You should always place your most important keyword on the top of your Title, description and headings.
Keyword Proximity-
It defines as the distance between the search terms individual keywords. According to Search engine's point of view, smaller the distance between the searches terms individual keywords.

Image Optimization

Make sure at least naming of one image file includes your target keyword for example on_page_SEO.png and that target keyword must be a part of your Alt text. It should be compressed, enlarged an image, diagrams according to the size of image.

Content Range

The SEO said, "Length is the strength". Post the content length should be long on the website, which founds that the longer content tends to rank, significantly higher on the Google front page.

HTML 5 Validation

The H1 tag should represent the "Title". Most of Word Press users merge the
tag to blog post title automatically.
H1: should be used one time
H2: should be used two times
H3: should be used three times
H4: should be used four times
H5: should be used five times
H6: should be used six times

Merge Modifiers to Your Title

Modifiers are the best way to highlight your target keyword and can assist you to maintain the rank for long tail style of your target keyword. For example, you can use modifiers like "review", "best", and "guide".

LSI Keywords

As the name suggest LSI Keywords are synonyms, which helps to determine a page's relevancy for a given search result. LSI Keywords are scattered into every post.
Conclusion:
In this post, we have tried to cover about SEO and its major components. Also, suggested the practical strategies of SEO checklist for on page. This SEO checklist will help you to make webpage more remarkable or attractive.