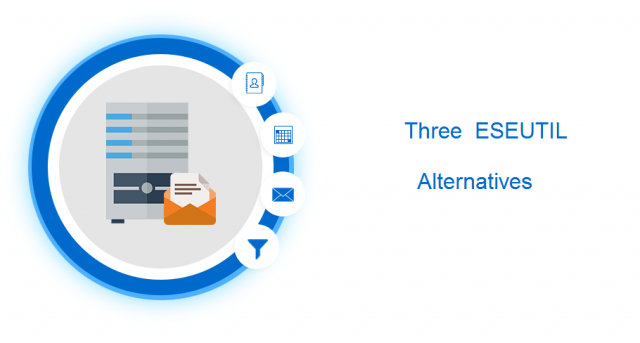 In this post, we are going to discuss about all ESEUTIL switches, the need of its alternatives and list of the best ESEUTIL alternative availability.
The Exchange server is having an inbuilt utility i.e., ESEUTIL Tool. This application helps in rescuing corrupt Exchange EDB file of the server. It helps in recovering both soft as well as hard deleted data from the database file.
However, there are some limitations of this inbuilt utility due to which some effective Eseutil alternative are required to repair Exchange EDB file and recover data from it using Eseutil Replacement Techniques.
List of ESEUTIL Commands
There are multiple commands related to Eseutil tool and the purpose of each command is different from one another. Following are all Eseutil commands used in the Exchange server:
| Command | Purpose |
| --- | --- |
| /r | Used to recover corrupt EDB file and then bring the server in a consistent state |
| /p | Used to repair damaged database file and remove the data that is causing corruption |
| /g | To examine the current database integrity |
| /k | Used to perform a checksum test of entire database pages |
| /m | Used to erase entire database file header, log file, and checkpoint too |
| /d | This switch of Eseutil is used for defargmentation of Microsoft Exchange Database |
| /y | Used to copy huge amount of data from file in an effective manner without affecting the server performance |
| /cc | While backing up a file in an online mode, it performs hard recovery of Exchange database |
What is The Need of Eseutil Alternative?
The need of any ESEUTIL alternative application arises when the existing facility fails to accomplish users task & there arises the need for Eseutil Replacement Techniques. It is being observed that STM, steaming media data, and EDB files are required for working of eseutil.exe tool.
In addition, variety of prerequisites are needed to be fulfilled within the server when you are accessing this server inbuilt utility for any purpose.
Few requirements are mentioned below:
The server user who is using this command should be the Exchange administrator
Exchange database should be dismounted from the Exchange server for having offline EDB
Either running EDB files or inaccessible EDB file needs to be moved/copied in a backup folder
Well, if Exchange clients are using Microsoft Outlook then, there are chances of occurrence of a situation in which database Information store will comprise of STM file as well as EDB & database log files. In this condition, this ESEUTIL commands fails to fix corrupted database & there arises the need for Eseutil Replacement Technique.
Although the server is providing an inbuilt facility to deal with corrupt EDB file but, it is not guaranteed that file will definitely be repaired and entire data (without any data loss) will be recovered.
However, making use of ESEUTIL commands might modify default settings of the server and hence, there are chances of degradation in performance of the application. Therefore, there is vast need of a medium where the server user can repair EDB file and easily recover data from it without any data loss or modification in Exchange.
Find Out ESEUTIL Alternative Solutions
The alternatives are available for the ESEUTIL commands that are used to repair EDB files, recover data from corrupted file, and split Exchange EDB file. It means that there exist Eseutil Replacement Technique in place of three ESEUTIL switches i.e., eseutil/r, eseutil/p, and eseutil/d. These Eseutil alternative are as followed:
SysTools Exchange Recovery: This software is one Eseutil alternative for repairing both private and public Exchange edb folders and stm files. It supports severely as well as less corrupted EDB file and repairs the source file. This utility recover data from EDB file i.e., emails, contacts, calendars, tasks, and notes, and export them into Live Exchange server, Microsoft Outlook and PST, EML, HTML, PDF, MBOX, MSG file formats.
If needed, then you can directly save recovered data in Exchange server just by entering your server credentials. If not required then, you can save the extracted data on your local machine and then use it one or the another way. The Eseutil Replacement tool is compatible with all latest version of Exchange Server, MS Outlook and Windows operating system.
Pcvita Exchange Recovery: This is an another Eseutil alternative that easily repair & recover Exchange Database which enable users to recover deleted EDB file, either it is permanently removed or temporarily. Moreover, users will be able to recover messages of any format like plain text format, RTF format, and HTML format. The software guarantees that original formatting will be maintained throughout the procedure.
Pcvita Exchange Recovery tool convert Exchange EDB to PST file and thus, allow users to access Exchange data in Outlook. There is no file size limitation appended with this application and the interface is designed in such a way that any kind of additional training will not be required for dealing with corrupted Exchange EDB files with this Eseutil Replacement Technique
Recovery Tools for Exchange Recovery: The last option for the same is to use Exchange Recovery tool as Eseutil Alternative. This application provides all useful options that are used while dealing with corrupt Exchange EDB file and recovering data from it. Moreover, while exporting Offline EDB to PST you can split large database file of Exchange and hence, easily manage files on machine.A server user will be able to divide EDB file by enabling splitting option of Exchange Recovery tool.
You just need to mention the size in which you want to break down the large files and then software will automatically split EDB files and them on machine. With help of these alternatives, you will also be able to fix those Exchange that generally occurs due to corruption in EDB file like Exchange EDB file error 1018, ESEUTIL error 1032, Database won't mount, etc.
Conclusion
ESEUTIL tool is reliable when there is less corruption in Exchange EDB file. In case, if you can afford data loss for fixing Exchange related problems then, you can use this utility. But, when it comes to maintenance of data integrity and speedy recovery of data then the best-recommended approach is to go for Eseutil Replacement Technique that can be used as ESEUTIL alternative as described above. These are the exact replacement solutions for ESEUTIL and you can use any one tool to solve your problem without any complications.