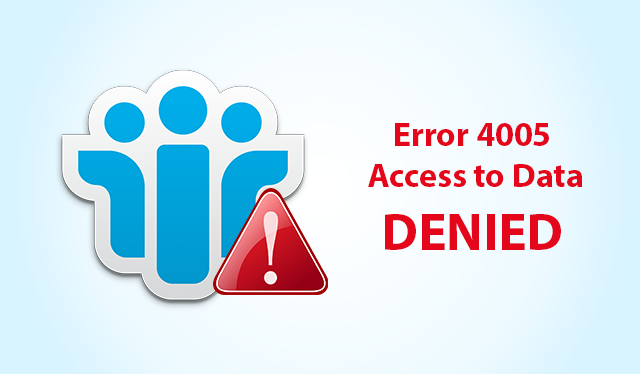 IBM Lotus Notes is a desktop email client which helps to connect the modern business or organizations. It provides the client-server collaborative environment where IBM Notes and IBM Domino are the client and server, respectively. It also helps to manage or handle Personal information, File Sharing, Manage Address book, Access Notes messages from all portable devices. Although Lotus Notes might encounter an error which prevents a user to work. One such type of error is Access to Data Denied with code 4005. Therefore, in the upcoming section, we are going to discuss a manual solution and its causes due to which this Lotus Notes error 4005 Access to data denied occurs in a clear manner.
Why Lotus Notes Access to Data Denied Error Occurs?
In IBM Lotus Notes, there are many problems and issues occur. Out of them, one such error is Error 4005 in IBM Notes. While working with IBM Notes, users may encounter this issue and they may become stop by this error. This error mainly occurs when a user attempts to create a new memo or open an email file. Below are some scenarios due to which this error occurs:
1. This error message is displayed when users try to create a single file in data directory:

2. When users tries to open emails and the following error occurs: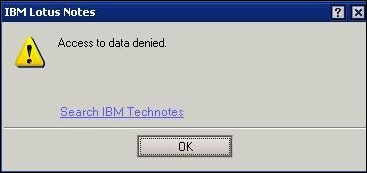 3. Users create the new Mail memo: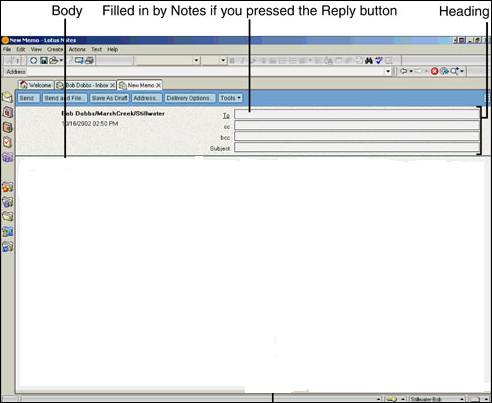 Reasons Behind Lotus Notes Error 4005
Go through the following set of instructions due to which end users may encounter this error:
1. Due to lack of Administrative Permission
An Administrator account does not have right to create any file in the directory then, IBM Notes Error 4005 occurs.
2. Lack of Free Disk Storage Space on PC
Multiple temporary files are created and little free up hard space where Windows Virtual Memory is located.
3. Virus infected Incoming Messages
Error alert message is shown when an incoming email is infected with Netsky.D virus.
4. Running Unsupported Operating System
An error message is displayed when Outdated or unsupported operating systems will be used.
5. An error may occur because of Digital Signature Preference which is set to original Image or HTML file
Manually Resolve Lotus Notes Error 4005 Access to Data Denied
There are following steps that will help to fix IBM Notes error code 4005. Let us have a look:
Set the "Location for Storing ID" to a path where an administrator has the privileges to create multiple files.
As the Lotus Domino Administrator login, click on People & Groups tab
Select a server to work from under the Servers pane
Now, choose the Domino Directory and navigate to People option
From the Tools panel, go to People and then, Register option
Click on ID INFO tab in the left-hand panel and from Location for storing user ID select set file option – To change the desired location of user ID file
Running virus and malware removal tools to fix this issue
Follow below steps to fix Lack of Disk Space Problem on PC
1. Clean up temporary files from this path: C:\Windows\Temp directory
2. Clear free space on hard drive or increase the disk space, do the following steps:
Right click on My Computer and go to Manage >> Storage >> Disk Management.
Choose the adjacent disk drive of the "disk" you need to extend, right-click on it and select Shrink Volume to free up hard drive space.
Choose the disk you wish to extend, right-click on it and select "Extend Volume" option to extend the disk space.
Upgrading the Operating system compatibility with IBM Notes Email client. Change a digital signature in plain text.
Feasible Way to Fix Lotus Notes Access to Data Denied Error
The above manual solution is very lengthy and time-consuming. Therefore, users should take help of a commercial solution i.e., SysTools Mail Migration Wizard. It is specially designed to export multiple NSF files to desired Exchange mailboxes in a safe and secure manner. Also, it provides different features like migrate calendar entries or recurrence calendar, maintain folder hierarchy and data integrity as well. Moreover, it has a user-friendly interface that even a novice user a use it without taking any extra time and effort.
Time to Conclude
Many times users tried to create a new memo or open an email file and they may receive an error message "Access to Data Denied Error." It may also affect the overall workflow. In this blog, we have explained all possible reasons due to which this error code 4005 generates. Further, we have discussed a manual workaround to fix Lotus Notes error 4005 Access to Data Denied.