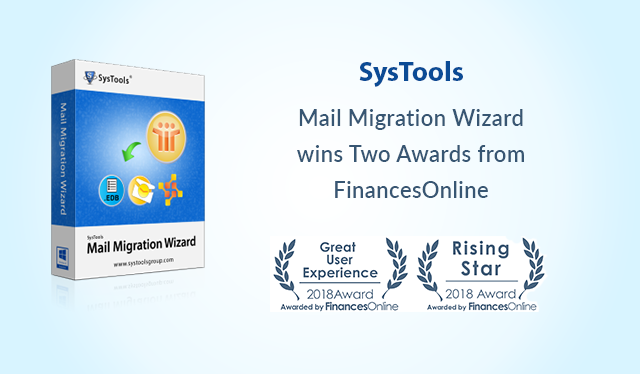 SysTools Mail Migration Wizard, one of the flagship product of SysTools Software, has won the coveted Rising Star 2018 award from FinancesOnline. Owing to its robust features as well as functionality, the application has named as the best data migration software present as of today.
SysTools Software is a leading company in the domain of data recovery and backup service and solution provider have been playing an essential role and has subsisted up to its name. From its beginning, SysTools Software has always focused on winning strategies and successfully satisfied millions of users. On a similar note, SysTools leading product SysTools Mail Migration Wizard has joined the league of top performers of FinancesOnline when it directly comes to data conversion, as they granted us a spot in their types of email management software guide.
As SysTools believes in simplifying technology similarly, SysTools Mail Migration Wizard migrates the Lotus Domino to Exchange Server , MS Outlook and Office 365 directly. This software has received an outstanding rating due to its high performance for data migration and well-programmed, easy-to-use UI that results in great user's experience.
Recognition Via Excellence Certification
Recently, FinancesOnline has made an official declaration of awarding the software with a couple of quality awards that includes Great User Experience 2018 award and Rising Star 2018 award in the top email software category. The decision to grant us these awards was due to the simplicity and spontaneous implementation of our service. Moreover, it gives a quality of services appreciated by users. Our software earned a 99.9% user satisfaction rating, which is completely calculated by the customer satisfaction algorithm of FinancesOnline.
The algorithm is created by the accountability of gathering user feedback, comments, and opinions related to Mail Migration Wizard across a wider range of networking sites. The collection of both the positive as well as negative feedbacks is gathered neutrally. All feedbacks are shared by a genuine user base and companies even more than the evaluation while purchasing the data management software. Therefore, usage of the named algorithm was prepared for the collection of user feedback on the various basis of diverse social networks.
SysTools: Rise Up By Simplifying Technology
Team SysTools believes in providing the precise and hassle-free solution for their users. Same is, with the Mail Migration wizard. The application is programmed in such a way that it makes easy for the users to instantly migrate bulk of data to Live Exchange Server from Lotus Notes or Domino Server. The easiest, fastest, and perfect process to perform migration does not require any external application, as it is a standalone tool. Users can simply download the best Mail Migration Wizard software on any Windows OS (both 32 and 64-bit).
Verdict
Without compromising with the technicalities, SysTools Mail Migration Wizard has always maintained that level of user's satisfaction at its best. This software is a living example of this. We are thankful to FinancesOnline for these recognitions, which are topped off with their distinctions.