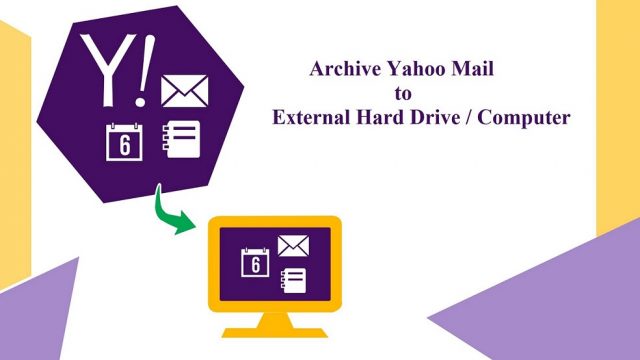 This article discusses the methods on how to save Yahoo emails to external hard drive or any other local storage. The scenarios where the user might want to download emails from Yahoo to computer or archive Yahoo mail to the hard drive are also discussed in this article.
Yahoo is a reliable web-based mailing service. Millions of users around the globe rely on this service for safer emailing. The web-based emailing method is the primary way of communication between the organizations and businesses, Yahoo is amongst the most dedicated and safer ones. Although it is trusted by millions still some situations may arise when the user might want to make a local backup of his/her precious information.
Need to Archive Yahoo Mail to Hard Drive
The email clients might keep the reliability factor maintained on 100% at their end, still, there are various factors that make it unsafe. What if the user is locked out of his/her mail account? Or The virus & hacking intrusions, theft, & intentional/unintentional deletion of emails is one of the reasons why users might want to consider options to archive Yahoo emails to Hard Drive.
Users cannot oversee the series of outages from OCT to DEC '13 when the world witnessed a series of Yahoo mail outages. It prevented users from accessing their mail accounts. Some accounts were even deleted and many lost their crucial data after this event. Hence under certain situations, there might be an urgent need of users to save yahoo email folder to the hard drive.
User Query: How to Save Yahoo Emails to Computer
"How do I save Yahoo emails to external hard drive? I have been using Yahoo from a long time, having soo many emails it makes it difficult for me to manage these many emails. Is there any reliable way that I can Transfer & download Yahoo email to my compute?r"
Export & Save Messages from Yahoo Mail to Computer
The Yahoo mail users can backup their Yahoo data manually or by using the third-party tools.
Manual methods to save Yahoo email to the hard drive:
1. Manually copy every email to word file
2. Download copies of the email, modify them without affecting original emails using POP/IMAP access settings
3. Hard copy email forwarding, forwarding emails to another email address.
4. Archive Yahoo mail to Hard Drive
Disadvantages:
In manual copying of the emails, the emails will be in the word format. This process becomes a bit longer when the number of emails is large in number. Setting an email forwarding will forward the emails that are received after this function is enabled.
Alternative Method to Save Emails from Yahoo Mail to computer:
Download the emails from Yahoo mailbox in a few steps by using SysTools software to backup Yahoo! mail. This way to archive Yahoo email to Hard Drive is very efficient yet precise for users. This utility performs an effortless download of Yahoo emails to the PC.
Some Highlighted Features :
1. Export Yahoo email to EML, PDF, MBOX, PST & MSG
2. Download all Yahoo emails to computer/local drive/USB
3. options to apply selective backup
4. Download all email attachments
5. Set Internet bandwidth & Time slot for backup throttling

Steps to Archive Yahoo Mail to Hard drive
Step 1: Download and Run Yahoo Backup tool and login with Yahoo mail account credentials.
Step 2: Select an email format to archive Yahoo mail to the external hard drive.
Step 3: Browse a location on a hard drive to archive Yahoo emails.
Step 4: Enable Delete after Download option and click on the Start button.
Wrapping it up:
The importance of backing up a Yahoo mailbox is discussed in the above article. The methods to archive Yahoo mail to the hard drive (manually/using software) are also discussed. It's up to the user whether to rely on the email server/Yahoo cloud or to create a local backup just in case.