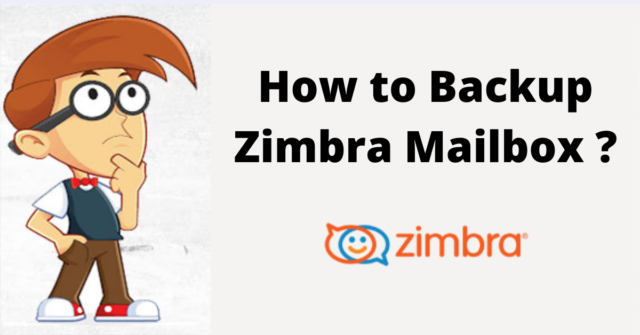 Recently, my team got a query regarding "how to backup Zimbra mailbox?" So, I decided to give you a complete solution for this through a blog. Zimbra Webmail has a feature that allows to export data files with attachments, contacts, calendars, tasks, and briefcase folders. Users can easily export the data files on local computer or import it into another application. We have listed a step wise guide to perform the backup conversion. So without any further delay lets dive right into it…
Zimbra Webmail Backup | First Move
To export data files from Zimbra, users need to perform the number of steps listed below.
Open and login with your Zimbra account.
From Navigation panel click on Preferences.
Under Navigation list select the Import/Export tab.
In Export tab select the data files.
Last step is to click on the Export button to download the TGZ file.
Update Alert: Now, user can take Zimbra Mailbox backup by extracting TGZ File from Zimbra or Direct backup from Webmail.
Transform Backup Zimbra Mailbox to Different Technical Formats

There are probably most of the users who are looking for a way to convert backup Zimbra mailbox to another format such as PST, PDF, MBOX, EML , vCard all this file formats are supported by multiple number of email clients. The conversion task can be a nightmare for most of the users but, don't lose heart. We have come out with an advanced solution i.e. SysTools Zimbra Converter.
This Zimbra Migration Tool allows to convert TGZ files to five different formats. If you are using webmail option then, user can export data in 4 formats including MBOX, PST, PDF and vCard. In addition it ensures the data structure and data security while conversion. One can download the demo version of this tool to checkout the working and interface of tool. The demo edition works similar to the licenced version but it allows to convert only first 25 items of each holder.
Zimbra Mailbox Backup By Using TGZ File
1) Install and Open the utility. The first interface of tool will be appear like this.
2) Now Click on Add File, a sliding window appear Select the Add Folder or File radio button.
3) Use the Browse key to Add TGZ File.
4) The software will Scan the TGZ file and display all the files containing in it.
5) Use the Export and Export selected option to start the conversion process.
6) In next panel Select the File Format and click on Export button.
Backup Zimbra Webmail Without TGZ File
1) The Initial Step is to Download the Software.
2) From the Navigation Bar Click on Add Online Mailbox.
3) In next, step fill out the Necessary Data Fields and Login.
4) The Software generates a complete preview of data files.
5) Afterward, select the Export option and Export the data files.
So There You Have It
The automated tool is a remarkable and effective software that provides direct solution to convert the backup Zimbra mail into multiple formats. One can access all the features of automated tool by activating licenced version of automated tool. The entire process of Zimbra webmail backup cant be perform manually. It requires technical knowledge to accurate email migration. You can download the demo version of tool to evaluate the capabilities and performance for good.
Frequently Asked Question By Users
Q Can I Convert Zimbra Webmail Backup to MBOX Format?
Yes, it is the most easiest way to convert TGZ data files to MBOX format. Although, this utility allows to covert the Zimbra backup file to PST, PDF, MBOX, vCard and EML format.
Q Does Demo Version Works Similar to the Licenced Version?
The demo version works similar to licenced version but it allows to convert only first 25 files of each folder.
Q Can I Use the Demo Version of This Tool in Windows OS?
Yes, you can access this smart utility on all latest version of Windows OS.
Q Does This Utility Supports Bulk Conversion?
The advance algorithm of this automated utility supports the bulk conversion for Zimbra webmail backup.
Q Does Backup Zimbra Mailbox Allows me to save Data Files in PDF format?
Yes, user can easily Convert TGZ file to PDF format by using the automated solution.