Can I Retrieve Deleted Shows From My DirecTV DVR? – Ultimate Solution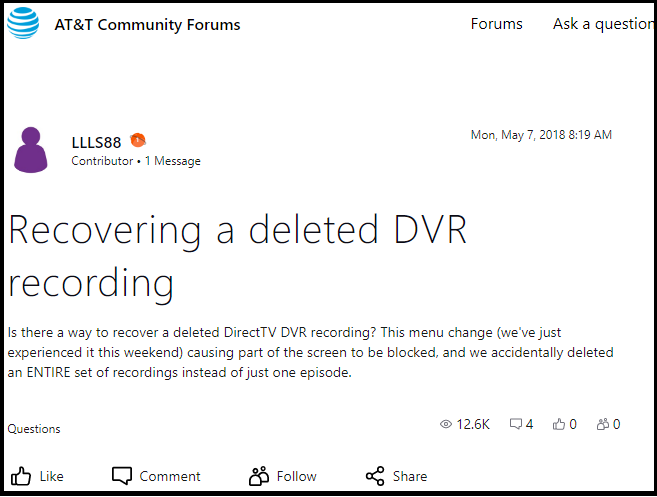 In these hard times of isolation…When Covid-19 has struck everyone's life.
When the theatres, concerts etc. have taken a leave!!!
Television acted as that buddy who glued all the family member at one place.
You started exploring and recording new shows … adding them your guilty pleasure list.
So that after 'Work from home' you can binge watch them later.
It hit like ton of bricks… when you couldn't find a sign of the recordings you wished for.
God Knows Where it Disappeared??
To find the assured answer for query that Can I retrieve deleted shows from my DirecTV DVR is like looking for a needle in a haystack. So much is available but nothing is failsafe.
Let's Brighten Your Day
In this blog you will find top three methods to straighten out the DirecTV recordings disappeared issue.
Rebooting the DirecTV DVR box
Retrieving recordings using TiVo
Recovering using SysTools DVR recording software
But as matter of fact it become necessity to recognize the cause of deletion. So user can choose the definite solution to recover the deleted programs.
Possible Causes for Deletion of DVR Recordings
Someone else deleted the program(s) recordings.
Less Space/No space for new recordings.
DVR automatically deleted recordings to make room for newer recordings.
Longing use caused wear and tear in HDD.
Corruption of hard drive took place in the DVR client.
Pay Attention – When user find out that the recordings has been deleted from the DVR, then it strongly advised to stop using the recorder instantly.
As it will cause the overwritten of recordings, which are not possible to recover.
Many times the troubles lies from service operator's end. Additionally the lack of harmony between DVR environment and television set can obstruct the proper functioning. Then we need to perform following methods:
Method #1. Rebooting Of the DirecTV Genie Receiver
Technique I. Restart DVR Using Reset Button
Locate the red reset button in the DirecTV DVR. It can be in front of the box (behind the small door opening)
OR
It might be found on the side of the DirecTV receiver.
Press it and wait until DVR completes its configuration and updating.
(Note – If user is using Genie Mini then perform rebooting process in Main DirecTV DVR too)
Technique II. Unplug the DirecTV Power Supply Cable
Remove the power cord from the DVR client and electrical outlet.
Wait for 30 seconds and re-plug it.
Press the Power button in the DVR and let the receiver come to life.
If the problem was present due to conflicts between receiver and TV set, then most probably it would be resolved by now.
Do You Own TiVo Receiver?
If you are one of those DirecTV users who possess TiVo DVR, then this solution will certainly get the job done.
Alert – TiVo feature of recovering program is limited to manual deleted recordings recovery. If the recordings inaccessible/ disappeared/ deleted due to corrupted hard drive, then you will need DVR recordings recovery software.
Method#2. Steps to Recover Manually Deleted Shows
Press TiVo Central button on remote.
You will be directed to My shows>> All >> Recently Deleted Recordings folder.
Search for the desired show and select the option "Recover this show" and press button to recover the recordings. (Pay attention while selecting the option)
Note – Always make space before recovering and restoring the deleted show or else the process will get interrupted or fail before completion.
Now the recovered recorded program will display in My shows.
What TiVo Says?
TiVo clearly mention that it's UNDELETE feature can recover only in cases of:
If the recordings are deleted manually by the user.
Recordings are available in the Recently Deleted till the DVR needs space for new Recordings.
Which Recordings Cannot be Recovered Using TiVo?
TiVo recovery feature lags behind when:
Recordings failed to save due to power loss while program broadcasting.
Bad sector occurred within the DVR hard drive.
Inaccessibility of recordings due to firmware malfunctioning
Loss of recordings when the disk is full.
Overlap of program timings cause termination of less prioritized program.
What if Recordings Aren't Found?
One of the user asked about the recovery of recordings deleted from the "Recently Deleted" folder.
But TiVo has its limitation while recovering the deleted shows.
Is There Any Alternative Solution?
Yes…Using SysTools DVR recordings you can recover the deleted recordings. You can download this utility on any version of Windows.

Even if the recordings aren't present in the "Recently Deleted" folder OR DVR deleted the recordings to make room for new ones. you can also recover deleted CCTV recording in CP plus.
You can still you can recover the deleted shows recordings effortlessly.
Last But Not Least
User who lost their recordings from DirecTV DVR they search every nook and cranny to find answer for the question "Can I retrieve deleted shows from my DirecTV DVR?"
We showcased top three prominent solutions to recover users all-time favorite shows recordings.
If rebooting of DirecTV DVR and TiVo fails to provide the deleted recordings then you just have to think out of the box.