The prime query that strikes in our mind i.e., why does a user want to convert emails to word document? The answer is to batch convert email to word from Outlook make users enable to open and view their emails without internet availability. After that, let's understand how to convert multiple emails to word document? So, in this article, we are going to let you know how to do it. Here, we come up with an appropriate guide to know that how to perform the conversion procedure without any hassle. Please proceed forward to get them in detail.
Here's a Smart solution to convert Outlook PST to Word Doc file format.

Is There Any Free Way to Convert Multiple Emails to MS Word?
Yes, this manual solution is divided into two methods. Both the workarounds are discussed in an efficient way. You just need to follow any one of them as per your desire, to get a better outcome.
Workaround #1: Using MS Outlook VBA
First of all, press Alt + F11 keys shortcuts in Outlook.
Now, in the prompt up Outlook VBA editor wizard. Then, open a new module.
After that, copy and paste the VBA codes into it that are provided below.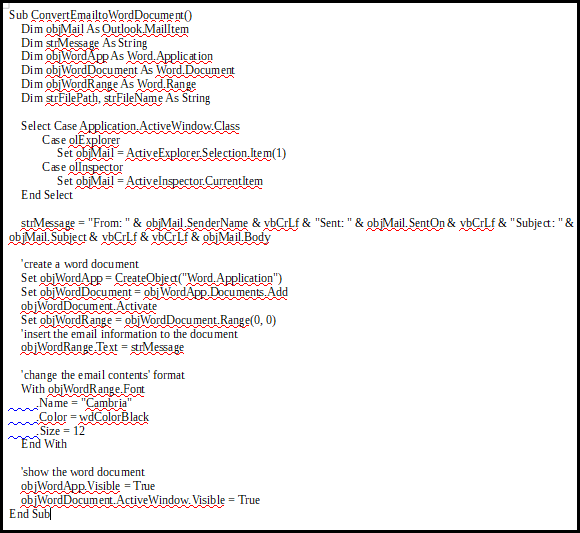 Here, to Quick Access Toolbar add the new VBA project.
Subsequently, choose an email and click on the macro button in Quick Access Toolbar.
When a Word document with email contents in it will appear properly.
At last, you can store the new pop up Word document as per usual to convert multiple emails from Outlook to MS Word.
Workaround #2: With the help of Save feature
To begin the procedure, launch Outlook application.
Now, go to an email.
Navigate to the File menu and choose Save As option.
Here, in the pop up dialog box, choose a destination folder and select Text Only in Save As type field.
After selecting Save button, you can open your MS Word program.
In Microsoft Word, turn to the File menu and choose Open.
In the popup Open dialog box, choose All Files in File name line and pitch on the previously saved text file.
The emails in the text file will open in the word after selecting the Open option.
After that, you can choose File>>Save As.
Lastly, in the Save as dialog box, you have to select Word Document in Save as type and click on Save to end up the procedure properly.
"Yesterday, I was stuck in the situation where I require to convert multiple emails into Word document. While I am searching for the same on the internet, I have come across so many manual solutions which describes some steps to perform the conversion process. But, that free solution is not working in an effective manner when I tried to implement it. So, please provide me with an eminent way to do the same. Any help kindly appreciated. Thanks."
What If The Manual Method Does Not Work Appropriately?
If you are trying to implement free technique then maybe you have to pay something valuable that you do not want to give. As we all know, that the manual solution having some limitations like you can only migrate a single email to word document etc. So, to overcome all the disadvantages here, we come up with an alternative called PST File Converter software. This is the prudent utility to convert multiple emails to word document instantly. Moreover, it is the standalone software that also supports to convert corrupted and password protected file. Mainly, it provides a user-friendly interface. So, a novice user can also avail it without taking any external help. Furthermore, it is compatible with all advanced and below versions of Windows Operating System.
Time to Wind-Up
This write-up emphasizes on the prominent solution to resolve most commonly asked query such as how to convert multiple emails to the word document?. The manual technique consisting of some constraints that may lead to data loss issue. So, it is advised to go with an alternative named PST Converter software. This is an amazing application to migrate multiple emails to word document at once. Moreover, the utility is come with two versions demo and paid. But the free trial version has some limitations like preview all the PST items and export 25 items per folder. So, it is far better to opt for paid version. Thus, you can get the software via visiting our official website.