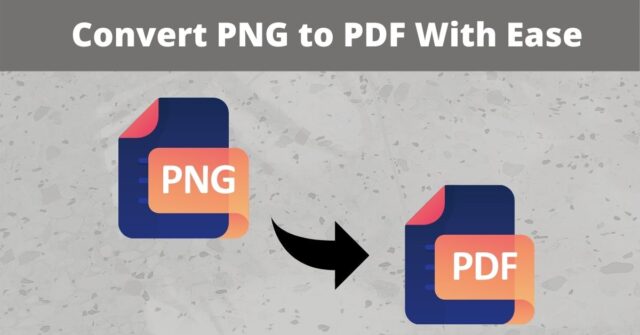 Imagine there was an easy way to convert PNG to PDF in Windows or another efficient way to quickly convert them in PDF within a few clicks. The good news is that now you don't have to waste time while converting document files in other formats.
Because In today's workaround we have come out with an automated solution as well as a manual solution that provides you some measure control without any work limitation. So without much ado let's dive right into it…
How to Convert PNG Files to PDF on a Windows Computer | Manual Method
Every windows computer comes out with a default printer named "Microsoft Print to PDF" which makes it easy to save multiple PNG files in PDF format. The steps listed below support multiple types of image formats just carry out the steps listed below…
1) Open the "PNG File / Image" On your windows device.
2) Made a right-click and select the "Print" option.
3) Select the "Microsoft Print to PDF" and click on the "Print" button.
4) In the next dialog box, enter the "File Name" and select the desired location.
5) Once the process gets done click "Save".
Automated Approach For PNG Files Conversion to PDF
If you are looking for a reliable approach that can easily save multiple PNG files as PDF file format, with maintained formatting then, you can go for the SysTools Image Converter Tool. This tool has an amazing ability to convert multiple files within a few clicks.
Moreover, the software makes sure that the image format is maintained even after compressing or resizing the images. It also supports multiple file extensions such as .jpg, .jpeg, .GIF, .png and covert them into Docx, HTML, TXT and PDF format that can be accessed on multiple platforms.
Step Wise Guide To Convert PNG Files to PDF Format | Automated Tool Working Explained
1) The initial step is to "Download and Install" the software with the mentioned link below.
2) Next step is to select the files by clicking on "Add Files" or "Add Folders".
3) You can change the image order by using the "Move up" and "Move down" formatting option.
4) Now, click on the "Change" button to select the location to save desired files.
5) Once the files are added to the software panel it will preview the added files. Click "Next".
6) Now it's time to select the "Desired File Format" in which you want to convert the images.
7) The utility comes out with multiple PDF Options. Users can create a "Single PDF for all Image" or can "Create Separate PDF for each image".
8) After selecting all the filter options click on the "Convert" button.
9) The process will start automatically you can see the "Work Progress" in the progress bar.
10) Once the "Work Progress" gets completed a pop-up menu will appear simply click "OK".
11) Successfully you have to convert PNG to PDF in Windows you can go to the file location and check the PDF files.
Prominent Features of Automated Tool
1) Multiple Image Conversion: This image converter utility allows a user to convert multiple file images to the supported file format for good.
2) Make Separate or Multiple Files: It permits you to create a single file for each or you can create a single file for all images. One can select any filter as per his/her requirement.
3) Image Quality Conservation: This is one of the best features that come out of this utility. It maintains the picture quality while images get resized or compressed.
4) Adjust Number of Images for Single Page: This option unable when you select "Create Single file for All Images". It allows saving the number of images per single page.
Convert PNG to PDF in Windows | Guide Explained
Manual PDF file conversion is a not difficult task for one or two file conversions but, for the batch PDF files, it is time-consuming. So, this blog carries an automated utility that helps you to save multiple files within a few clicks. One can select any of them as per his/her requirement.