Three Best Solutions – Crack VBA Excel Password & Open XLA/ XLS File
Three Best Solutions to Crack VBA Excel Password & To Open XLA/ XLS File
Are you struggling with finding a method to crack VBA Excel password? Have you ever thought to opt for the manual procedure for the same? Or do you want to do it in a quick manner? If your answer to all these questions is yes, then you have, without any doubt, landed in the right place. Here, in this blog, we will discuss the solutions to know how to unlock VBA password in Excel. However, before that, we would like to enlighten users about VBA files.
What are VBA Files?
Visual Basic for Applications (VBA) is actually, a component of Microsoft Office. It is used by several applications of MS such as Excel, Access, Word, etc. This is an extension of the file for visual basic file & consists of visual basic source code. It is a file format, which is used for adding the functionality to Microsoft Office. This is why most of the users kept these file protected using a password. However, there is always a possibility that you lost or forgot the password. Due to this, the need of manual, as well as automated solution, is required. Let us see how to remove the password from VBA Excel in the next section.
Some Techniques to Crack VBA Excel Password
There are two ways remove VBA MS Excel password. One is manual and another one is using a third-party tool. Users can opt for any of these methods as per their convenience.
Solution 1: Swap Password via Hex Editor
You need to follow these below mentioned in order to do this:
To initiate the process, generate a simple Excel file using Hex editor.
Then, set up a password in VBA section (Alt+F11).
Now, store file and hit on Exit.
Open file that you have created recently via Hex Editor.
Next, copy all the lines beginning with following keys:CMG=….DPB=…GC=…
Using Hex Editor, you need to open file for which you wish to crack or get the password. Once it is done, paste the copied lines from dummy file.
After this, save Excel file, which is followed by click on Exit.
In the final step, open your Excel file when there is necessity to view the VBA code. You have to use the similar password, which has been used for dummy VBA file.
Solution 2: Crack VBA Excel Pssword For Older XLX Files
First, open the file in Hex Editor.
Now, find the text "DPB=" (no quotes, you need to search it above "[Host Extender Info]"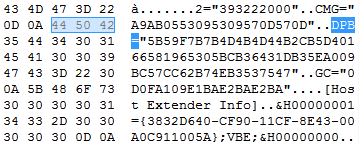 Modify it as "DPx=". Then Save and Close file.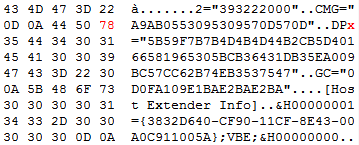 In the next step, open file in MS Excel and hit on Yes in case this warning pops up in the screen as "The Project file 'D;\ProtectedVBA.xls' contains invalid key 'Dpx'.–Continue Loading Project?"
Then, open VBA editor via Alt+F11 or in Hex Editor and then hit on OK button, at the time when "Unexpected error (40230)"warning pops up.
Once it done, make a right-click on VBA file name >> hit on the Properties option >> and move to Protection. Then, delete the available passwords and unmark Lock Project for Viewing box.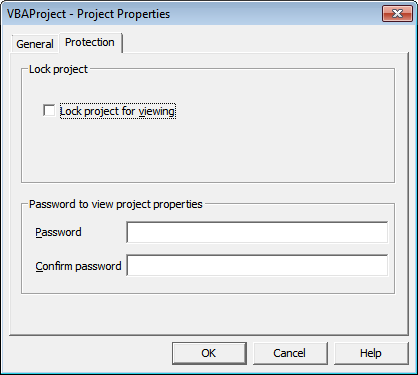 You need to check Lock project for viewing once again, and then add the memorable password.
Finally, hit on OK for exit and you can see the VBA code is now accessible.
Solution 3: Automated Solution to Crack VBA Excel Password in Few Minutes
Now, as we know there are few limitations, which are associated with these manual workarounds. Therefore, users can also go for a trouble-free manner. They can use SysTools VBA Password Recovery. This utility allows a user to retrieve VBA Password from Excel 2007, 2003, 2000, 97, and Windows XP files. It supports all the Microsoft Office files including .doc, .xla, .mdb, .dot, and .xls. Moreover, it can recover any length of password and users can erase the older password to generate a new VBA password. The tool is also capable to crack and reset multilingual VBA password. It can be accessed in any version of Windows Operating system.
The Bottom Line
VBA files are very important and used for the storage of crucial details. Generally, these files kept protected using a password. Therefore, considering the need of VBA Excel password recovery, we have discussed two manual approaches which will help to remove VBA password from .xla or .xls file. Apart from these manual workarounds, users can also opt for a third party software to crack VBA Excel password.