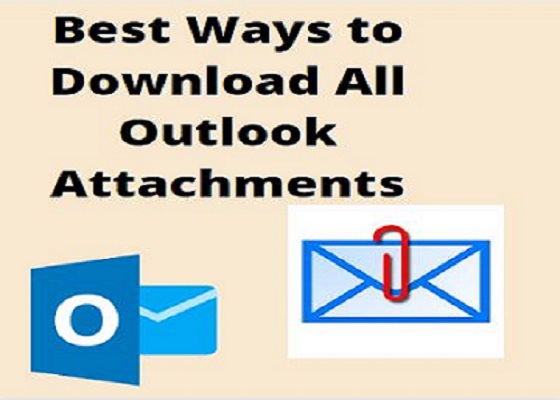 Do you want to download all Outlook attachments to a folder? Are you finding it difficult to know the feasible solution to save attachments from Outlook 2010? Then, without any doubt, make the best use of this article and ensure to implement the best solution to save PST, OST & BAK email attachments to a folder.
"Being working as a Client Servicing Manager, throughout the day, I receive hundreds of emails which also consist of important attachments. At times, it takes a lot of time to open my Outlook profile due to large-sized attachments. As a result, I need to detach all of these attachments to my local folder. However, I am not able to reach to an appropriate solution for the same. So, please help me find some relevant solution for the same."
Outlook Attachment Extractor is Here to Meet Your Requirements

Although users can rely on the manual solution to download all Outlook attachments. However, when it comes to extract multiple attachments from bulk emails, then practically it is not feasible to implement using manual techniques.
Thus, it is highly recommended to avail some trustworthy third-party tool like SysTools Outlook Attachment Extractor software. The tool is induced with remarkable features that allows to easily extract PST email attachments without losing the consistency of the data.
What Makes the Tool Proficient Over Other Third-Party Tool?
Now, you might be curious enough to know the reasons behind availing this tool out of the numerous PST attachment extractor utilities to save multiple attachments from Outlook emails.
Here are the full-fledged features rendered by the ultimate tool which are disclosed below. So, let's find out one by one!
Built in a manner to effectively download all Outlook attachments from PST, OST and BAK files
Users can add single or multiple Outlook files using Add File (s) & Add Folder
Advanced option to exclude attachments detachment from Deleted Items & Junk folders
Provides option to download attachments either from All Folders or Selective Folders
Renders option to efficiently maintain folder hierarchy for all the downloaded attachments
Extract attachments from selective data items like emails, contacts, etc.
Avail Date-filter option to save PST email attachments for selective emails according to the mentioned date range
Make use of Size filter option & set file size from 1KB to 100MB to download all attachments
Option to include/exclude attachment file type like PDF, DOCX, etc.
Capable to support files from all Outlook versions including the latest Outlook 2019 version
Simplified Steps to Download All Outlook Attachments
Step 1: At first, install and launch the software on any version of Windows operating system
Step 2: This is followed by uploading any of your Outlook data file using PST/OST radio button, then click on the Add File (s) or Add Folder option
Step 3: Based on the requirement, one can download all Outlook attachments or selective attachments. For that, make use of Extract Attachments from All Folder (s) or Selected Folder (s) option as shown in the below image.
Step 4: The software renders varied customized filters such as option to apply date-filter, selective data items attachments extraction, size filter, various naming convention patterns, etc.
Step 5: Once all the required settings are applied on the software panel, simply click on the Extract button
Step 6: With this, the attachments will be saved at the mentioned path, which can be used as per the requirement.
How to Download All Attachments in Outlook Folder Manually?
Technique #1: Save Outlook Attachments Using Save As Option
One can avail this manual solution which only allows to extract attachments from a single email message at a time. Hence, one needs to carry out the same steps repeatedly to extract attachments from multiple emails.
Under Outlook application, navigate and select the email message to download the attachment
Right-click the selected email and choose the option corresponding to Save All Attachments>>click OK>>provide the destination location
Now you can see the attachments have been extracted from the chosen email message and placed at the mentioned folder path
Technique #2: Using VBA Download All Outlook Attachments
From MS Outlook, click "Alt+F11" keys to open VBA
Then, you need to download and import VBA macro from the below-mentioned link:
https://gallery.technet.microsoft.com/office/Save-attachments-from-5b6bf54b
Under VBA Editor, go to File>> Import File>>upload mAttachmentSaver.bas file>>click Open
Note: To proceed further with the next step, make sure to enable all macros
Go back to MS Outlook and choose the desired email message from which the attachments needs to be extracted
Click "Alt+F8″ keys, launch the Macro dialog box>>choose ExecuteSaving>> Run>> Browse For Folder option
Then, mention the folder path to download all Outlook attachments to a folder
The Closing Words
There has been a huge demand seen among Outlook users to download all Outlook attachments from multiple emails. Therefore, to answer all their challenging demands while extracting Outlook email attachments. We have introduced a top-notch software with improved features that allow to easily extract Outlook email attachments to a folder, no matter from single or bulk PST files.