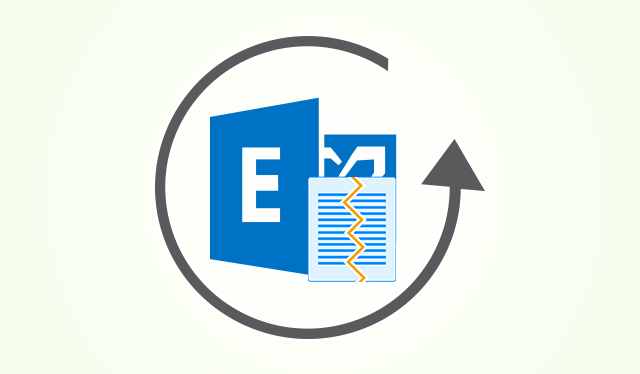 Exchange Server hosts a database of the organizations, user mailboxes and some classified data used in an organization. In case any mishappening happens to the Server, the whole workflow of the organization can come to a halt. So, every organization whether it is small or large should have an Exchange Server Disaster Recovery Plan.
The Server stays under regular threats from hardware crashes, virus attacks, malicious software, etc… Every day the Exchange administrators struggle to maintain the proper functioning. Every successful admin job is to manage the Exchange Server and plan for quick Exchange 2016, 2013, 2010 or 2007 disaster recovery. And to do this job efficiently, Exchange administrators always keep looking on the Internet for best ways available to avoid disaster or to bring the Server online after the disaster hits it.
This is how a perfect recovery plan consists of. Moreover, considering the smooth functioning of Exchange Server, you should not fascinate why most of the organizations focus on the importance of good Exchange Server disaster recovery plan.
So, in this article, we will be discussing what disaster recovery is and how the administrators can create a perfect recovery plan.
Basics of Exchange 2007, 2010, 2013, 2016 Disaster Recovery Plan
There are various triggers which can result in the failure of Exchange Server:
Virus Infections
Hardware Failure
Frequent power surges
Abnormal shutdown of system
Human Errors
When the Microsoft Exchange Server fails, working of the entire organization is affected resulting in the loss of productivity. Organizations cannot accept such loss, therefore, it becomes crucial for the organizations to have such Exchange 2016, 2013, 2010 or 2007 Disaster Recovery plan to bounce back from these calamities.
Expert Solution for Exchange Server Disaster Recovery Plan
A better technique is to use an the Exchange EDB Recovery Software provided by SysTools as the automated solution, which is capable enough to find every bit of recoverable data without any hassle. It provides dual scanning option which removes corruption from Microsoft Exchange offline/dismounted EDB file.
The Quick scan mode recovers minimal corrupted Exchange database file and to remove highly corruption select the advance scan. This option also recovers purged Exchange mailboxes and data items from loaded EDB file.
This utility supports private and public MS Exchange Database file along with Streaming Media File (STM). It allow users to export multiple Exchange mailboxes such as: shared, archive, disconnected, legacy, user and items: mails, journals, contacts, calendars, tasks, notes to Live Exchange Server, Office 365, and different file formats.
You can extract Exchange EDB to PST, PDF, MBOX, EML, MSG, HTML, EML file formats. It supports Exchange Server & Microsoft Outlook versions from 2003 to 2019, and Windows OS – 10, 8.1, 8, 7, Vista. After exporting Exchange data to the selected export option, the software auto-generate an export report which stores the success and fail count of exported Exchange data.
Key Features Of Automated Software
Export any size of Exchange Database File
Recover hard deleted emails from large EDB file
Preview recovered MS Exchange database mailbox items before conversion
Convert selective Exchange mailbox data using categories and date filter option
Keep metadata intact and preserve on-disk hierarchy after export Exchange data
Recover and Repair private and public Microsoft Exchange database file
Remove email (SMIME/OpenPGP) encryption in bulk from Exchange mailboxes
Simple Steps to Repair Corrupted Exchange Database File
Step 1: Download, Install, and Launch the professional software in your system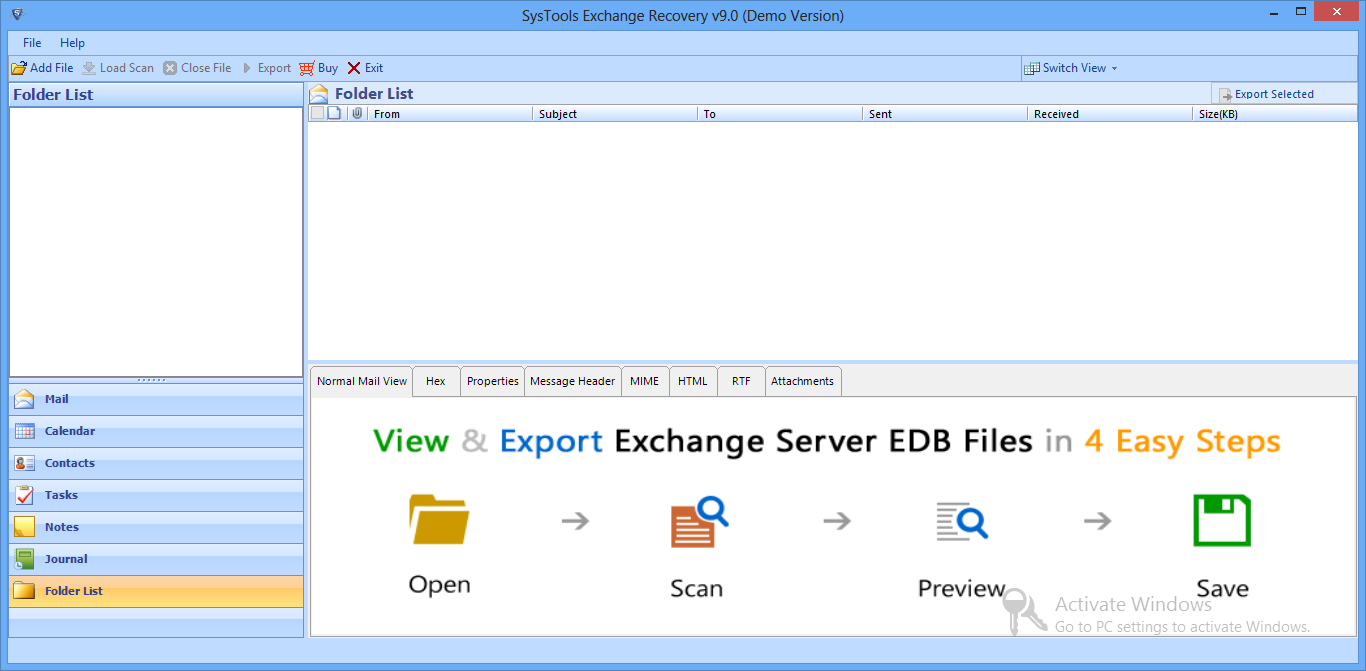 Step 2: Click on the Add File button > Load offline/dismounted Exchange EDB file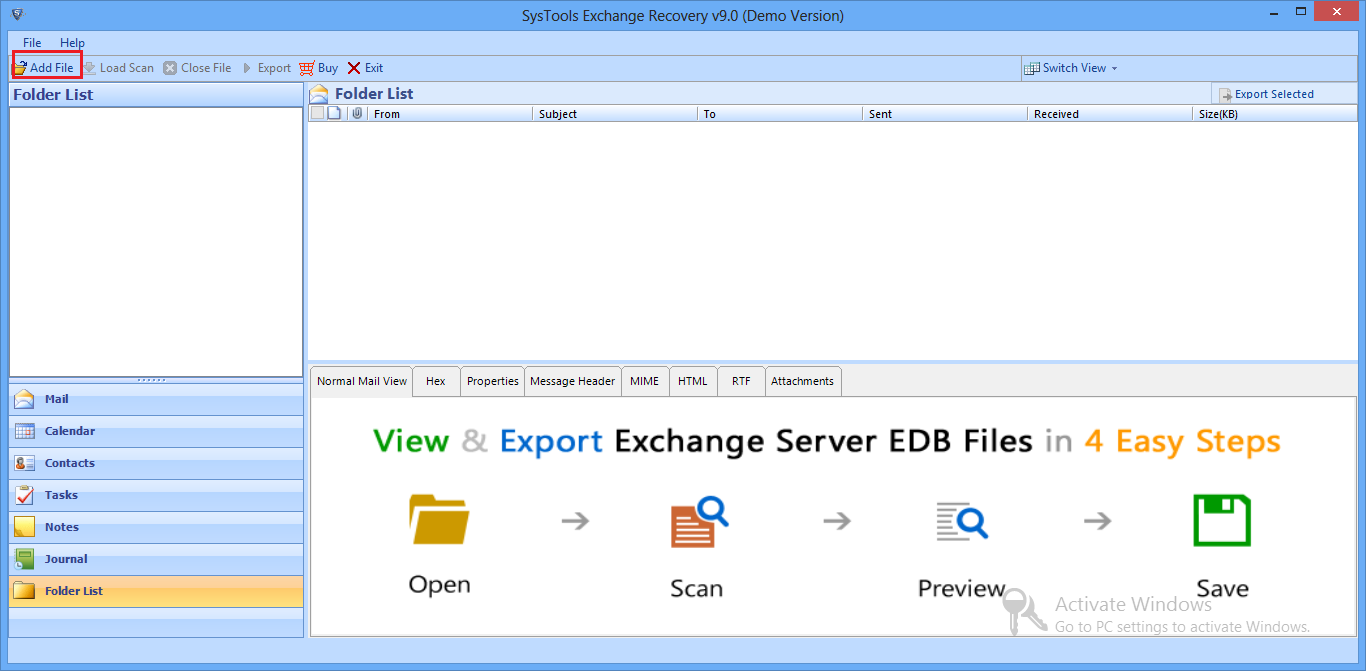 Step 3: Select the advance scan mode option > Click on Add button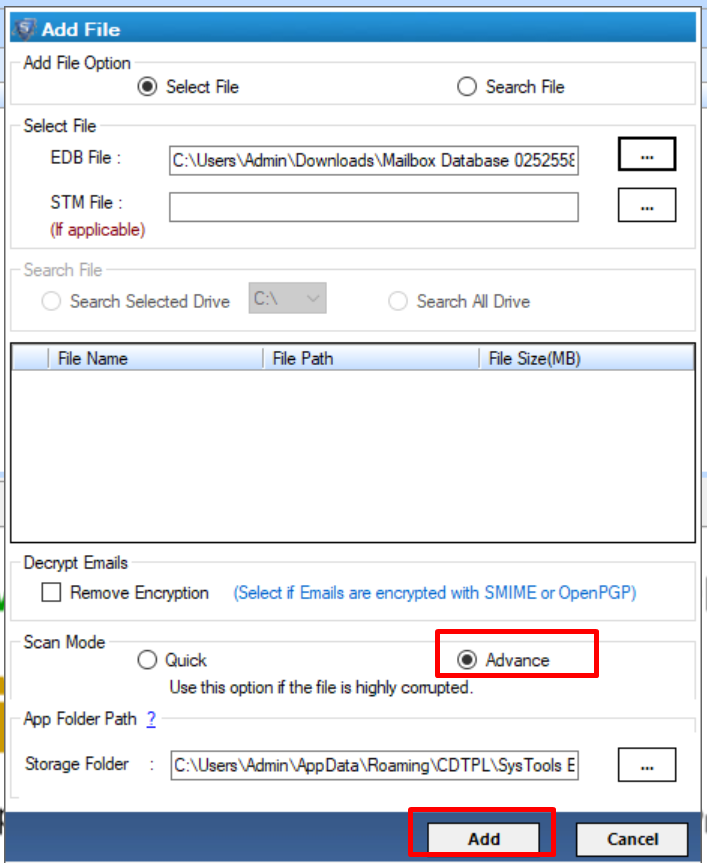 Step 4: Preview recovered Exchange EDB file > Click Export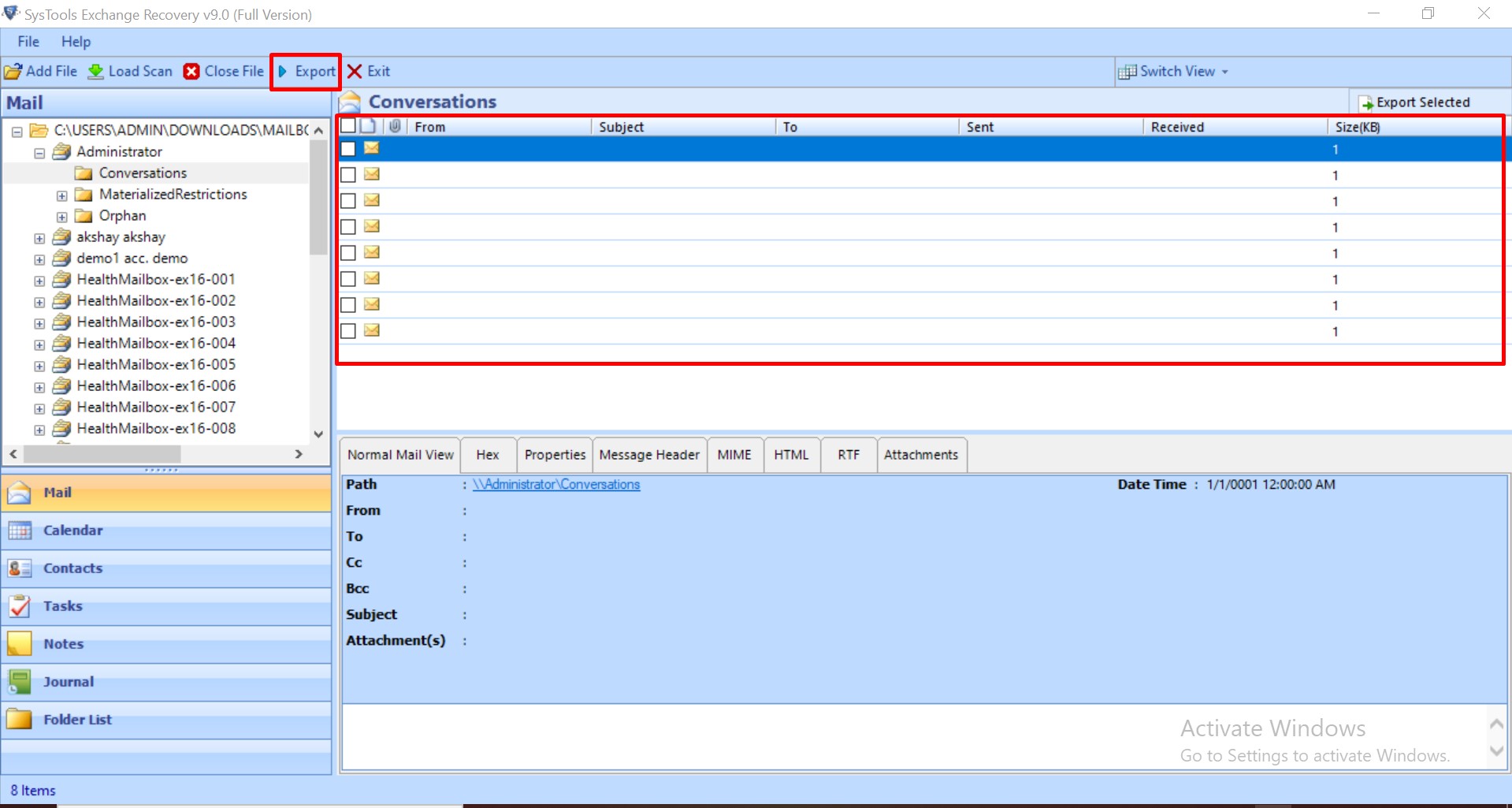 Step 5: Select Exchange mailboxes > Click on the export option > Select browse button to set target file location > Click on the Export button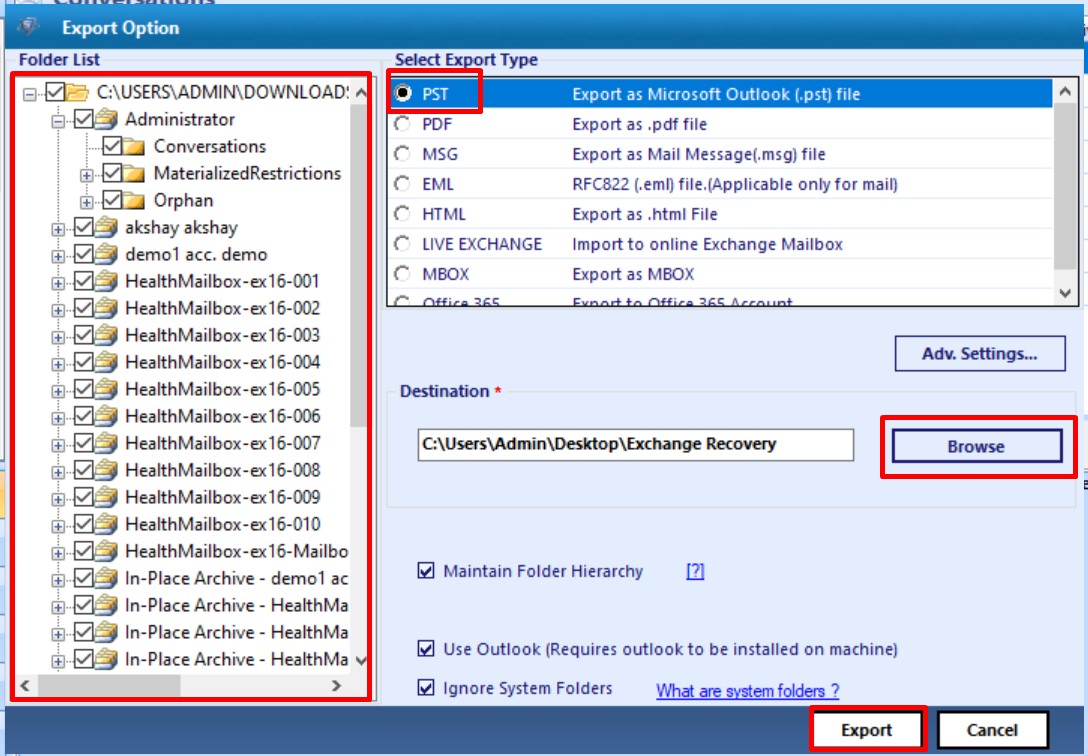 Finally, the recovered and healthy Exchange mailboxes are successfully exported to the selected export option.
Note: Users can easily recover unhealthy, damaged or corrupted Exchange database file in a simplified way when any disaster occurs and export the recovered data directly to the Live Exchange Server, Office 365, and various file formats in no time without any loss of data.
Few Cases of Exchange Server Disaster Recovery
In order to understand the disaster recovery easily, we have discussed two examples and described how to recover from them. You can also use the approaches shown in these examples to know what to do in those situations.
Example 1 – Exchange Active Directory Crashed
Before initializing the restoration process of the Exchange Server and bringing it to the active state, first assure that you have at least one copy of Exchange database. Such DB copy is usually in the healthy state which makes it easy for us to restore. To begin the recovery process, follow the below pre-requisites:
Create a backup of Active Directory State to recover items like distribution lists, contacts, etc…
Save a backup of Exchange database as both offline and online locations
Prepare a note of your domain with Exchange Server organization name and the name of the administrative group
Now, let's start recovering the offline copy of Exchange database
Implement the ESEUTIL command to assure that the database is in healthy condition. This has to be performed before recovering the data in MS Exchange.
Eseutil/mh "c:\Restored Offline Backup\priv1.edb"
Now, make sure that organization name and administrative group name is same without which you cannot mount Exchange DB. To implement this, implement the following command in CMD:
C:\>find I "OU=""C:\Restored Offline Backup\priv1.edb"
Try to mount the database after executing the above command. But, before mounting database, navigate to Mailbox Store Properties and choose the checkbox which displays "This Database can be overwritten by a restore."
Go to Exchange System Manager, Tools and then Mailbox Recovery Center
Right click on it and choose Add Mailbox Store
Right click on all the mailboxes except the system mailbox. Click Export
Click Next on the appeared window and then mention the destination container
Choose "Append the new definitions at the end of the file" option and click Next. It will export the file to LDF format.
After the completion of the export process, open LDF file and confirm all objects.
Finally, import all objects to a new blank Active Directory by implement following command:
C:\>ldifde -i -f C:\import.ldf
Reconnect all the mailboxes using Mailbox Recovery Center. Right click on the mailboxes and press Find Match. It will discover all the user accounts which are exported recently. Click Reconnect to finish the working.
Example 2 – Exchange Server Crashed
A failed Microsoft Exchange Server can be restored using an exclusively created recovery database. It is a mailbox DB which allows you to mount the restored mailbox data and retrieve data from it as part of the recovery process.
It allows you to recover data from a backup or copy it without causing any problem to the users accessing current data. The New-MailboxRestoreRequest cmdlet can be used to extract data from DB. After retrieval, the data can be exported to a folder or merged into an existing mailbox.
Note: The above-mentioned techniques are successful in extracting the crashed database or Active Directory. These methods might seem so technical for the administrator who hasn't yet faced any disaster. Therefore, executing these steps does not only require extreme concentration but also needs permissions. Another problem is that these procedures fail to recover crashed Server. To overcome all these problem you can use the advanced solution mentioned here.
Bringing It All Together
A failure in Exchange Server can cause a lot of havoc for an organization. Therefore after understanding the problem of the users, we have covered the Exchange Server disaster recovery plan to overcome users with such issues. We have discussed two solutions for it and also mentioned a professional utility to make the recovery process hassle free.