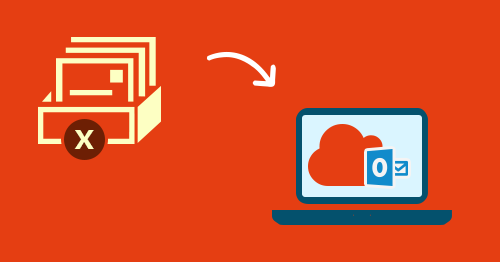 Microsoft Outlook uses PST as a proprietary file format wherein it stores all the data in huge volume. There are chances of Outlook mailbox folders getting deleted. It is a common issue that users tend to delete data either accidentally or intentionally. Data Deletion is divided as temporary deletion and permanent deletion.
Now, when the mailbox items are temporarily deleted,  it is been moved to the Deleted Items folder. Otherwise, if the Outlook mailboxes are deleted using Shift+Delete, then the mailboxes are permanently deleted. There are users who want to export deleted Outlook mailboxes to Office 365 account. Considering this aspect, we will share some reliable approaches in this blog.
Let's follow a user query to help understand the situation in a broad way,
"When I opened my Outlook account today morning, I could see that my Inbox folder is missing. I can see all other mailbox items in my Outlook account, except the Inbox folder. I inadvertently deleted my Inbox folder and it is really very important to recover the deleted mailbox at any cost. As I need to export the deleted Outlook mailbox to Office 365. Please help me from this issue!"
In the above-stated queries, first we need to recover the deleted mailbox item and later export the deleted PST file to Office 365 profile.
Any Manual Technique to Recover Outlook Deleted Mailboxes?
According to the different versions of MS Outlook, the settings to recover the deleted mailboxes may vary. The below-given solution is applicable for only Outlook 2016. If you are using Outlook 2016, then follow the below listed steps,
Firstly, open MS Outlook 2016 and go to the email folder list
Now you can highlight the Deleted Items folder
Henceforth, the deleted items list is displayed on the right panel
Now, highlight the data item which needs to be retrieved
Then, click on the Move option and select Other Folder option
According to your choice, select the folder and move the deleted emails
The above-mentioned solution is applicable to recover the deleted mailboxes that are temporarily deleted. However, to restore the mailboxes which are permanently deleted, it is recommended to employ a professional software.
Any Automated Technique to Recover Permanently Deleted Mailboxes?
The manual method to retrieve the deleted mailbox items does not ensure data safely. As there are chances of folder inconsistency thereby leading to loose data integrity. Along with that, it can lead the PST to turn inaccessible. Hence, the manual method is not at all a reliable solution.
In such situation, it is always advised to switch to a professional tool. SysTools Outlook Recovery Tool is the dynamic solution to restore deleted Outlook file as PST file format. It is an efficient utility to recover all the Outlook mailboxes like emails, contacts, calendar, notes, journals, etc.
It is developed by innovative algorithms, hence it is capable to preview the deleted items in red color. Furthermore, this tool is compatible with all the versions of Microsoft Outlook.
How to Export Deleted Mailbox to Exchange Online Account?
With the help of Outlook Recovery tool, a user can smoothly recover the permanently deleted data items from an Outlook account. Once the deleted mailboxes are restored to PST file, the user needs to import the same PST file to the Outlook Web app using SysTools Office 365 Import software. It is a remarkable tool to import multiple Outlook PST files to Office 365 for both user and admin profile.
It ensures to retain all the attributes within the emails after the migration process. Both the utilities are evoked with multiple advanced features making them the best solution to export deleted mailboxes to Office 365.
There are also manual method available to import the PST file to Office 365 using Network Upload and Drive Shipping method. However, it requires adequate technical knowledge to import the PST files to Exchange Online profile. Thus, it does not provide a complete remedy to export deleted mailboxes to Office 365.
Why Choose Office 365 Import Tool Over the Manual Method?
The Network upload which is the manual method is currently available only for few countries. Whereas SysTools Office 365 software is available world-wide across the globe
Only 24 GB of data can be imported to Office 365 webmail in Network Upload, while Office 365 Import tool renders unlimited import of PST files irrespective of the file size
It does not allow to import PST files to the public folders of Exchange Online account. On the other hand, Office 365 Import tool can overcome this manual failure
PST file which is larger than 150 MB will be skipped to import in Drive Shipping method, whereas with Office 365 Import tool there is no such restriction
In Drive Shipping method, nested PST folders with more than 300 level are not imported to Outlook 365. Whereas, with Office 365 Import tool multiple nested folders can be imported
Summing Up
It is not possible to archive the mailbox items every time, as you never know how the accidents arrive. Similar situation happens with the email folders when the mailbox items are deleted whether accidentally or intentionally. Now, to overcome this catastrophe, it is recommended to use some third-party utilities.
For users who need to export deleted outlook mailboxes to Office 365. Go ahead with Outlook Recovery utility to restore the deleted mailbox item and thereafter import the PST file to Office 365 account using Office 365 Import tool. Both the tools provide an easy-to-use interface to all the end users.