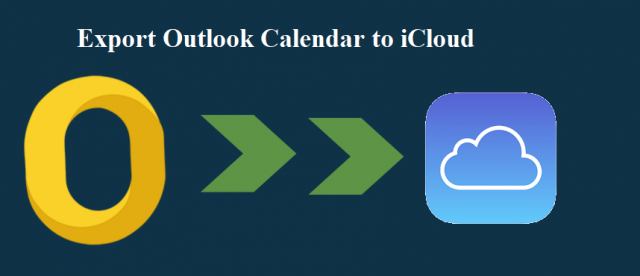 Mac users usually searching for a method to export Outlook calendar to iCloud Mac,Therefore we select one of them and discussed in this write-up:
User Query
"I recently migrated from PC to Mac but I am unable to get my calendars, mail, contacts, etc. At first, I think that to use Outlook continues would be the way to go, so reinstall my Outlook for Mac. But the problem which comes is that it doesn't sync with my iPhone. So conclude to try using Mail/Address Book/iCal only to know that I cannot export my data from Outlook in any other format than .olm, which is not readable by Apple programs. And my Outlook calendar has a crucial schedule so I really need my Outlook calendar to get my work done on time. So is there is any substitution of my problem to export Outlook Calendar to iCloud Mac. Any help will be appreciable."
It's at a stage that I wish my feedback was accompanied by an animated GIF (Graphics Interchange Format). Outlook doesn't provide an opportunity for syncing calendar events. (one can sync contacts). That has been promised for future Outlook update by Microsoft hasn't declared something that when we might even expect that update. As you know that iCal considers the .olm archive and its virtual side.
Requirements to Export Outlook Calendar to iCloud Mac?
An Apple ID or an iTunes account an iCloud account will use the same username and password
A Mac machine running OS X 10.7.5 or the higher version, or need a PC running Windows 7 or higher and control panel of iCloud
Your iPhone, iPod touch or an iPad running IOS 5 or higher, and the lasted iTunes
Automated Solution to Convert Mac OLM Calendars
The most reliable and simple solution to export Outlook calendar to iCloud Mac. This tool has many advanced features some of them are also discussed below:
Additional Features of the Tool
Allow you to choose files using the add folder option.
Permits you to save your file at your desired location.
Support the exportation process of calendars in bulk.
Provides a user-friendly interface.
This tool additionally preserves the hierarchy structure throughout the process.
Doesn't provide any file size restriction while adding a large size OLM file.
Steps to Export Outlook Calendars to iCloud Mac


Click on Add file/ Add Folder button to add your OLM file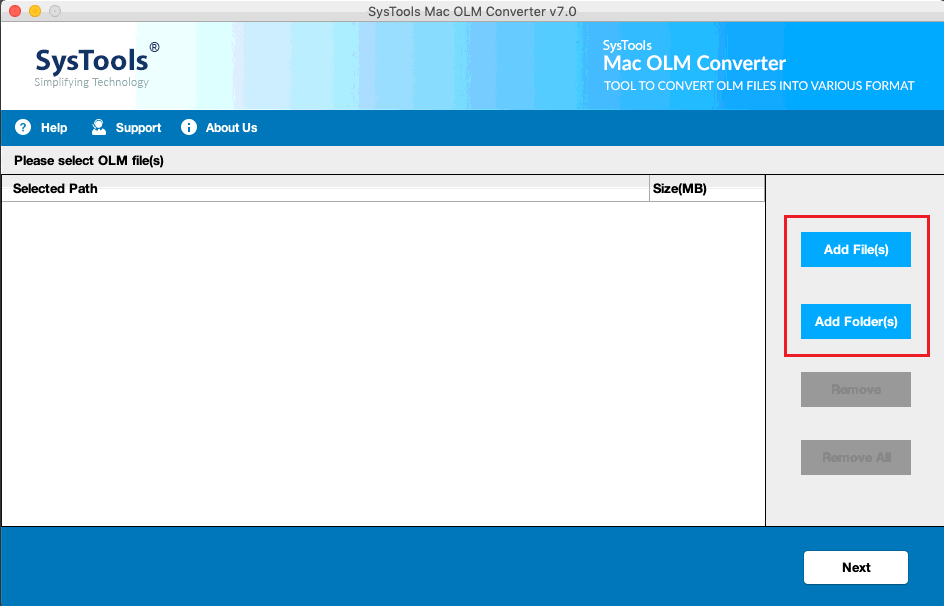 Browse the OLM file that contains calendars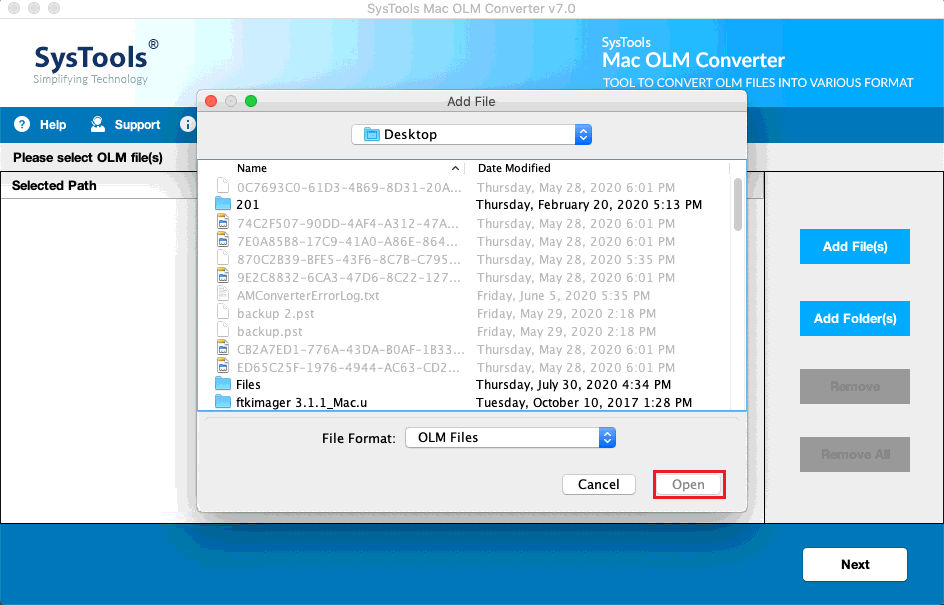 Choose the ICS format to move all your calendars in .ics format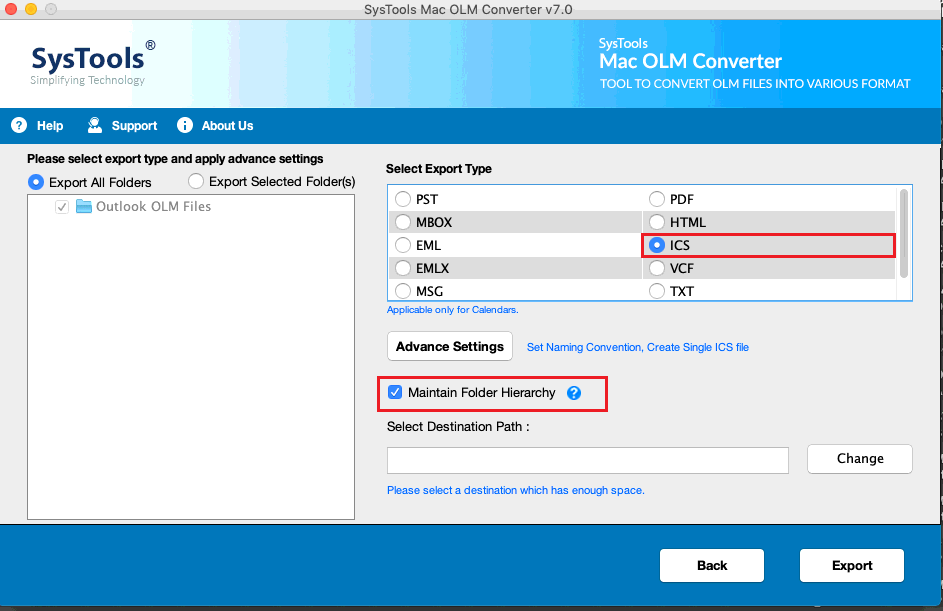 Select the destination folder of your resultant file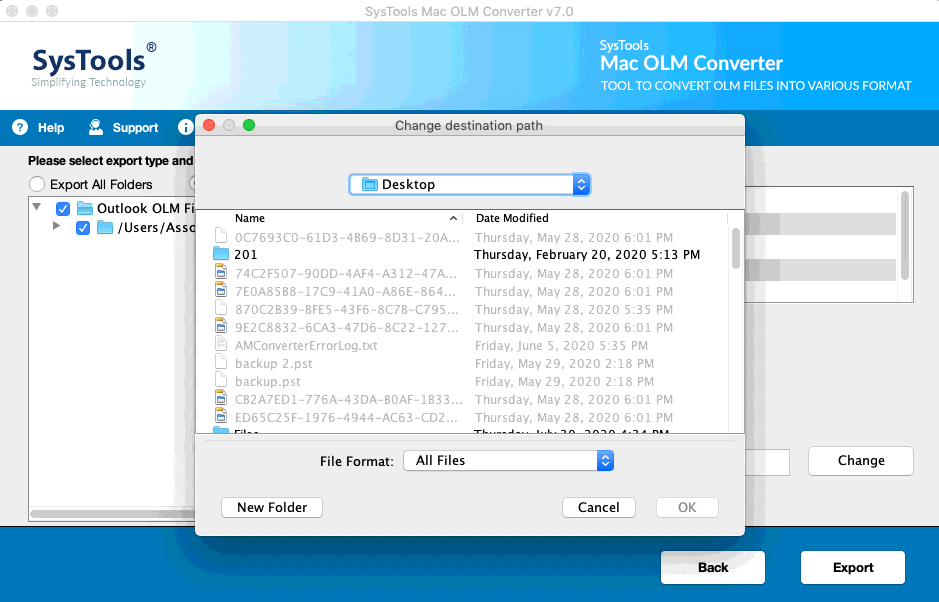 Click on the Export button to start the process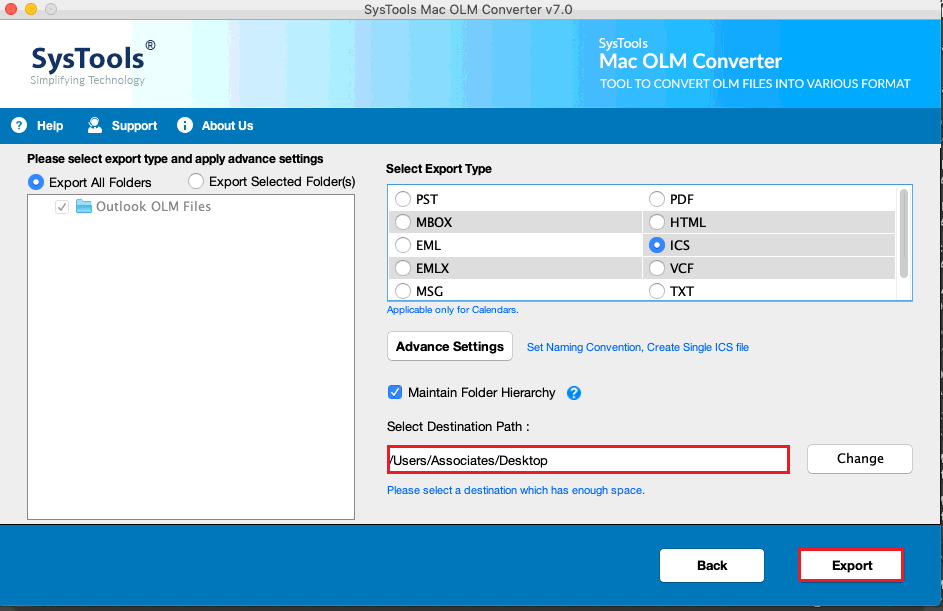 Using the above method user can easily export calendars to ICS, EML, PDF, and other file formats.
Manual Method
Follow the upcoming steps to export Outlook Calendar to iCloud Mac manually.
Open the iCloud control panel on your system.
Note: Mac users, please start the iCloud preference panel.
Check the checkbox of calendars, contacts, tasks, etc. you can also uncheck the other boxes if you don't want to export them. Then hit the Apply button
Attention: All your data of Outlook including Contacts, calendars, mail, etc are synced in iCloud then read the further steps for exporting selective data from Outlook:
The above method only enables you to move the data from iCloud, but if you want to export some calendars from Outlook to iCloud. You need to go iCloud.com to upload your Outlook calendars to export them in iCloud.
Open Outlook on your Machine, go to Calendars and drag the calendars on your desktop
Open a Web browser on your computer. Click the Setting tab on the left side, select CSV. Then choose the specific calendars to backup Outlook contacts to iCloud
Limitation of the Manual Method
The manual method is a lengthy method and time-consuming.
The method needs technical assistance.
Does not enable you to convert calendars in bulk you need to follow the whole process for every calendar.
Conclusion
In this article we have discussed two methods of one can export Outlook calendar to iCloud Mac. We also give you the best solution to perform the conversion without any inconvenience you can also use this same tool to export Outlook 2011 contacts to Mac address book. One can try any of the above methods to execute the process but we advise you to choose the automated solution because the manual method has many consequences which are also discussed above and the automated tool does not require any technical assistance.