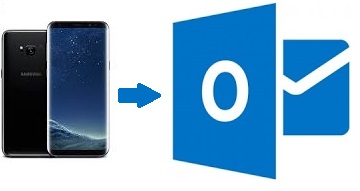 Tired of syncing your contact with Samsung account? Stop looking for the solution at every place as you're on the right page now. As we all know, Samsung sync's each and every contact which automatically leads to increase in data usage and simultaneously run apps in the background, hence slowing your device. That's the main reason to export Samsung Galaxy contacts to Outlook. Let's discuss further in this blog how we can transfer Galaxy VCF Contacts to PST.
In today's virtual world, contacts are the first and the foremost thing which comes in the basic daily needs. The most important mode of communication is a contact. Obviously without contacts, one cannot interact. There is an increasing number of services which are provided by Outlook day by day.
User Query :
"Hello, everyone! I am really tired of searching some way out to export Samsung Galaxy contacts to Outlook. I tried syncing it using a Smart Switch, but because of it, I had to spend a lot of time deleting the duplicates of the contacts which is really annoying. I could've installed a third party app, but the thing is I don't want to keep my personal data on unknown servers. Is anyone having a solution to this problem? Help is appreciated."
Benefits to Export Samsung Galaxy contacts to Outlook
Multiple contacts folder
You can group different types of contacts separately in the Outlook Address Book. This function is not available on google. You can easily export just one set of contacts for use on another computer without having to export all contacts.
Categories of folder
Custom views can be done for combining multiple folders which allow many ways of viewing the contacts in Outlook.
Contact Rich information
Contact card in Outlook provides rich information about the user. Status is given by the 'Presence' information. The photo helps in enabling the faces with the associated names.
Business Productivity
Outlook is the most frequently used and stable Office application as it helps in reducing the frustration. It provides a better overview of the e-mail inbox.
Larger contacts notes
Contacts notes are larger than 16 kilobytes entered in Outlook, whereas they are shortened when it appears in Samsung galaxy applications.
How to Export Samsung Galaxy contacts to Outlook
Following are the steps showing the import process
On your Android phone go to contacts app, select "Contacts" tab.
1) Open menu by clicking the "Menu" button.
2) Choose the "Import/Export" option.
3) Click "Export to SD card".
4) Copy the file which was exported from SD card (should be a different name like 000001.vcf) to your PC.
5) Run card Import Export application to import resulting card files to Microsoft Outlook :
a) Select the first task in wizard tasks.
b) Choose Outlook contact folder to import Samsung contacts to.
c) Choose a location where a vCard file from SD card is saved in the second location.
d) Choose duplicate management settings according to the desired needs.
e) Click "Finish" to complete the import.
Alternative method :
As you can see this is a very long procedure and if any of the steps turn wrong, the whole data will be corrupted. So to avoid this, I have a simple automated solution to this problem. There is a Data Recovery tool namely "SysTools vCard Importer" that helps to import of outlook contacts from Samsung galaxy. The tool comes with numerous functions and it also supports Windows 8 and all further versions including Outlook 2013.
Tool Specifications:
Imports multiple contacts to PST file from vCard contacts.
An unlimited number of files can be transferred.
Version 2.1 and 3.0 of vCard is supported.
Multiple email id's and phone number contacts can also be converted.
Import summary is also generated.
Automatically saves in MS Outlook Profile (Existing or New)
Only 5 MB free space is required on the hard disk.
Synopsis:
In the above-mentioned post, we have discussed that moving contacts to Outlook is important these days especially for the business purpose. We also discussed the other benefits import of Outlook contacts from Samsung galaxy. This implies that the above-mentioned solution is quite useful for everyone. In the end, we gave an automated solution in the form of a tool which is user-friendly and is widely used.