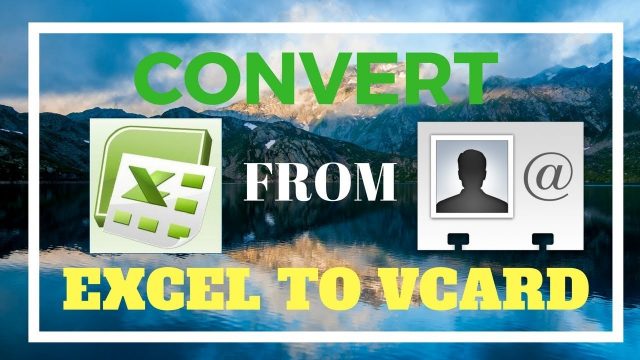 "Looking for a reliable solution to answer the question "How to convert excel file into vCard format"? Do you also want to export all phone contacts to VCF file? Did not find any solution? No need to worry. You are at the right place, in this blog, a perfect and effective solution to transfer XLS data to .vcf file format is discussed."
Excel XLS/XLSX file format that is generally created by Microsoft Excel. Up to Microsoft Excel 2003, the extension was XLS and from Microsoft Office 2007 the extension is XLSX. It is generally used by most of the organizations and businesses. Moreover, from a business point of view, it is important to have excel contacts into a vCard format. Also, many users are searching for a free solution to export XLS to VCF. Hence, in this article, a manual procedure to convert Excel file into the vCard format is discussed.
Consider a Scenario:
"The user is the manager of the development field in an organization. So, being a manager, he has lots of work to do at the same time and needs to convert from one branch to another frequently. Now, it becomes a little bit difficult for him to carry his laptop always with him. As a manager, it is really important for him to 24×7 access to his Excel contacts. Therefore, it becomes necessary for him to move XLS contacts to a .vcf file."
It is pretty much clear from the scenario that it becomes an important necessity for a user to always carry Excel data. Hence, further in this article, we are going to discuss a manual method for converting Microsoft Excel file to vCard.
How to Convert XLS (Excel) into VCF with Manual Approach
First, maintain the excel file data if not arranged.

Then, save this XLS or XLSX file into CSV format.
Now type Win + R and click on start button or type contacts
Now, in the contact windows select import in the navigation bar.
Then, select the CSV or comma separated value field.
And browse the location of CSV file in the system.
Choose the desired CSV file and Hit on "Next" option of CSV import interface
Now user needs to Map the attributes of Excel file with a text field to convert MS Excel to vCard.
After completing the mapping of excel to the text field, you will click on "Finish" button and again select CSV or Comma separated value option.
Now, the user can able to see the imported contacts from the excel file. Now, select the contacts, a user needs to convert excel file to vCard format.
After selecting, click on "Export" option and choose "vCard (folder of .vcf files)"
Then, browse the location a user need to save the converted contacts within the system . Now, click on Export option again.
Export Contacts with the Assistance of Professional Tool
When the users want to convert excel file to vCard. Then, it becomes a big risk for all users that how they can convert their XLS data into VCF file. Because there is no direct method available to export from excel to vCard. Thus, most of the users prefer to search for an automated solution i.e. Excel to vCard Converter. One can use this utility to overcome all the limitations of the manual approach. Also, the graphical interface of this software is quite simple that even a novice user can freely access Excel contacts into vCard file format without any data loss. Moreover, it offers some unique services that make it different from other available products these are:
Highlighted Features of Tool
Exporting multiple Excel contacts at one time
Supports Window 10 and all other below versions
MS Excel installation is required to convert XLS file to VCF
Transfer Excel data to vCard with multiple language conversions
Provides field mapping option: Map Excel columns with vCard fields
You can try the free demo version of Systools Excel to vCard Converter software and explore its functional aspects. Once get satisfied, you can purchase licensed edition and continue converting bulk contacts from vCard format.
Wrapping Up
The Excel file can be used to save, retrieve and numerical analysis, but it also helps to convert the Excel file into a vCard format. Thus, it is necessary to know How to Convert Excel File into vCard Format. In the above, section, we have discussed a manual solution to Export the XLS data into VCF. Along with this, we have suggested an alternate solution i.e. SysTools Excel to vCard Converter that helps to transfer Excel contacts to vCard file format without any fear of data loss.