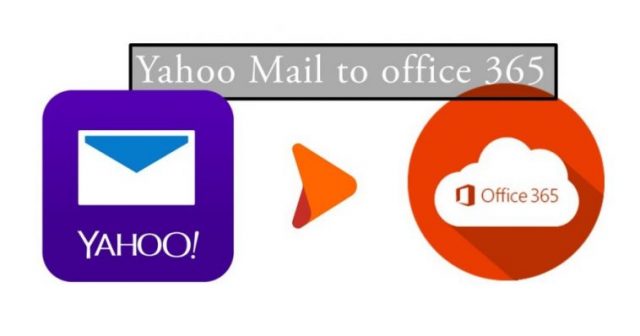 In this arena, emails are the most common medium for the communication purpose. To perform this, there are multiple mail clients available. Yahoo is such kind of email application used by many people, but due to some technical aspects, the challenge comes to migrate Yahoo to Office 365.
Hence, users are searching for a solution import data to Office 365. To resolve the query, we have discussed the procedure to forward emails from Yahoo to desktop application and then convert it to O365.

This is necessary because growing businesses prefer moving to a platform that offers more for the business' growth. Office 365 being one such platform, it is preferred by users more than Yahoo! Mail.
The information given in this article is in regards to move the data from Yahoo! Mail account and import it in another email platform i.e. Office 365.
Queries to Connect Yahoo to Office 365
"To familiarize all the exciting features of Office 365, I have decided to export from Yahoo. Because, in this arena, the great technology is increasing day by day, and the Yahoo mail become outdated when compared with other web-based applications like O365. Therefore, I am searching for a technique to perform migration to Online Exchange without any kind of difficulty"
"In case of business-related activities, Yahoo mail provides only limited services but O365 offers more flexible and helpful environment for business-related activities. I have decided to migrate Yahoo to Office 365 after having a look at Office 365 and its useful features like safety and security. Actually, I don't know how I can perform the migration, so can anyone suggest me a good solution for the same?"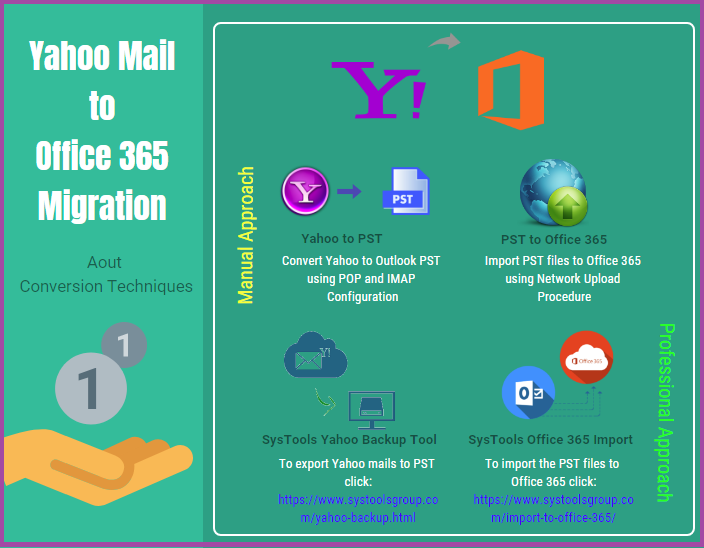 Manual Approach to Export Data from Yahoo Mail 
The main drawback of this migration process is that there is no direct manual solution available to import Yahoo mails to O365. So the available method is convert Yahoo to Outlook supported file via Microsoft Outlook and after that import these files to Office 365.
Pro Tip: Use the SysTools Yahoo backup tool to export data to Outlook supported format.


Step 1: Convert Emails to Outlook Data File to Move Yahoo to Office 365
First, enable "Allow apps that use less secure sign-in" or "Generate App Password" option in Yahoo mail.
Then open Outlook and go to the options "File–> Info–> Add Account–> Manually Configure Server Settings–> Next".
From the "Add New Account" window select "POP3 or IMAP" and click "Next".
Enter  Your Name, Yahoo mail credentials (App Password), and select POP account type.
Type "pop.mail.yahoo.com" in the incoming mail field and "smtp.mail.yahoo.com" in the outgoing field.
Then click "More Settings" button to move further with export Yahoo to Office 365 process.
After that choose "Outgoing Server" tab and check the options "Use Same Settings as My Incoming Mail Server" & "My SMTP Requires Authentication".
Click on "Advanced" tab and type "993" for "POP3 Server" and "465" for "SMTP Server", after that select "SSL" as encryption type and select the option "This Server Requires an Encrypted Connection".
After that click on "OK–> Next–> Finish" and then "Exit and Restart" MS Outlook.
Finally, click "Send/ Receive" option and select "Send/ Receive All Folders".
Step 2: Import Converted Files into O365 Using Network Upload
Download Yahoo to Office 365 using the steps given below:
Copy the SAS URL and install Azure AzCopy on the system.
Upload all the files to O365 account.
Then you need to view the files in which uploaded to continue the process.
Create one new import mapping file.
Create the import job in Office 365 finally.
Why Manual Approach Fails?
Quite lengthy and complex process of importing PST to Office 365
Time-consuming: The process of importing PST file is time consuming.
Software Fix to Migrate Yahoo to Office 365
As discussed earlier, there is no direct manual method available to migrate Yahoo mail. So to avoid the limitations of the above-described method, one can easily go with third-party solutions.
With the help of the software, it is possible to export Yahoo mail to required file format. And after that one can easily import these PST files to Office 365 in an efficient manner by using Office 365 Import Tool.


We will take a look at the steps quickly for both the stages:
Steps to Export Yahoo to Office 365 Using the Backup Tool
Step 1 – Download the software and enter the information to Login.
Step 2 – Select PST format and Browse for the destination location.
Step 3 – Apply the filters for selective data migration.
Step 4 – Press the Start button to complete the process.
After performing the process to export emails to Outlook supported format, you can import these files to Office 365. If there are emails that have been received after the process then use the Incremental Backup option to export newly received emails.
Steps to Import Converted File to Office 365
Step 1: Start the process to migrate Yahoo to Office 365 by downloading and running the import tool and login with office 365 account.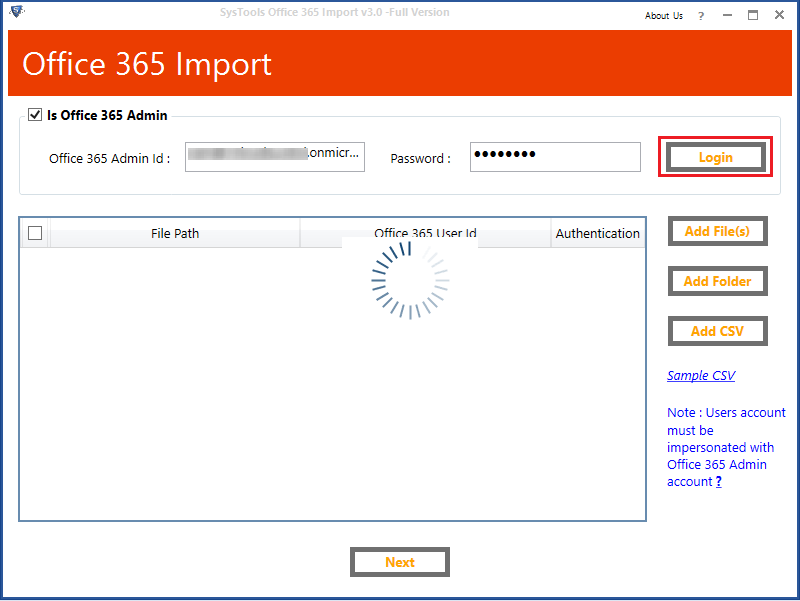 Step 2: Click on Attach PST and select the converted file to import to office 365.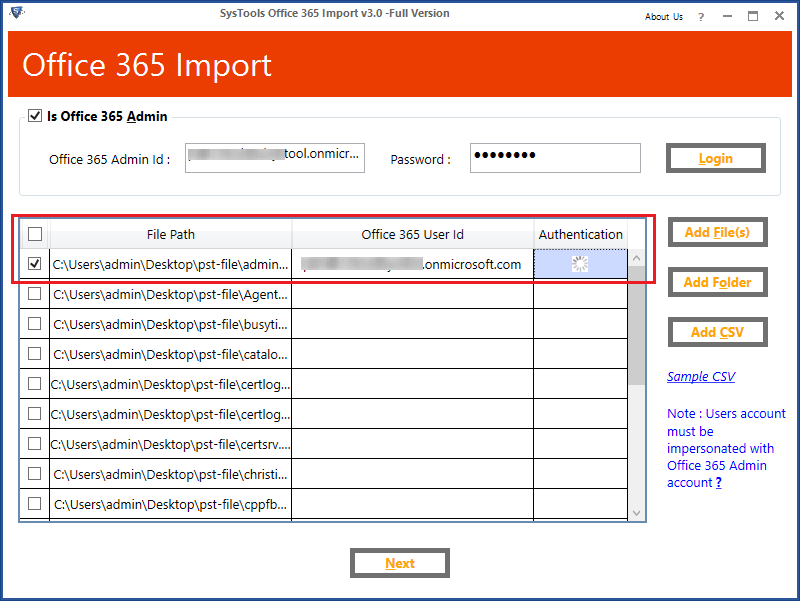 Step 3: Click on Import button to migrate to Office 365 account.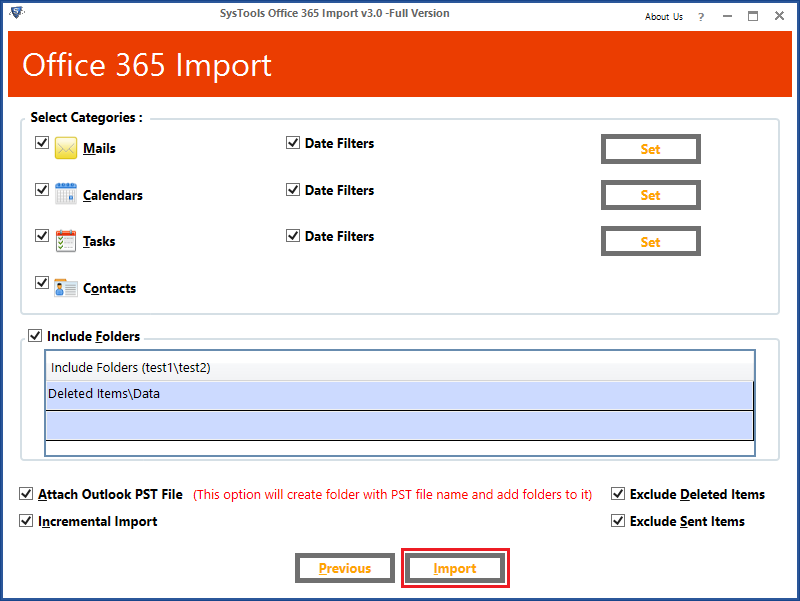 Verdict
After understanding the issues faced by users regarding Yahoo to Office 365 migration, we have explained different techniques to do the same in this article. A user can choose any of them according to their preference.
Because of the disadvantages of manual procedure third-party tools such as Yahoo backup and Office 365 Backup are suggested to transfer Yahoo mails perfectly.