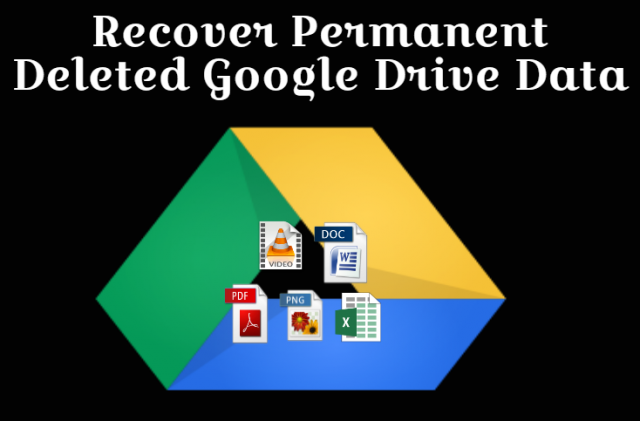 How to recover Google Drive data? It is the highly searched query belongs to G-Drive. Google always introduce new features & application, Google Drive one of them. It is a personal cloud-based storage service that supports to store and synchronize digital data across PC, laptops, and mobile devices including the tablet. It is the most convenient way to store your crucial data. But what if you lost all your documents, photographs, and information from Google Drive? How will you restore deleted Google Drive files? Have you ever think about it? If you are searching for the same issue and want to recover Google Drive documents then, you are at right place. So, keep reading and know how to avoid Google Drive file corruption, what are the causes behind it, how to restore G-Drive data.
Possible Causes of Google Drive File Corruption
G-Drive has becomes an essential part of every user. It is the smart way to save your data in a secure place. But data are prone for corruption. Information can be missing from Google Drive due to several causes such as:
Accidentally Deletion: We all have deleted files unintentionally at some point. It becomes common mistakes but we cannot afford it. Many users format or delete data accidentally and then they desperately want to recover Google Drive data.
Data Breach: Data leakage, data loss are known as a data breach. Basically, it is a hacking process, they attack on a corporate website and steal sensitive data from the database or G-Drive. This is one of the biggest challenges for users to secure data from hacker and data breach.
Abrupt Interrupt in Connection: While downloading or uploading file on G-Drive, if internet connection gets disturbed then, it fails to save the data. It could land you in data loss and you have to restore deleted Google Drive files. Therefore, always check your internet connection.
Virus Attack: It may possible that due to virus attack you are not able to download the file and the documents get corrupted. If your file has any virus then G-Drive won't allow you to upload it to the cloud. It displays a warning message.
How To Avoid Google Drive File Corruption and Data Loss
There are several causes of data loss in G-Drive. But one can prevent the data from virus and corruption via multiple approaches. Some of them has mentioned-below:
Google Drive Compliance: Google Drive compliance takes the security on another level. By enabling/disable some settings, admin can secure the account and prevent data corruption or loss. In this settings, admin can change according to the requirements i.e., who can share data.
Google Drive Data Loss Prevention: To avoid this situation data loss prevention technique is the best option. This technique has becomes very successful for Google drive. Data leak into nasty hands and drain into insecure zones is something that industry cannot afford to neglect. There are checkboxes available for None, Track as well as Block. By changing checkboxes in an appropriate manner you can secure your data.
Google Drive Secure File Sharing: With this option admin can choose who can share and how they can use the documents. It saves the information from breaching and hacking.
Google Drive Secure File Upload: This feature allow to upload their documents to any of the locations or site, but they won't be able to download those data outside that organisation's cloud networks.
Google Drive Secure File Transfer: With this option one can safely transfer data from one G-Drive to another drive. If the documents are corrupted due to virus attack then, it won't allow to transfer the file. Therefore, first, you have to recover Google Drive data then you can migrate it.
How To Secure Google Drive File Via Data Loss Prevention Techniques
The Data Loss Prevention technique is reliable and best way to prevent the data. User can easily apply DLP for Google Drive by performing some simple steps as given below:
Log in to Google Admin Console by using an Administrator account
Go to Apps >> G Suit >> Gmail >> Advanced Settings From Admin console dashboard
From the left, select an Organization and scroll to the Content compliance section:
If the status is not configured yet then, click on Configure
If the status is locally applied or Inherited, Click on Edit or Click to Add another setting
At the top add a short topic to recognize it i.e., Credit Card Number Detector
In the email messages to affect section, select the necessary types of messages to active it
Click Add from the Expression Section
Select Predefined Content match.
Now, click on save after modifying the message.
Users must opt these tricks to avoid data loss, breach or corruption, and secure Google Drive. But if you have already lost your crucial information from G-Drive then, perform the Google Drive recovery manual technique and restore deleted Google Drive files easily.
Manual Method to Recover Google Drive Data
To restore deleted or missing information perform the manual methods. There is three technique you can opt according to the requirement.
Method 1: Retrieve Missing Google Drive Files
Go to https://drive.google.com
Select My Drive and click on Info icon in the top right corner
In Activity, search the information for missing documents or files
If the file has deleted accidentally or rename it. Then, you can find and recover Google Drive data efficiently
Method 2: Restore Deleted Google Drive Files
This technique is applicable for the recently deleted file. Google Drive saves deleted in Trash folder for 30 days. You can retrieve deleted Google Drive file from Trash by performing these steps:
Open G-Drive Click Go to Menu icon >> Trash
Select deleted files and click on Restore to restore deleted G-Drive files
Method 3: Recover Google Drive Data Via Administrator
If the account is associated with an organization, group or school then you can ask the admin to recover deleted files from Google Drive. The administrator team can restore deleted Google Drive files within 25 days and this method for permanent deletion.
From Gmail, Log into Management Settings
Choose user and double-click to open user profile
Click on Menu and select Restore Data to retrieve Google Drive documents
Google users save their important files on Google Drive on a personal and professional level. There is no doubt in Google security however, users still search how to recover Google Drive data. In the above section, we have explained multiple techniques to prevent Google Drive file. Data loss prevention technique is the best way to secure your data. Maximum users search how to restore deleted Google Drive files or how to recover G-Drive? Why should we wait to lose crucial data Instead of preventing it? Don't you want to secure your sensitive information? If you prevent the data from the very beginning then it may possible that you will never have any data loss.