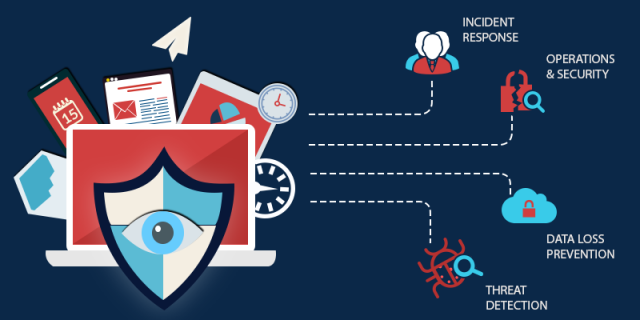 Endpoint security services are provided to lock down the endpoints like smartphones, individual PCs, tables, etc., to keep networks safe. Evolution in cyber threats leads to updation in managed endpoint security services for competing with recent cyberattacks. The providers worldwide update their services and give assurance to business customer about prevention of their data. In order to determine the best managed endpoint security services provider, we conducted a survey. This post is going to tell readers about the top 5 most trusted managed security services providers, which are determined as an outcome of the survey. All these service providers render endpoint security at advanced level to fight against recent cyber attacks 2018.
Top 5 Managed Endpoint Security Services Providers
Digital Guardian – The company offers a complete package for endpoint security. Administrators can deal with endpoint threat protection when they adopt this MSSP. Digital Guardian MSP enables customers to focus more on strategic imperatives. Security experts hold the heavy lifting of endpoint data loss protection that involves setup, hosting, ongoing monitoring, tuning, data analyzing, and maintenance. It is considered one of the tops managed security services provider because it periodically improves data visibility and cloud security risk posture quicker than any other endpoint security vendor. The unique approach of Digital Guardian is that it resolve endpoint security challenges offering a proven combination of process, people, and technology.
enSilo Endpoint Security – In the year 2018, enSilo achieved highest rating in NSS Labs during the advance endpoint security test. This endpoint security services provider defends in real-time against the trending data breaches, at any stage of cloud attacks, under different circumstances. It renders a lightweight agent, infection protection, unified management, and broad OS coverage. enSilo is capable of stopping advanced malware, putting all its best in endpoint detection and renders orchestration and automation for immediate response. This one of the best endpoint security vendors delivers an easy-to-understand interface, which eliminates the alert fatigue. It renders kernel visibility, post infection protection, real-time tracking, and prevent data exfiltration. The solution can be deployed across a broad set of OSs and renders online as well as offline protection.
Minerva Endpoint Security – This endpoint security provider deceives the malware attack into a dormant state, rendering cloud data protection. Minerva endpoint security team says that there are 40% of malware that uses evasive approaches for bypassing the existing defenses. It is difficult to determine these type of advance evasive malware through simple or basic endpoint protection measures. In such scenario, Minerva solution proves itself to be helpful. It undertakes several approaches to deliver malware prevention without any human intervention. This managed endpoint security service designs itself in such a way that they are having strength of dealing with recent cybercrime. The experts continuously research the trending cloud computing security challenges and determine new measures to compete with upcoming attacks. The basic idea here is to block the normal threats with help of traditional antivirus solutions, and Minerva endpoint protection product will stop anything, which tries to get in surrounding of that protection.
SysTools Endpoint Protection Vendor – The SysTools MSSP renders endpoint security services on one console screen. This consolidated platform analyzes, monitors, and applies protection measures that are needed for managed endpoint safety in a network. It helps its business customer in navigating their digital transformation and maintain a track record of complete database. No matter whether the system is online or offline, the services are availed in both cases. Immediate threat detection, incident response services, meeting the governance, DLP, and compliance, proactive operations, and security, & 24*7 data monitoring by certified security experts – all these services are offered in this endpoint protection suite. SysTools enables its customers to grow their business with recognized leaders of the industry. What makes SysTools different from existing ones? Well, the answer to this question is that SysTools endpoint security team maintains a record of trending cyber issues, applications, and technologies for which they render top class ecosystem in its package.
Promisec Endpoint Manager – This is the first and last agentless solution, which delivers managed endpoint security services with threat detection and remediation. A magazine review says that it is simple in installation and does not consume lots of time in setup and running. This endpoint protection vendor is a full-scale policy and management solution that permits admin to monitor, inspect, and enforce policies within the IT environment from single console. With Promisec product, admin can define policy for Linux, Microsoft Windows, Mac, Android, and Unix devices on the network. Alike the above 4 best endpoint security vendors, this service does not provide 24*7 assistance to its customers.
Conclusion
We have listed top 5 managed endpoint security services vendors of 2018. Enterprises can go through the official website of each provider and determine the suitable one. Before deciding anyone of the endpoint protection suites, determine all security requirements that are required for security within your enterprise workstation. This will help you in choosing the best and flexible solution for your company, which will directly result in its growth.