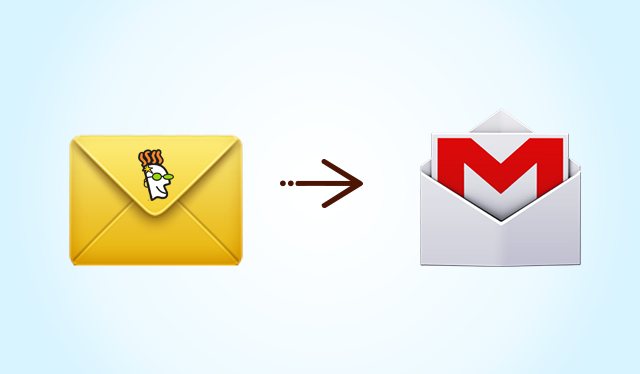 The normal GoDaddy email accounts, and the forwarding email accounts are two different account types which is in workspace email. The normal email accounts enable to send, receive and access the mails from webmail or using an email client application (Outlook/Apple Mail etc..)
The GoDaddy Inc. is an American traded Internet domain and of web based hosting one. While by May 2017, and it served a million customers and had over 6000 employees worldwide. The company is known for its advertising. And the users of GoDaddy is those who runs small business, not the Govt. or any big sectors.

The Gmail is developed by Google, it can be say as Google mails which supports the advertising support Gmail services. Gmail service is a web mail supported and can be accessed through Android, iOS and other third party tool by which the Gmail services is synchronized with it. At first the Gmail services provide 1GB which is much more than the Hotmail services provided at this period. Later Gmail increased the capacity to 15GB per user and it has introduced the Google Drive for large sized files. It serves an automatic scan services for all mails and so helps to filter spam and malware. The Gmail provides all for free and of Google Play Store hits a billion installation on Android devices.
Steps to Avoid the Issues While Migrating From GoDaddy Mail to Gmail
There are certain issue in GoDaddy so to overcome that we must export GoDaddy emails to Gmail or other file format.The issues to migrate GoDaddy email to Gmail is shown below:
Email Client users of Iphone, unable to sent mails by using other mobile carrier, we must install appropriate tool for it.
By using Outlook, for time to time they asks the username and password, which feels terrible to client users.
They changed their billing schema, at first we could use 10 account but it changed to 5 and for the further accounts they made 200% of price increment.
Using GoDaddy we must move from IMAP to POP and viceversa due to some protocol issues. This process is really time consuming one due to handling email profiles, pst and ost files, calendar/contacts migration, etc.
The people who having multiple email accounts, mainly from various GoDaddy domains. Gmail posses with a feature named "Mail Fetcher". Consolidating various emails into your Gmail account save time and decrement the likehood of loosing important emails from clients, customer and vendors. Backup email from GoDaddy mail to Gmail can be easily made. And to add GoDaddy email to Gmail so surely reduce the time consumption. And by this advantage we prefer to migrate GoDaddy email to Gmail.
How to Link GoDaddy Email to Gmail
There are different methods to link our GoDaddy email to Gmail, normally it founds that it is lacking certain degrees or some other things. So a comprehensive way on how to link GoDaddy email to Gmail for sending and receiving email and if by-chance any error like 535-Authentication error, its solution is also shown below.
535-Authentication Error:
Go to your GoDaddy account and Login
Now move to workspace control center (Email control center)
Find the email address. Relay column may be blank so reset it
Now Go to email account to edit it
Set SMTP Relay as per the day as 0 then save it
Now set SMTP Relay as per days as 250 and then save
Wait till 30min
Now the problem will get resolved.
Receiving Emails:
First login to your Email Account
Find the Settings and just click on it
A window will pop up which helps to add email address which we would like to add on it
Click on Next Step and fill the fields

After complete finishing Click on Add Accounts
Sending Email Accounts:
Just move back on the accounts and Choose Import section from the Settings, See at Send Mail As section and click Add another email address that you own
Provide the name and email address, and then click Treat as an alias box
Next fill out the pop up box that you see, and must use your own email address in place of "bobfrog@sparqstreet"

After complete finishing Click on Add Accounts
By the above sections we found that to do the GoDaddy email to Gmail forwarding with the efficient manner.
Manual Methods to Transfer GoDaddy to Gmail
Below we are saying about the step by step instruction for importing e-mail from your GoDaddy email account to Gmail account. Forwarding GoDaddy email to Gmail account can be made by below steps.
Migrate GoDaddy Email to Gmail Can Done By the Following Steps:
Login with Google account by visiting Gmail.com
By clicking gear-shaped icon and choose setting from the drop down menu
Press the "Accounts and Import" tab, then select "Add a POP3 mail account you own."
Mention your Go Daddy email address and click "Next Step."
Type your Go Daddy's username and password
Clear the field named "POP Server" and text it as "pop.secureserver.net" (without the quotation marks) into it
Recheck the options and put a mark where-ever you think to activate
Now click "Add Account." Google mail checks your GoDaddy login information
Click the button next to "No," then select "Finish."
Manual Solutions Limitation:
Process will be held so long and of high time consuming one
Prioritized data from emails, calenders, contacts can't be transfered in single go
Last is by saving files in PDF format but it is not suitable to the calenders or contacts
FAQ's:
How can I forward my GoDaddy email to my Gmail?
First include the Email address. For forwarding GoDaddy email to our Gmail account, by using Gmail acount and import tab link them together. And to access the tab, signin to goggle mail and go to Setting. Press account and import.
How can I check my email on GoDaddy?
To verify the workspace Mail Accounts, you can move to email.secureserver.net. However we can check emails at http://email.(domain name). If domaun name and workspace are in, THE SAME GODADDY ACCOUNT then setup automatically, whether it is different then want to do manually.
Is it possible to backup GoDaddy emails?
Yes Ofcourse, you can regain it either using the above mentioned steps. But incase you need to backup your data externally you can go for this GoDaddy Mail Alternative by SysTools GoDaddy Backup Tool, and it is the best approach which is reliable & time-saving way
Conclusion:
GoDaddy mailbox helps to send and receive email, but there are several demerits by using it which will be a frustration for the client users. And so to migrate GoDaddy email to Gmail manual method is mentioned above. And as per normal case we see the error like 535-Authentication error, and to avoid this error the steps are also discussed here. The export GoDaddy email to Gmail is the best solution which is really easy and really an effective one. But there are some certain limitations by manual method which are also discussed here.