How to Migrate Emails from Zoho to Gmail? Step by Step Guide
"User Query: Being a small organization, currently, we are using the services of Zoho Mail. But, now we want to transfer our data to increase our productivity. So, for that we are curious to know how to migrate Zoho Mail to Gmail (G Suite) in bulk. So, we are looking for a secure solution to do the migration without any hassle. Please let me know if you know any solution. This would be a great help, thanks."
One of the major reasons behind Zoho to Gmail migration is Zoho Mail not meeting the requirements and expectations. However, both of these are popularly used cloud-based email applications among users. Both of them provide almost similar services to their users but still Gmail is leading the race as it provides better professional environment than Zoho mail.
Hence, users want to switch from Zoho account to Gmail or G Suite. Keeping this need of the users in mind, we have done research and found a simple process to perform the batch migration. Now, let's know about all the possible manual and automated methods.
Table of Content
Quick Guide to Migrate Email from Zoho to Gmail
Download, install the utility on Mac PC.
As source, choose Zoho Mail, enter details.
For target account, select Gmail, validate details.
Apply Adv. settings to customize the process.
Click Start Migration to start transferring emails.
Manual Approach to Import Zoho Mail to Gmail
In order to transfer email from Zoho to Gmail, a user can follow the stepwise guide using POP/IMAP forwarding method as discussed below:
1. Log into your Zoho Mail account on your respective desktop. After that, click on the Settings icon (Gear Icon) from the top of the Window. Now, from the left-hand menu, click on the "Email Forwarding and POP/IMAP" option.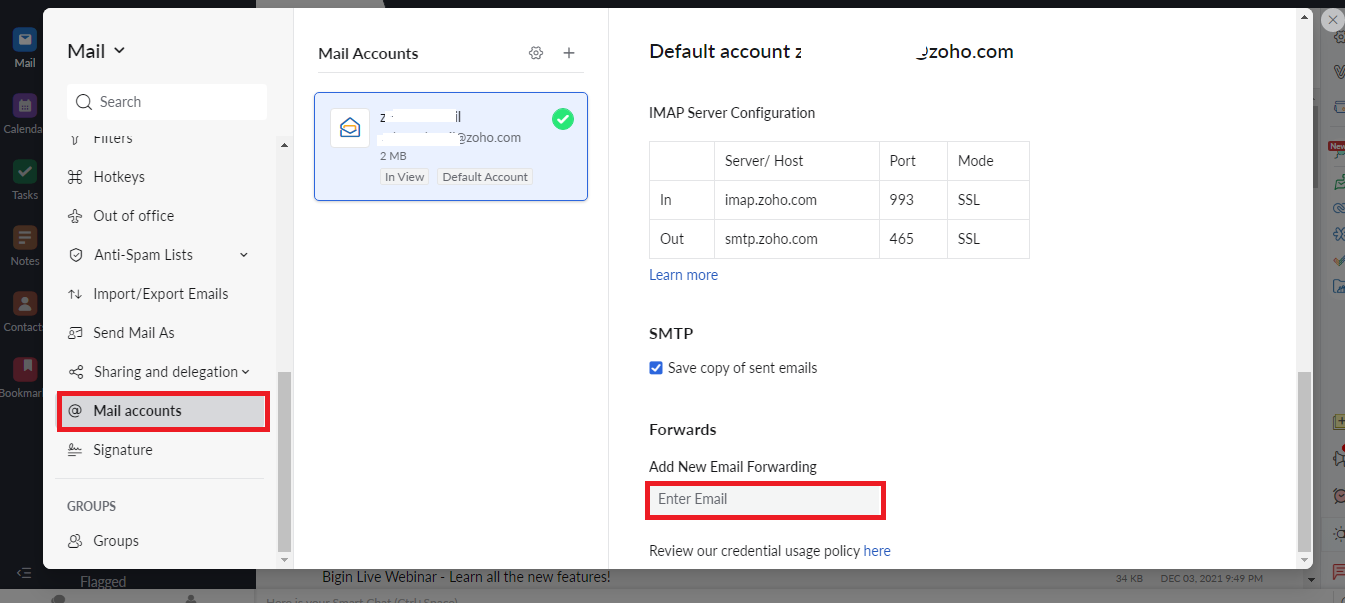 2. In the IMAP Access Section, choose Enable option. Here, note all details of IMAP configuration.

3. Now, you can Login to the Gmail account by entering the valid credentials. After that, click on the Settings >> Accounts and Import tab >> Add Another Email Address That You Own link.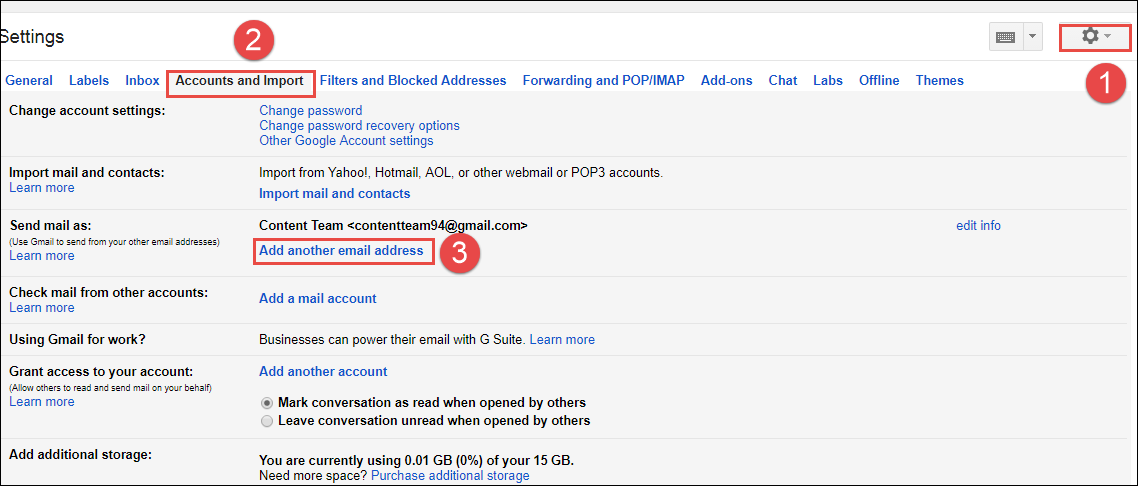 4. Here, you need to enter the Zoho account email address in the next, and do not forget to uncheck the treat as alias box. Now, just click on Next Step to proceed further to transfer Zoho mail to Gmail.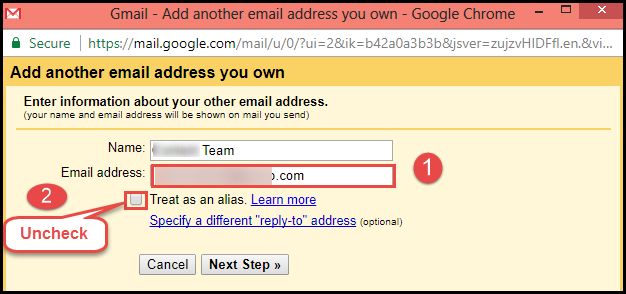 5. After this, in the next window, enter smtp.zoho.com for the SMTP Server. Make sure that you have changed the Port value to 465. Then, enter Zoho email id as username and password for the same. Then, just mouse-click Add Account option.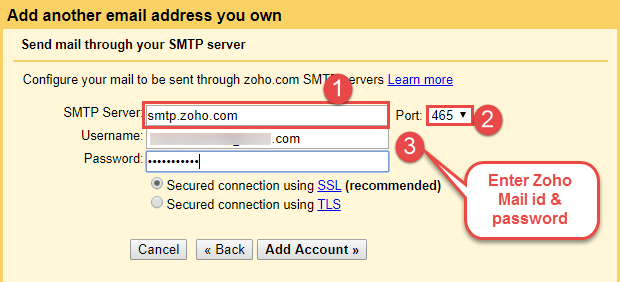 6. After that, open the Zoho email account again, and click on the confirmation link in the email that you have just received.

7. Click on the Settings button from the top of your Zoho email account. After that, you need to click on the Add New Email Forwarding section. Add email address and type the Gmail email address. Then, click on the Verify button for adding the account.

8. A confirmation email is sent to your Gmail account. Click to confirm the email id.
9. After that, enter the confirmation code in Zoho mail account as asked in the email to verify the forwarding.

10. After performing all the above steps carefully, all the emails that will be sent to Zoho email address from now on will also come to Gmail address automatically. 
After using the above-discussed manual method to Migrate Zoho Mail to Gmail, you might encounter some issues. One of the issues is mentioned below:
"User Issue– I was trying to configure by Zoho Mail account in Gmail by following the manual procedure. But, while adding SMTP server and username and password of Zoho account in Gmail, it starts displaying an error stating that "Your other email provider is responding too slowly. Please try again later or contact the administrator of your other domain for further information." I do not understand what to do next because I have tried everything but still getting the same error. Please suggest how I can overcome this issue?"
Drawbacks of the Manual Method While Importing Emails
With this manual method, only new emails you receive in your Zoho account will be forwarded to your Gmail account. In short, all the previous emails will not be migrated from Zoho mailbox.
In addition, this method is only suitable if you know how to configure accounts, import/export or transfer emails. Otherwise, there are high chances of data loss.
To perform this process, you must have proper technical knowledge, a novice user may find it difficult to perform the process.
Alternative Solution to Migrate Zoho Mail to Gmail
An efficient solution for transferring emails is available in the form of automated software. In order to perform Zoho to Gmail migration, one can use SysTools IMAP Email Migration Tool for Mac OS. It permits users to transfer multiple emails as required from source account to destination account securely.
However, for this migration, this tool even provides different filters that you can use to customize the process. Along with these, it is even compatible with all the latest and earlier versions of Mac OS, including Mac 13.0, 12.0, etc.
Read More: Quickly Migrate GoDaddy to Gmail user account.
Steps to Transfer Zoho Emails to Gmail Account
Firstly, Download and Run the above suggested Zoho to Gmail migration utility on computer system, tap continue.
After this, as a source account, choose Zoho Mail option, provide details for validation, then click Validate.
Now, in the destination account, select Gmail option from the list, enter User name and password to validate.
Thereafter, tap on the Add button to map both source and target accounts together. If necessary, or in the case of concurrent migration, add more IMAP accounts and map them as well to migrate.
Now, just apply required filters in the Advance Settings section such as Date Filter for the selective migration or just select folders.
Finally, hit the Start Migration option to migrate Zoho Mail to Gmail account securely.
The tool will start transferring all the emails as per the settings set by you, once the process will complete, tap OK from the completion of the migration notification.
Final Words
Users are continuously searching for the solutions to migrate emails from Zoho to Gmail. Therefore, to resolve this problem of the users, we have discussed a complete step by step procedure to migrate Zoho Mail to Gmail. Apart from this, an alternative solution to transfer Zoho Mail data is also suggested.
Read More: Simply Migrate cPanel Email to Office 365 account.
Common Queries!!!
Q- How do I export Zoho mail to Gmail securely?
Answer- Steps are as follows;
1: So, download and Zoho to Gmail migration tool and tap continue.
2: Select Zoho mail option and provide credentials for account authentication.
3: Now, click on Gmail option for destination and provide details of user account.
4: At last, just click Start Migration to begin transferring all selected emails on Mac.
Q- Will all my Zoho emails be forwarded to the Gmail account?
Answer- No, only new emails will be forwarded after setting all the settings as mentioned above.
Q- Can I get the report of the migration process to checkout the statement?
Answer- Yes, the above suggested software provides migration report as summary or detailed report, you can save it on your Mac desktop.
Q- Will my Zoho Mail account expire?
Answer- No, your Zoho account will not expire after migration. But, if you remain inactive and do not take any action till the end of 90 days, all the data in your Zoho Mail account will be deleted/cleared.

Q- Can I use Gmail instead of Zoho Mail?
Answer- Yes of course, you can manage everything effortlessly through your Gmail account. Plus, it's ideal if you like Gmail's browser interface and its iOS and Android mail client apps.