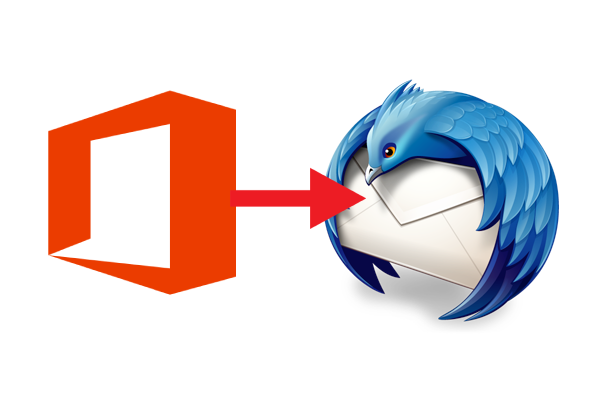 Microsoft Office 365 is one of the most lovable utilities used among users for its emailing, software development and many advanced features. Moreover, it has been observed that there are many users that demand to migrate Office 365 to Thunderbird or they require importing Office 365 contacts to Thunderbird email client.
Mozilla Thunderbird being one of the best and open sources email client that has been a prominent choice among users for a long time. Due to several advantages offered by Thunderbird desktop email client, users wish to move their O365 user account to Thunderbird. In this particular section, we would be covering how to get Office 365 account data to Thunderbird so that the users can easily access their O365 emails, contacts, calendar and other data items in Mozilla Thunderbird application.
Need that Arises to Migrate Office 365 to Thunderbird

Let us discuss the user queries and need that arises regarding the export of Office 365 data to Thunderbird account. Many users attempt to move to Thunderbird so that they can easily get access to the data on their local desktop location. There are some of the possible reasons that come in mind that lead to transfer from Microsoft Office 365 account to Thunderbird:
As Microsoft O365 account needs to be renewed after some specific time period. So, the users prefer to switch all their emails, contacts, and other data to a freely accessible Thunderbird account. It makes the client access to emails at free of cost. Thus, free availability of Thunderbird is one of the major reason behind migration Office 365 to .eml migration.
Office 365 is a web-oriented service that maintains the repository of data on the server end. Sometimes, due to unexpected breakdown or shutdown of Exchange server, there is chance that your data get a loss and it becomes difficult to access the data from your mailbox. On the other hand, Thunderbird being a desktop application stores the entire data at the local location. The user can easily access any data without depending on additional platform.
Office 365 provides access only in the online mode. But Mozilla Thunderbird can be accessed in offline mode. Thus, users find it more convenient to use Thunderbird mailbox over Exchange Online account.
Thunderbird allows the users to share data easily as all the files are located at a local location. So, the users can easily share data even without internet access. However, sharing data through Office 365 requires an internet connection, which makes its use limited.
 
Migrate Office 365 to Thunderbird Email Using A Tool
We would be covering the best-automated tool that will help the user to migrate Office 365 account to EML format easily. The process to export Office 365 to Thunderbird email application has become so easy using this tool. SysTools Office 365 Export tool, it will help the user to convert data in PST and EML file format. Here, we want to move data to Mozilla Thunderbird so we will choose EML as the export option.
Advanced Features of the Tool
1. Migrate Office 365 Mailboxes – This software is capable enough to migrate single mailbox or multiple mailboxes at one time. Users can save their mailbox items into two file formats i.e. PST and EML file. It offers two ways to migrate mailboxes Normal user account and Admin user account. Users need to impersonate mailboxes while using Admin account.
2. Export Data in 2 File Formats – Users can migrate Office 365 emails to Thunderbird client by saving data in EML format. There is another export option offered in this application i.e. PST format, which can be used to backup Office 365 mailboxes to PST format.
3. Filter Mailbox Items if Required – Users can easily manage the process of migrating data with multiple filter options. Just like filtering out selective data, date filter can be used to migrate emails from a specified date range. Category filter can be used to export specific emails / contacts / calendars as per user requirement.
4. Real-Time Progress Status – This application to export Office 365 to Thunderbird shows a real time count and status within the tool interface. Users can check the real-time count of mailbox items (emails, contacts, and calendar) that are being migrated in the software interface.
Important Note: Users can also download Office 365 archive mailbox using this tool.

The process to convert the data is quite easy:
Working Steps Of the Tool
1. Provide the credentials of Microsoft Office 365 account which you want to backup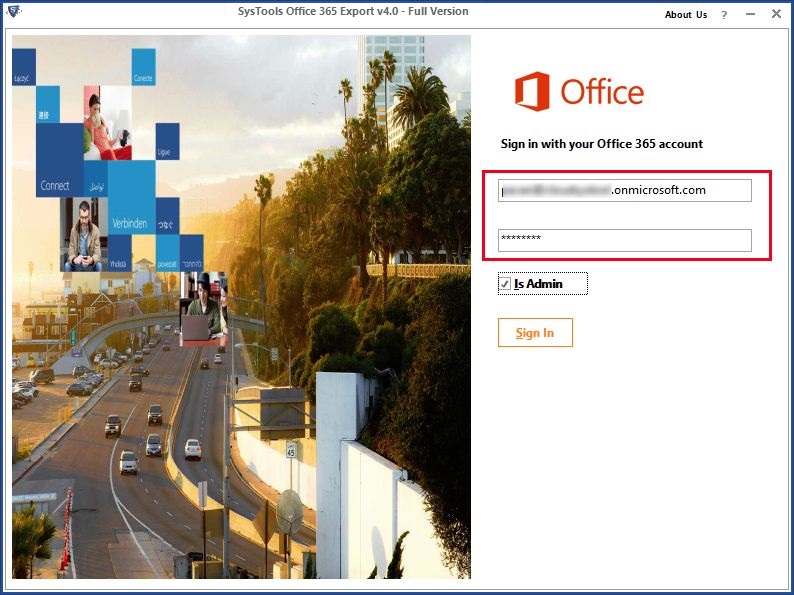 2. Select Mailbox items of your Office 365 account which are required to archive & choose email-format as "EML".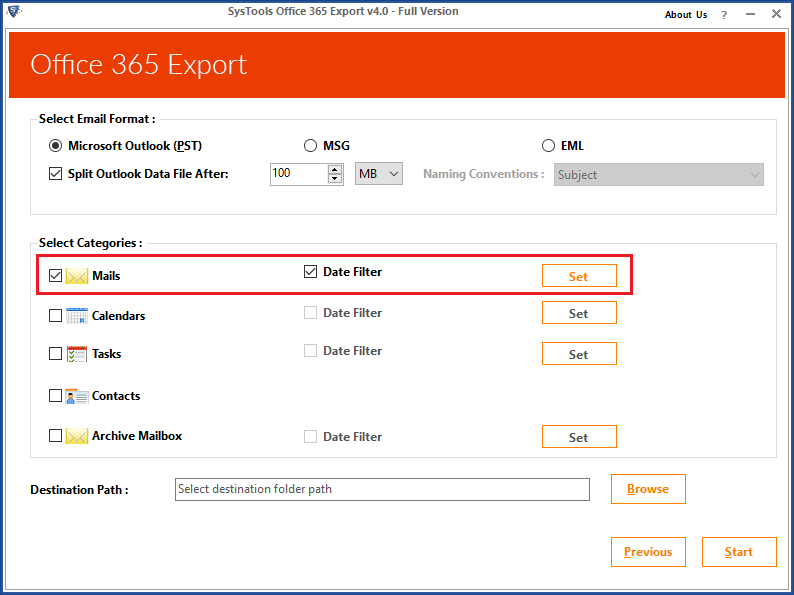 3 Browse location on your PC for saving Office 365 data to hard drive/local server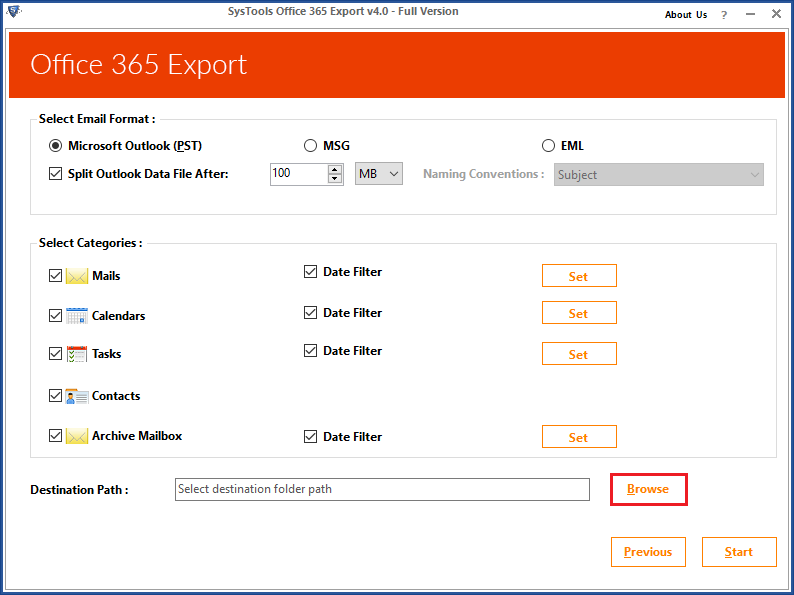 4.Finally, click on Start button to begin the export.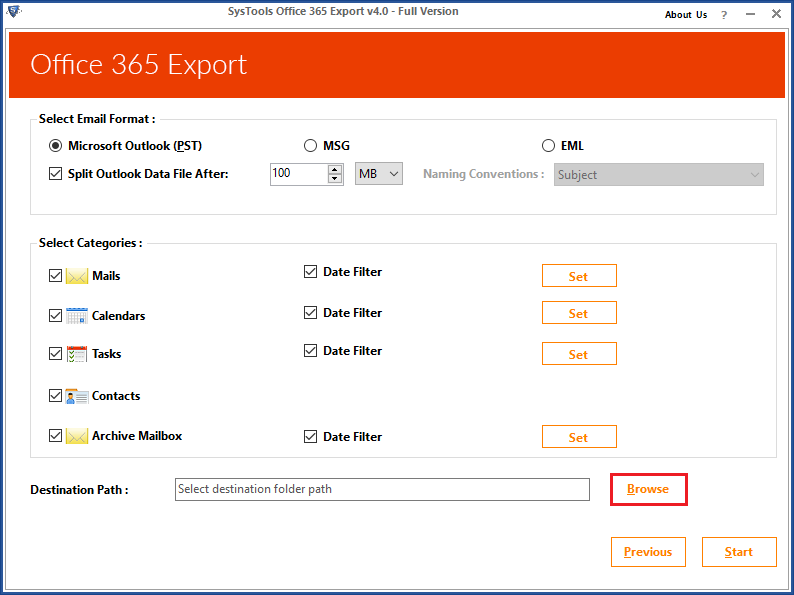 Conclusion
Office 365 to Thunderbird email migration help the user to get access to all the emails, contacts and other data items that will help the user to serve multiple purposes. The question- "how to configure Office 365 in Mozilla Thunderbird" come to an end if we use this software. Exchange Online to Thunderbird EML Migrator helps to make all the Office 365 email data accessible to Thunderbird account.