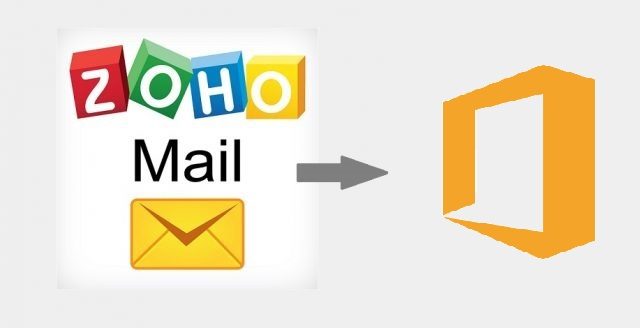 One of the fastest growing email clients which is used in the business industry is Zoho Mail. The User of multiple platforms is getting together and synchronizing their data with Zoho Mails.
The services that are provided by Zoho email client includes mailing and contacts alternative, calendar etc. Zoho Mail is one of the best way if the user wants to go through emailing and employing Zoho CRM and other related services.

Still, Office 365 is the first preference when it comes to buying a product. So in this section, the method to migrate Zoho contacts to Office 365 is covered so that Zoho mail clients can switch to Office 365 account.
Office 365 Contact Management
The management of Office 365 cloud contacts helps to get the data accessible to any place. It provides the application at both the platform which means the desktop application and the cloud both have major benefits.
In case of Zoho mail user doesn't get the desktop, version business users need to have Zoho Office 365 integration because Zoho doesn't fulfill all the requirements of clients.
Zoho to Office 365 migration is the very easy process. The online management of contacts of Office 365 allows certain rules that help to import contacts from Zoho to Outlook and other items as well as email, calendar events etc.
Steps to Migrate Zoho Contacts to Office 365
The process to export contacts from Zoho to Office 365 is actually a two-step process. Firstly retrieving contacts from Zoho Mail to CSV format and then exporting CSV to Office 365 account. Let's start the process:
Open Zoho Mail and click on Contacts Sign.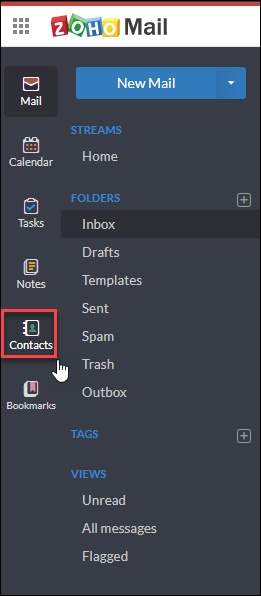 Select the contacts which you want to migrate into Office 365.
Click More icon and select the Export option.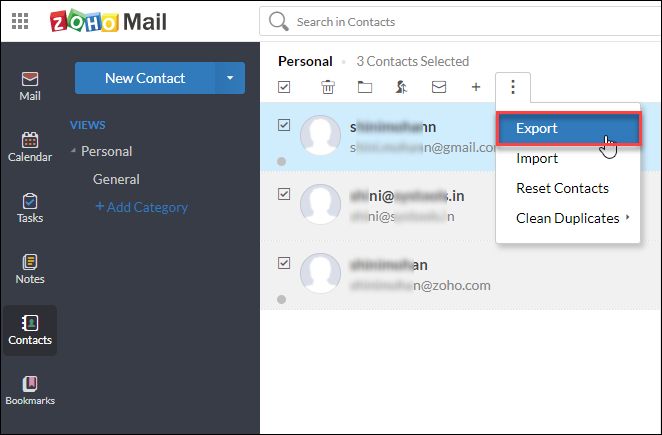 Select CSV files and click on the Export Contacts button.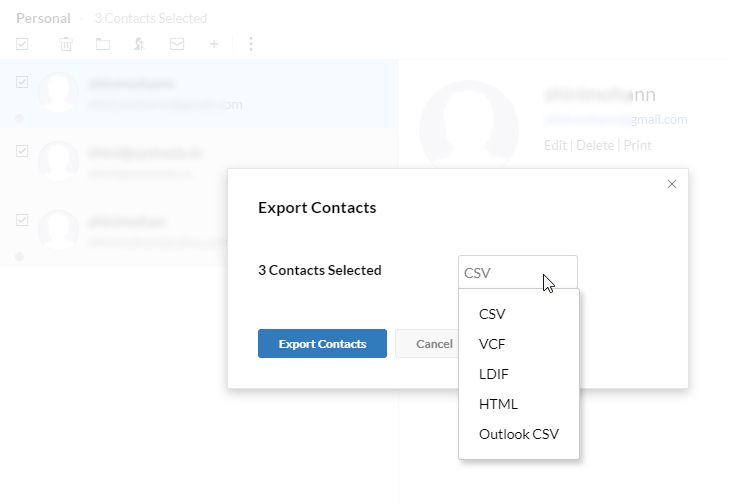 You need the CSV file to be exported to Outlook (OWA) then you need to run Office 365 account and click on contacts then Manage Contacts select Import option.
Now you need to select Outlook and then Browse the CSV file where you saved it.
The contacts would be exported to Office 365 account. This will accomplish the process to export contacts from Zoho to Office 365. The process is bit lengthy and time-consuming but it will migrate Zoho contacts to Office 365.
Automated Method for Zoho to Office 365 Migration
Though the method is easy to perform user can use some software that will help you to migrate Zoho Mail to Office 365 fastly.
In case you want to automate the whole process you need to download two tools first Zoho to Outlook Converter that will export Zoho data to PST format.
Then use SysTools Office 365 Restore tool that will migrate all your Outlook contacts to Office 365 account. The tool is safe and secure which keep all the data secured and intact.
Here are the steps to migrate Zoho mail to Office 365 account:
Step 1. Launch Zoho backup tool and enter Zoho credentials.
Step 2. Select PST file format from the list.
Step 3. Select folders and click Start button.
Step 4. Now, launch Office 365 Import tool and login.
Step 5. Add exported PST file.
Step 6. Select "Category" & "Apply Date" Filter. Click the Import button.
Verdict
The method of Zoho to Office 365 migration is similar in case of both the automated as well as in a manual way. The user needs to go through one medium to other to migrate Zoho contacts to Office 365. The manual process is bit lengthy and works properly but the tool automates the whole process.