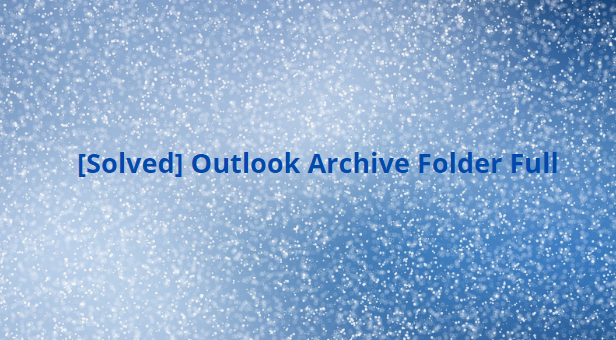 A full mailbox in Outlook is a hassle for users and employees regardless of organization or industry. In this article, we are going to suggest the complete solution to resolve Outlook archive folder full issue without deleting Outlook data. Going through this blog, users can easily organize the Outlook data to increase the productivity in process.
Here Are Some Related Queries:
"Hi, I am getting 'O365 Archive Mailbox is almost full' message everyday in my Outlook. In order to resolve the issue related to Outlook archive folder is full, I have deleted many emails from the folder but the space of my Outlook mailbox in still growing. Then, I pressed SHIFT+DELETE buttons to permanently remove email data from the folder. But then I got a different error message which was like 'The message interface has returned an unknown error. If the problem persists, restart Outlook'. I am becoming frustrated with this Office365 email application and its related issues that I am considering more and more each day. I just need the solution to resolve Outlook archive full issues. Please suggest."
"I am using MS Outlook application since a very long time. Before some days I am getting issues in sending and receiving the messages and "Outlook archive folder full" error message pops-up many times a day. My data is important as I cannot afford to delete it. So, I tried to move my data from the folder to resolve the issue. But again I got error message like 'Cannot Move the Items. The Folder is full'. Is there any solution to get rid from this problem? Please share."
If you are also getting these kinds of issues due to Outlook archive folder is full, then probably your Outlook mailbox PST file has reached to its maximum size limit and having corruption.
MS Outlook is an useful and proficient email application but there is some problem exists with its PST data files as it stores mailbox data only up to its size limit. Outlook Mailbox saves its PST data files into two formats i.e. ANSI and UNICODE. ANSI file format stores data within the size limit of 2GB only. Whereas, UNICODE format of PST stores data files up to 20 GB to 50 GB. Unicode PST files are better that ANSI format PST as Unicode rarely reaches its size limit than ANSI.
Prevent O365 from Getting 'Outlook Archive Folder Full' Issue
Users can manage the Outlook Mailbox by using some manual ways. If your o365 archive mailbox is almost full, get the ways through which you can prevent your Outlook Mailbox from getting full which includes:
Delete unwanted Data from Archive: Outlook users generally move data from different folder to archive folder to view it later. Due to which Outlook archive folder becomes stuffy over the passing time. So, user should regularly check and delete unwanted older data from Outlook archive folder to free up the space.
Empty "Deleted Items" Folder: Data stored in the Deleted Items folder is useless and consumes unnecessary space. So user should permanently remove the data from the Deleted Items folder, if unwanted.
Empty Junk or Spam Email Folder: Junk or Spam folder in Outlook are just like the Delete Items folder as it stores useless data. So if you are getting Outlook archive full issue, free up the space in your Outlook by clearing data from Junk/Spam Folders.
Store Attachments Data outside Mailbox: Attachment files can consume much bigger space than email messages. To get the free space in your Outlook mailbox, just save the attachments outside from mailbox. User can save the attachment files in One Drive to free up the Outlook mailbox space.
Best Solution to Fix Outlook Mailbox Full Issue without Data Loss
To overcome from errors like "Outlook archive folder full", "Archive Mailbox is almost full", etc. use Split PST Software. This automated tool will help you to break the PST in smaller parts by folders, date, year, size, email ID and category. With this utility user can manage the Outlook PST data regarding archive folder full in Outlook without deleting any data file in Outlook. It is one of the best PST splitting tools that are able to split oversized PST data file in Outlook 2019, 2016, 2013, 2010, 2007, and other versions in few simple steps.
Steps to Truncate PST File Using Automated Software
Step 1. Download and Install the Split PST software.

Step 2. Add PST file and browse destination path to save resultant files.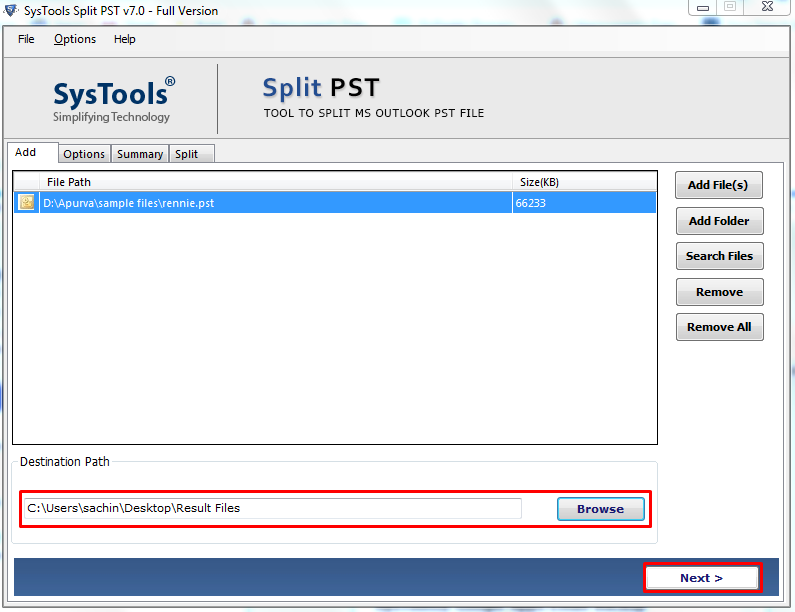 Step 3. Now, choose desired split option (Split by Size, Date, Year, Folder, Email ID and Category).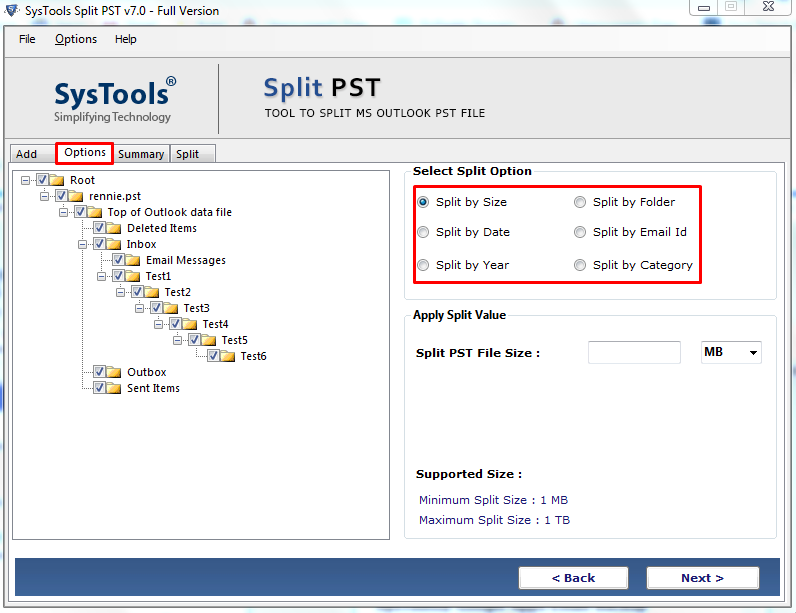 Step 4. Then, check summary of split information and click Next to proceed.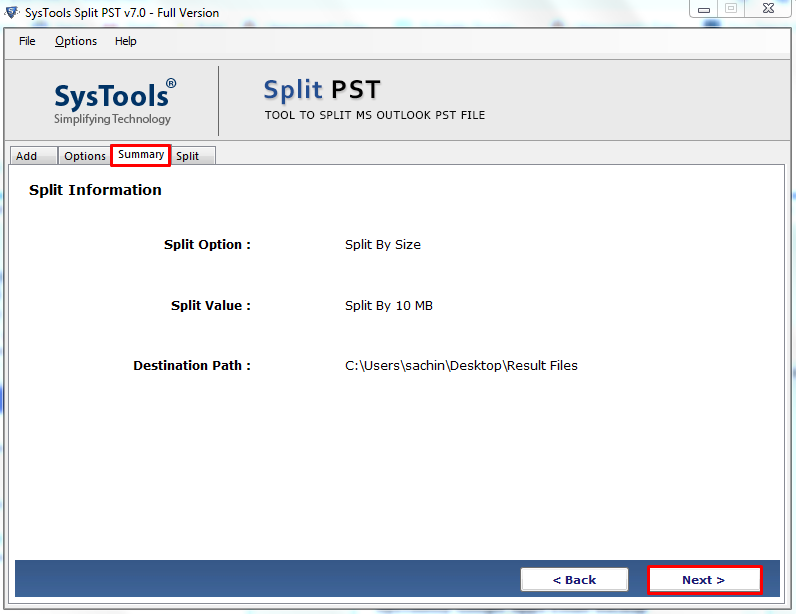 Step 5. Finally, the process to split PST files is completed.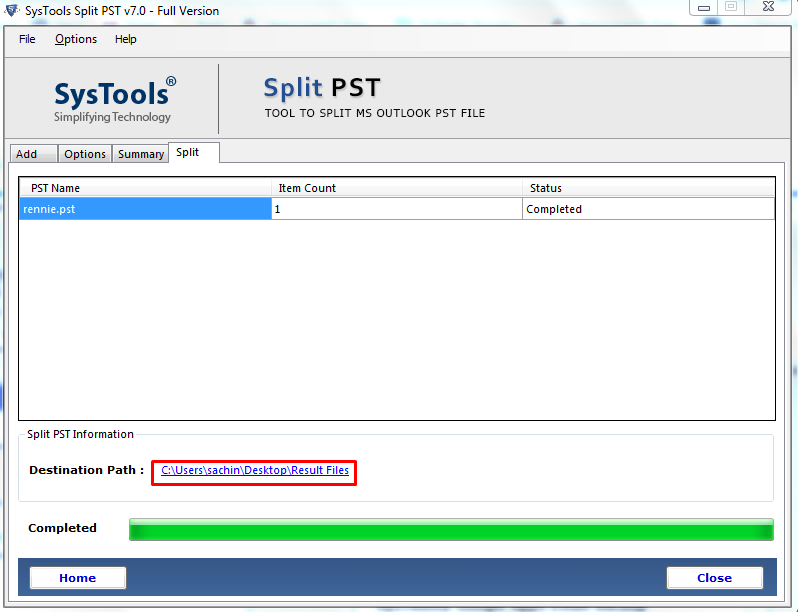 After following these simple steps, your resultant files will be saved at the provided destination location. Now, go to the selected location to review the PST files folder.
Final Verdict
In this blog, we have provided the best solution for mostly asked query on how to fix "Outlook Archive Folder Full" issue without deleting Outlook files. If your o365 archive mailbox is almost full, use the recommended trustworthy software to get rid from the problem related to archive folder full in Outlook. Split PST Tool does not only help users to truncate the archive.pst folder, but it also can be used to split complete Outlook data files to free up the space in MS Outlook without deleting data.