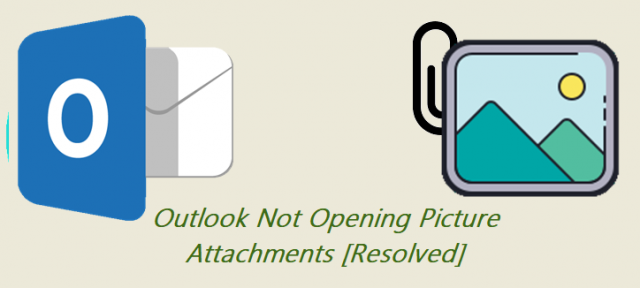 "Outlook not opening picture attachments" is most unusual and sometimes very annoying issue which is faced by many of MS Outlook users.
Generally, this type of issue occurs due to a configuration issue. But other than the account configuration issue, there could be some more reasons which are responsible for Outlook not opening .jpg attachments and that are incompatible file format, blocked attachments, Outlook add-ins.

However, if you are not able to open .jpg email attachments in Outlook then, this article will surely help you. Here in this article, we are going to discuss some manual techniques to resolve the issue of Outlook not opening picture attachments. So stay with us till the last.
Topics to be Covered
Quick Alternative Suggestion
If you are not able to open picture attachments in Outlook, then you can try the SysTools Outlook Attachments Extractor tool. This tool can easily download all email attachments from Outlook. Also, this tool has a separate file extension option that helps users to download the specific file format attachments only.

Now, without wasting any folks let jump into the techniques to resolve the issue of Outlook not opening .jpg attachments.
Reset Outlook Account Configuration
As we said above sometimes users face these issues due to wrong account configuration settings. So if you want to remove this issue from Outlook, then you have to reset you your account because once your account reset every setting will save as default automatically. So to reset the Outlook account follow the listed below step.
Note: Perform all the steps carefully because any mistakes can lead to data loss scenario
First, choose the Tool option from the Outlook ribbon menu
Now, select the Account which you want to reset
Click on the delete button and confirm the choice by clicking on the Yes button to remove the account
Once the account is removed completely, add the same account once again
Clear Cache in Outlook
We know that in cache memory software stores those files or add-ins settings which is used in past. So if you are encountering Outlook not opening picture attachments, then you can clear your cache memory to resolve this issue.
To clear the cache memory follow the listed steps.
In Outlook choose the File menu
Choose the Option from the File menu
Click on the Mail tab and scroll down to the Send Messages section
Now, click on the Empty Auto-Complete List button
Click on the Yes button to complete the process
Remove Symbols in the File Name
The Microsoft Outlook does not open any attachments which have special symbols in the file name. Symbols like question marks, exclamation marks, plus sign, and others are not allowed to be in the file name.
So if you see any symbols in Outlook attachments, then simply ask the sender to send the file once again after removing the symbol from email attachments.
Fix the File Compatibility
We all know that some files are platform or software dependent. So if you want to open that file you have to use that system or program. Suppose an attachment comes for Mac computer then you cannot open the file on the Windows environment. So in that case you have to inform the sender and ask to send a compatible file for your OS.
Remove or Disable Outlook Add-Ins
There are lost Outlook users using add-ins in Outlook. So if you are want to fix Outlook not opening picture Attachments. Follow the listed below steps to disable the Outlook add-ins
Open Outlook and click on the File option.
Now, choose Option and then Add-Ins
Select COM Add-ins under Manage and click on the Go
Now, uncheck all the add-ins and then click on the OK button
Once all add-ins are disabled restart the Outlook
Check Antivirus Program
Some of the third-party antiviruses might interfere with the email attachments. So if you are using a third-party antivirus, then check in the email settings. And if the antivirus is blocking the files of certain formats or all email attachments, then disable it.
Try an Automated Tool
In the above section, we have discussed all the best solutions to resolve Outlook not opening picture attachments, but if not can work then you can try third-party software.

This software easily downloads all the attachments from multiple emails in a single go. It supports Outlook OST, PST, and BAK files. Along with that, it comes with various filter options that make the attachments downloading process very easy and full of all the requirements of the users. The software has a simplified user interface that helps both technical and non-technical users as well.
Also Read: Unable to Open PDF Attachments in Outlook
Conclusion
There is the various reason that creates an issue where users not able to open JPG attachment in Outlook. So after considering the issue we have come with technical solutions. Here we have discussed all the possible reasons and how to resolve Outlook not opening picture attachments. However, if you are finding that manual methods are complex then you can go with third-party software to download all the image attachments from Outlook.